See Betty Buckley in HELLO DOLLY! Before It Lands in Palm Beach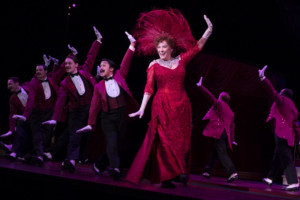 The first image of Broadway legend Betty Buckley as Dolly Gallagher Levi in the first national tour of Hello, Dolly! has just been released.
Ms. Buckley joins the astonishing list of show business luminaries who have inhabited the role, including Carol Channing, Pearl Bailey, Phyllis Diller, Betty Grable, Martha Raye, Ginger Rogers, Ethel Merman, in her last appearance on Broadway, Mary Martin, who led the West End company, 2017 Tony Award winner Bette Midler, and Bernadette Peters. Ms. Buckley will be joined by Lewis J. Stadlen (Horace Vandergelder), Nic Rouleau (Cornelius Hackl), Analisa Leaming (Irene Molloy), Jess LeProtto (Barnaby Tucker), Kristen Hahn (Minnie Fay), Garett Hawe (Ambrose Kemper), Morgan Kirner (Ermengarde), and Jessica Sheridan (Ernestina).
Kravis On Broadway is sponsored by JPMorgan Chase & Co. Hello, Dolly! comes to the Kravis Center for the Performing Arts Tuesday, December 11 at 8 pm; Wednesday, December 12 at 2 pm and 8 pm; Thursday, December 13 at 8 pm; Friday, December 14 at 8 pm; Saturday, December 15 at 2 pm and 8 pm; and Sunday, December 16 at 2 pm. Tickets are on sale now starting at $28 and may be purchased online at the official Kravis Center website www.kravis.org, by calling the Box Office at 561.832.7469 or in person at 701 Okeechobee Blvd in West Palm Beach. For Group Sales, please call 561.651.4438 or 561.651.4304.
About the Raymond F. Kravis Center for the Performing Arts:
The Raymond F. Kravis Center for the Performing Arts is a not-for-profit performing arts center whose mission is to enhance the quality of life in Palm Beach County by presenting a diverse schedule of national and International Artists and companies of the highest quality; by offering comprehensive arts education programs; by providing a Palm Beach County home in which local and regional arts organizations can showcase their work; and by providing economic catalyst and community leadership in West Palm Beach, supporting efforts to increase travel and tourism to Palm Beach County.