Miami New Drama's OUR TOWN Enters Final Week of Performances at Colony Theatre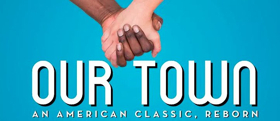 Miami New Drama (MiND) at Colony Theatre begins the final week of the critically acclaimed production of the classic drama Our Town. MiND's Artistic Director, Michel Hausmann, has re-envisioned Thornton Wilder's iconic tale of life, love and death in small town America for 21st century Miami, incorporating translations in Spanish by Pulitzer Prize-winner Nilo Cruz, and in Creole by renowned playwright Jeff Augustin. For decades Our Town has been the epitome of the classic American play, typifying an ideal of small-town life, this production redefines our ideas about what's typical in America by casting it in a way that reflects today's audience.
The country has been divided into those who look backwards to an idealized (and often homogenized) past and those who insist that "America is already great" and point to a vibrant, if imperfect multicultural society. This production challenges that desire for nostalgia while poignantly delivering its powerful lessons about appreciating the "here and now" before it is too late.
Our Town becomes a powerful prism through which to view our contemporary moment, in which certain towns, by their name alone have become synonymous with the trials and triumphs facing the country.
This production marks the first time that the Thornton Wilder Estate has allowed and endorsed the text of this Pulitzer Prize winning drama to to be alteredperformed in multiple languages.
The cast features a multi-cultural slate of acclaimed international and South Florida actors led by Keith Randolph Smith (Spike Lee's Malcolm X, Broadway's Fences and Jitney). The company of actors include Venezuelan TV and film star Carlota Sosa, ; renowned Cuban stage and TV actor Javier Valcarcel; and award winning Venezuelan film actor Luigi Sciamanna, and rising stars Thallis Santesteban and Martin K. Lewis. Carbonell winner Jeni Hacker and notable South Florida performers include Steve Gladstone, Robert Strain, Chantal Jean-Pierre and Gabriel Bonilla.
Our Town premiered Thursday, October 26 as a limited engagement through Sunday, November 19, at the Colony Theatre (1040 Lincoln Road, Miami Beach).
This production is supported by a Knight Arts Challenge grant from the John S. and James L. Knight Foundation.
Miami New Drama's Our Town redefines the quintessential American - and human - story. "We're not changing the essence, which is universal and timeless" says artistic director Michel Hausmann. "Our version of the play adds new layers of language and culture that make it more real for a 21st century audience. By doing that we bring the experience it closer to this communityhome."
For ticket information visit www.colony.org.