CAN'T LIVE WITHOUT YOU Comes to the Willow Theatre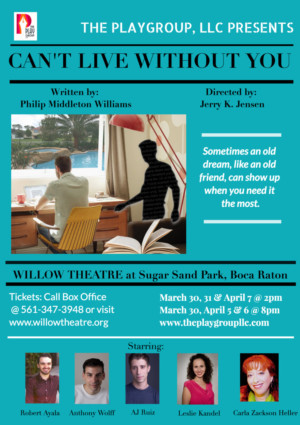 The Playgroup, LLC will present the second production of its fourth season at the Willow Theatre at Sugar Sand Park in Boca Raton, 'Can't Live Without You', written by Philip Middleton Williams and directed by Jerry Jensen.
Synopsis of the play Donny Hollenbeck thinks he has created the perfect life for himself. He has a lucrative writing career, a nice girlfriend, and a great looking home in Florida. But when Bobby Cramer, a character from a novel he abandoned years ago, pays him a visit, he starts to realize the place where his dreams took a wrong turn.
About the Playwright Philip Middleton Williams' first play was 'The Hunter', followed by 'Dark Twist', 'The Purer, Brighter Years', 'Here's Hoping', 'Can't Live Without You', 'Ask Me Anything', 'Last Exit', 'A Life Enriching Community', 'Which Way to the Beach', and 'All Together Now'. 'A Moment of Clarity' was a finalist in the City Theatre National Award for Short Playwriting in 2017. His work has also been seen in the South Florida One-Minute Play Festivals, the Midwest Dramatist Conference 2017 and 2018, The William Inge Theatre Festival New Play Lab 2016 and 2017, Odenbear Theatre of Taos, New Mexico, Theatre Roulette of Columbus, Ohio, and the 2018 Short+Sweet Festival of Sydney, Australia. He is a member of The Dramatists Guild.
About the Director Jerry Jensen has directed shows for nine local theater companies including Neil Simon's 'Biloxi Blues & Rumors', 'The Lion in Winter', 'A Thousand Clowns', 'Cat on a Hot Tin Roof', 'My Fair Lady', 'All The Great Books (Abridged)', 'The Cocktail Hour', 'The Dining Room', 'Private Lives', 'It's Only a Play!', 'Love! Valour! Compassion!', 'Kindertransport', and 'The Goodbye Girl - The Musical'. He's also been in high demand as Production Stage Manager for over two dozen productions. As Executive Director of the Wichita Center for the Arts, he oversaw the Midwest Premiers of Stephen Schwartz's 'Children of Eden' and 'Rags' and the World Premiere of John Caird's eventual Tony-nominated Broadway musical 'Jane Eyre'. Additionally, he's acted in over 60 shows in 9 states, locally in '12 Angry Men', 'Doubt', 'Bent', 'Footloose', and '1776'.
The Actors in Alphabetical Order Robert Ayala, Carla Jackson Heller, Leslie Kandel, A. J. Ruiz, Anthony Wolff
Production Staff Jerry Jensen - Director Teresa Biber LoMonte - Set Design Bethe Midler - Stage Manager
Founded in 2010, The Playgroup LLC is committed to showcasing the work of local artists: playwrights, directors, designers and actors. We produce only original plays by local playwrights. In addition to our three productions per year, we also hold monthly workshops at the Glades Road Library in Boca Raton, FL where local playwrights can develop their projects and network with directors and actors. Past productions include 'All Together Now' by Philip Middleton Williams, 'Little Piggies', 'Surfing The Rubicon', 'Broken Angels', and 'Approaching The Speed Of Life' by Todd Caster, 'Last Of The Aztecs' and 'Better Than Money' by Joe Feinstein, 'Scenes From A Chinese Restaurant' by Tom Andrew, 'The Monster Project' by Brian Harris, 'Joseph Andrews' by Peter Hawkins, and Short Cuts 1-8. The Playgroup is always on the lookout for new playwrights to showcase. Visit our website at www.theplaygroupllc.com.
Related Articles View More Miami

Stories

Shows
More Hot Stories For You