Award-Winning LOS REYES From Chile Premieres At The Miami International Film Festival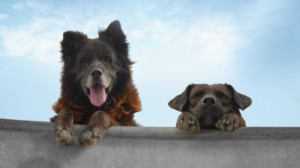 Winner of the IDFA Special Jury Award, the Innovative Chilean Documentary by the Directorial Duo Bettina Perut and Iván Osnovikoff Has Two Improbable Protagonists: A Pair of Stray Dogs
Los Reyes, the eighth collaboration by the established Chilean directorial duo Bettina Perut and Iván Osnovikoff (The Death of Pinochet, Surire) and winner of the runner-up Special Jury Award at the last edition of the International Documentary Film Festival Amsterdam (IDFA), will have its much anticipated North American premiere as part of the 'Film Comment Selects' series on February 9 at the Film Society of Lincoln Center in New York City, and as part of the official competition for the Documentary Achievement Award at the 36th edition of the Miami International Film Festival taking place March 1-10.
Los Reyes ("The Kings") is the oldest skate park in the Chilean capital of Santiago. Perut and Osnovikoff's improbably story is about the real kings here: Fútbol and Chola, two stray dogs who have made their home in this open space full of hurtling skateboards and rowdy teenagers.
The energetic Chola loves to play with the balls she finds lying around, positioning and catching them near where the skaters show off their tricks. The older dog, Fútbol, ooks on impatiently and barks at Chola until she finally lets a ball drop.
The teenagers around them come from very different, sometimes troubled, backgrounds. They each have their own story, which they recount in voiceovers. In this almost fairy-tale-like film, the phenomenal, dreamy camerawork centers almost entirely on the subtle interactions between the two dogs as they play with a ball, a stick, a stone and each other.
Radical and witty, the documentary film is an exciting and unusual cinematic portrait of a place and a society with two improbable protagonists. Executive produced by acclaimed Chilean filmmaker Maite Alberdi (The Grown-Ups, Tea Time), Los Reyes puts the international spotlight on Perut and Osnovikoff, who are leaving an indelible mark on Chilean and Latin American documentary cinema.

Related Articles View More Miami

Stories

Shows
More Hot Stories For You