Photos: First Look at SEX WITH STRANGERS at Good Theater
Sex With Strangers, the recent off-Broadway hit show, kicks off Good Theater's 16th season. Written by Laura Eason, one of the writers on the hit tv series House of Cards, this two character comedy is about the publishing industry and how far someone will go to get ahead. BroadwayWorld has a first look at the stars onstage below!
Sex With Strangers is directed by Good Theater co-founder Steve Underwood. The play stars Amanda Painter in her Good Theater debut and Marshall Taylor Thurman who starred as Spike in last year's production of Vanya and Sonia and Masha and Spike. Underwood is the set designer, Justin Cote is the costume designer, Iain Odlin is the lighting designer, Michael Lynch is the production stage manager and Craig Robinson is the technical director.
How far will you go to get what you want? Will you be the same person if you do? When twenty-something star sex blogger and memoirist Ethan tracks down his idol, the gifted but obscure forty-ish novelist Olivia, he finds they each crave what the other possesses. As attraction turns to sex, and they inch closer to getting what they want, both must confront the dark side of ambition and the trouble of reinventing oneself when the past is only a click away.
Sex With Strangers begins performances tonight, September 27, running through October 22 at the St. Lawrence Arts Center, 76 Congress Street, Portland, where Good Theater is the professional company in residence. Tickets are available by going to the Good Theater website www.goodtheater.com or calling the box office at 207-835-0895.
Photo Credit: Steve Underwood


Amanda Painter and Marshall Taylor Thurman

Amanda Painter and Marshall Taylor Thurman

Marshall Taylor Thurman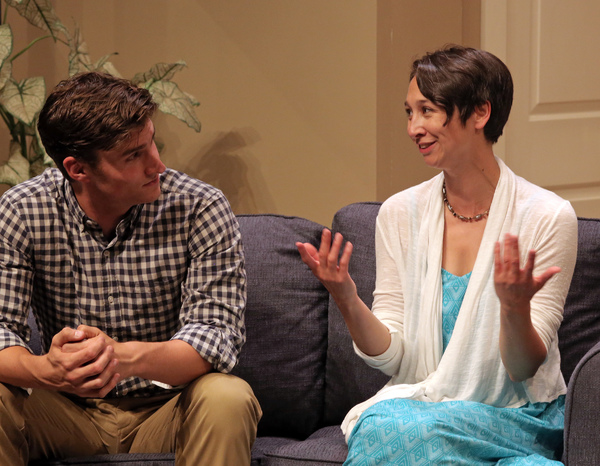 Marshall Taylor Thurman and Amanda Painter

Amanda Painter and Marshall Taylor Thurman