Latest News on Steve Underwood
Latest News on Steve Underwood
Stage Credits
  [Off-Off-Broadway]
Original Off-Off-Broadway Production, 1995
Performer
Writing
Bookwriter/Composer/Lyricist
Stage
Performances
  [Off-Off-Broadway]
Original Off-Off-Broadway Production, 1995
Performer
Writing
Bookwriter/Composer/Lyricist
Steve Underwood News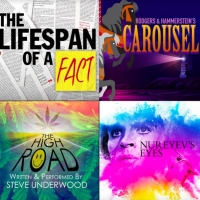 CAROUSEL, THE LIFESPAN OF A FACT & More Announced for Good Theater 2022/2023 Season
by Chloe Rabinowitz - May 16, 2022
Following a successful return to live theater in 2021 after the COVID-19 crisis darkened stages around the world, Good Theater has announced the schedule for the 2022/2023 season. This season marks Good Theater's 20th anniversary, and promises to be a yearlong celebration with plenty of laughter, music, and, of course, good theater.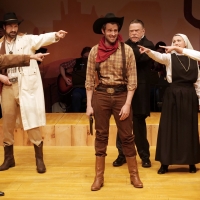 BWW Review: Good Theater Season Frolics To a Close with DESPERATE MEASURES
by Carla Maria Verdino-Süllwold - Apr 7, 2022
Portland's Good Theater's final offering of its nineteenth season is a deliciously zany and stylish production of Peter Kellogg and David Friedman's 2017 musical comedy, DESPERATE MEASURES, a witty, saucy sendup of Shakespeare's MEASURE FOR MEASURE set in the Wild West. Directed by Brian P. Allen and Cary Libkin with musical staging by Raymond Marc Dumont, the comedy written in rhyming verse is a rollicking, madcap adventure from start to finish.
BWW Review: The Rocky Road of Modern Love and Friendship
by Carla Maria Verdino-Süllwold - Mar 5, 2022
The Good Theater's latest offering, SIGNIFICANT OTHER, is an edgy, quirky, bittersweet look at the complexities and pitfalls of modern love and friendship, seen from the perspective of a quartet of marriage-age friends, who try to navigate this rocky road as best they can. Told with humor and compassion, Harmon's play, examines the yearnings, strivings, and conflicts that befall the heart.
BWW Review: A Lyrical Rumination on Aging: HARRY TOWNSEND's LAST STAND
by Carla Maria Verdino-Süllwold - Feb 14, 2022
The Maine premiere of George Eastman's HARRY TOWNSEND's LAST STAND is a sad, sweet, sassy rumination on aging and the fragile communications between father and son as they navigate this daunting process. Despite its poignant and serious underpinnings, Eastman's play succeeds because of its unsparing humor, uncanny ear for authentic dialogue, the trim direction of Brian P. Allen, and the strong performances of the Good Theater's stars, Will Rhys and James Noel Hoban.
Photos: Good Theater Presents the World Premiere of JANE AUSTEN'S LADY SUSAN
by Chloe Rabinowitz - Oct 22, 2021
Good Theater is presenting the world premiere of the acclaimed adaptation of the Jane Austen short novel LADY SUSAN. Directed by Brian Allen and James Noel Hoban, the show stars Brynn Lewallen, Joseph Bearor, Hannah Daly, Jay Mack, Halsey Redman, Amy Roche, and Nathan Gregory. October 20 - November 14.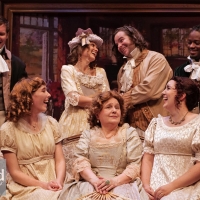 BWW Review: Good Theater Reopens with Scintillating World Premiere of Rob Urbinati's LADY SUSAN
by Carla Maria Verdino-Süllwold - Oct 22, 2021
The Good Theater reopened its doors last night with a breathtakingly stunning world premiere of Rob Urbinati's new play LADY SUSAN, directed by Brian P. Allen and James Noel Hoban. Taking its inspiration from Jane Austen, this 21st century work has all the eloquence of an early 19th century classic, as it explores the intricate, timeless mating games that seem as relevant today as they did more than two hundred years ago.
BWW Review: Good Theater Virtual Benefit Pays Tribute to the 1990s
by Carla Maria Verdino-Süllwold - Mar 26, 2021
Each Christmas the Good Theater presents BROADWAY AT THE GOOD, a musical concert benefit recreating songs from a particular decade. Due to the pandemic, the 2020 concert did not take place, so this belated virtual songfest, featuring highlights of the 1990s is especially welcome to fans of this company. The well-crafted revue, conceived and directed by Brian Allen with skillful music direction by Victoria Stubbs and video production by Steve Underwood, (Dave Grant, Lead Editor) nimbly handles all the curve balls the pandemic protocols require as it reunites most of the Good Theater regulars, together with special guest stars Valerie Peri and Roosevelt Baker.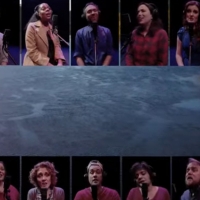 VIDEO: The Cast of BROADWAY AT GOOD THEATER Sings 'Seasons of Love'
by A.A. Cristi - Mar 19, 2021
Good Theater, the professional theater company in residence at the St. Lawrence Arts Center, has just released a video of "Seasons of Love"  from RENT, featuring 14 singers and stunning Maine video footage.  The song can be viewed on Youtube, at the link: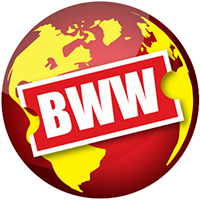 Good Theater Cancels Performances Due to COVID-19
by Stephi Wild - Mar 16, 2020
Good Theater has postponed its production of Desperate Measures.
BWW Review: The Insidious Spiral of Deceit: PACK OF LIES at the Good
by Carla Maria Verdino-Süllwold - Feb 17, 2020
The tautly paced, compactly plotted 1983 psychological spy thriller, PACK OF LIES by Hugh Whitemore, proves to be a cliff hanger for audiences at the Good Theater, where its recent revival, expertly directed by Brian P. Allen with a finely tuned ensemble cast, demonstrates the relevance of its message in the chaotic political context in which we currently live.
Steve Underwood Frequently Asked Questions
How many shows has Steve Underwood written?
Steve Underwood has written 1 shows including Radical Radio (Bookwriter/Composer/Lyricist).