Maine State Ballet Presents THE LITTLE MERMAID this October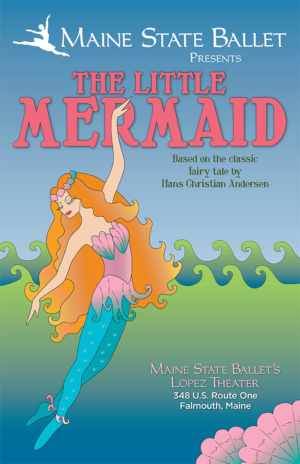 Maine State Ballet's 175 seat Lopez Theater will be transformed into a shimmering underwater grotto for the upcoming production of The Little Mermaid, an original ballet by Artistic Director Linda MacArthur Miele, which runs October 7 through October 15.
Based on the classic Hans Christian Andersen fairy tale, The Little Mermaid tells the story of a curious mermaid who longs to leave her ocean home and explore the world above. She is tricked by a jealous Sea Witch, but is finally saved by the power of true love. Unlike the original story, and in keeping with its "family friendly" atmosphere, the Maine State Ballet version has a happy ending.
The Little Mermaid premiered in 2013, and it became an instant favorite with audiences of all ages. Its one-hour run time makes it the perfect first ballet for children who might not be ready to sit through a 3-act production. Meanwhile, original choreography by Miele, imaginative scenery and extraordinary costumes designed by Associate Director Gail Csoboth, and a dark and mysterious lighting design by Fred Bernier are sure to delight the more seasoned ballet lovers in the crowd.
Principal Dancer Veronica Druchniak, of Standish, originated the titular role four years ago, when she was a senior at Bonny Eagle High School. Now a senior at the University of Southern Maine, majoring in mathematics and minoring in physics, she is excited to revisit this beloved ballet and its central character. Druchniak says being cast in The Little Mermaid was a turning point in her life.
"Mrs. Miele giving me the opportunity to carry a ballet while I was still in high school helped me decide to go to USM, so I could study what I love and also continue working as a professional ballet dancer right here in Maine," she says. "I am more and more confident that I made the right decision every time I step onto the stage."
Another dancer who credits Maine State Ballet with changing his life is returning Company member Michael Hamilton, who plays The Prince in The Little Mermaid.
Hamilton started dancing when he was 10 years old, and he enrolled at Maine State Ballet when he was 14. He danced in a number of ballets throughout high school, including The Nutcracker and Don Quixote. After high school, at the ripe old age of 19, he picked up and moved to Hollywood, where he found plenty of work in television, films, and commercials, both as actor and later as a producer and director. He has been featured in several films, including A Perfect Ending, Mr. Sophistication, and Nowhere, as well as the television shows How to Get Away with Murder, CSI, and Shameless. He was also a member of the Santa Clarita Ballet Company for five years.
Hamilton and his wife Lauryn have five children, including 17-month-old twins. While he had enjoyed living in California as a young, single man, he says he felt differently after he became a father. "As each child came along," he says, "I missed Maine more and more. I wanted my children to have the same experiences I had, and I wanted them to be part of a close-knit community."
So last December, Hamilton brought his wife and kids to Maine for Christmas to see if they might like living here. It was the first time anyone in his family had seen snow, and they loved it. They went back to California, put their house on the market, and moved home to Maine in March.
Hamilton says Maine State Ballet was his second family when he was in high school, and he wants his children to be around the people who helped him through some tough times. "Linda and Jon Miele were there for me when I needed them the most, and they made me feel like I would always have a family here. So now I'm back, and I've brought my own family to add to the ever-growing MSB family."
Maine State Ballet's The Little Mermaid runs October 7 through October 15, 2017, at the Maine State Ballet Lopez Theater, 348 U.S. Route One, Falmouth.
Performance times are Saturdays and Sundays at 1:00pm and 4:00pm. There is only one evening performance, on Friday, October 13th, at 7:00pm.
Tickets are priced at $15-$20 for reserved seating, with a $2 discount for seniors (62 & over) and children (12 & under). Order tickets online at www.mainestateballet.org or call Maine State Ballet at 207-781-7672 for more information.
Maine State Ballet, based in Falmouth, Maine, is one of New England's leading performing arts institutions and twice named Maine's Best Dance Group by Downeast Magazine. Its two components are the School for the Performing Arts, offering instruction in ballet, tap, jazz and other dance styles to more than 500 children and adults; and the Maine State Ballet Company, comprised of more than 25 professional dancers. Maine State Ballet is a nonprofit organization.
Related Articles View More Maine

Stories

Shows
More Hot Stories For You