Acorn Productions Presents The 17th Annual Maine Playwrights Festival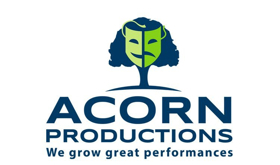 Performances for the 2018 Maine Playwrights Festival, the state's most prolific incubator for new plays by local playwrights, have been announced for April 26 through May 5 in Portland. This year's seventeenth annual festival features the world premiere performances of five new plays by Maine playwrights. Public performances will be held at the Studio Theater at Portland Stage (25 Forest Avenue). Tickets and all-festival passes are available now at www.acorn-productions.org.
"It's an exciting year for us to be premiering five new plays that were selected from our largest-ever pool of playwrights from around the state," says Daniel Burson, the festival's Artistic Director. "We're also thrilled that this year's featured writers come from communities all across Maine-Orono, Portland, New Sharon, Brunswick, and Cape Elizabeth-highlighting how theater brings different people and perspectives together to share in creating art."
The five new plays in the 2018 festival (described below), are written by Maine playwrights Travis G. Baker, Ron Kanecke, Parker Lemal-Brown, Gordon LePage, and Jennifer Reck. Their plays were selected for the festival by a committee of local theater professionals out of a pool of 62 scripts submitted by playwrights from across Maine-the largest number of writers ever to submit to the festival in a single year. The writers are developing and rehearsing their plays this spring working with 2018 professional playwright-in-residence Callie Kimball (Sofonisba, DRC; Alligator Road, Mad Horse) as well as local professional directors, designers, and a cast of actors based in Southern Maine.
The 2018 Maine Playwrights Festival is being dedicated to the memory of Maine novelist, playwright, and teacher Elaine Ford. Ms. Ford (1938-2017) was the author of seven books of fiction, including This Time Might Be Different: Stories of Maine, published this month. A professor at the University of Maine for 19 years, she lived in Milbridge and, later, Harpswell. A late venturer into playwriting, Ford had plays performed as part of the festival in 2016 and 2017. "The Maine Playwrights Festival was fortunate to get to work with Elaine, and we were all stunned by her sudden death last year," says Burson. "By dedicating the 2018 festival to her memory, we want to acknowledge her legacy as a Mainer who proved that it's never too late to take up playwriting and bring new worlds to life onstage."
In addition to the mainstage performances of the five featured plays, the 2018 festival will also include a staged reading of five other new scripts that were semi-finalists during the selection process, to be held on Sunday, April 22, at 7:00pm. There will also be a reading of Playwright-in-residence Callie Kimball's full-length play Dreams of the Penny Gods held on Wednesday, May 2, at 7:00pm. Both nights of readings are open to the public on a Pay-what-you-can basis.
2018 Maine Playwrights Festival Plays
Performances April 26 to May 5 at The Studio Theater at Portland Stage (25 Forest Avenue; Portland)
(Tickets: $20 or $18 students/seniors - www.acorn-productions.org)
BOY MISSING, by Travis G. Baker
In a small-town bar, Darcy and Jerry are going to have a 'conversation' about the missing boy who connects their families.
KNOCKS AND HOW TO ANSWER, by Ron Kanecke
Two lonely people at crossroads in their lives meet during a hurricane evacuation.
GESUNDHEIT, by Parker Lemal-Brown
After deciding out of the blue that he's on his deathbed, a father's cavalier attitude towards illness - and giving away his possessions - drives his daughter to desperation.
ANGELS WE HAVE HEARD, by Gordon LePage
After the arrival of an unexpected young guest, a successful New York real estate agent must appraise the value of her properties past and present.
SLEEPING AT CAMPOBELLO, by Jennifer Reck
Historical artifacts get borrowed and broken as the summer season at Campobello draws to a close, and a docent finds herself in a compromising position in the Roosevelts' bedroom.
2018 Maine Playwrights Dramatic Readings
Reading April 22; 7:00pm at Mechanics Hall Ballroom (519 Congress Street; Portland)
(Tickets: Pay-what-you-can, available at the door)
Hippos in the Catholic School Parking Lot, by David Body
The Other Life, by Lynne Cullen
Guernica, by David Draheim
Whoosie, by Cassandra Powers
Just Saying, by Mary Katherine Spain
2018 Playwright-in-Residence Featured Work
Reading May 2; 7:00pm at The Studio Theater at Portland Stage (25 Forest Avenue; Portland)
(Tickets: Pay-what-you-can, available at the door)
Dreams of the Penny Gods, by Callie Kimball