Click Here for More Articles on STUDENT CENTER - COLLEGE EDITION

World Premiere Of New Musical REBEL GENIUS Comes to UCLA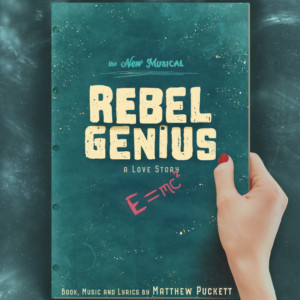 Rebel Genius, a new musical from Peabody Award-winning songwriter and film composer Matthew Puckett, and based on the life of the young and highly ambitious Albert Einstein, will have its world premiere at the UCLA School of Theater, Film and Television's (UCLA TFT) Little Theater on Friday, March 8, 2019. Rebel Geniuscrashes physics and love into one another as Albert falls madly in love with Mileva Maric and then risks everything he has to find a perfect Unified Theory of the Universe. Book, music and lyrics by Matthew Puckett; directed by Ovation Award winner Brian Kite; choreographed by Ovation Award winner Dana Solimando; musical direction by Dan Belzer and Jeremy Mann.
With the production of Rebel Genius, director Kite, who is also a professor and the Department of Theater Chair at UCLA TFT, is seeking to establish the school as the preeminent venue for new play development on the West Coast.
"With these incredible acting students and designers, we can play a larger part in the greater ecosystem of new play development in the U.S.," he says.
The Rebel Genius cast features UCLA TFT students Michael Wells, Sara James, Olly Sholotan, Jeilani Rhone-Collins, James Olivas, Molly Livingston, Tom Hoffmann, Brendan Knox, Kelsey Kato, Carson Robinette, Caroline Pernick, Ariana Perlson, Fernando Carsa, Elana Cantor, Justin Baker, Marlena Becker, Michael Riskin, Nicolette Norgaard, Haleyann Hart, Katie Powers-Faulk, Sophie Shapiro and Walker Brinskele.
Designed by UCLA TFT M.F.A. students Hakan Yoruk, Marisa Melideo, Jeff Behm and Ryan Marsh.
Performances will take place March 8-9 and 12-15 at 8:00 p.m. and on Saturday, March 16 at 2:00 p.m. and 8:00 p.m. Tickets are $40, with discounts available for UCLA faculty and staff. Visit www.tft.ucla.edu/theaterseason or Ticketmaster for more information.
Last year, the UCLA TFT musical production of Steel Pier won 13 regional theater awards in such categories as Direction of a Musical, Choreography, Musical Direction (Larger Theater) and Production Design (Larger Theater).
Matthew Puckett - Book, Music, Lyrics
Matthew Puckett is an award-winning songwriter and film composer who won a Peabody Award for his songs and score for the seven-part documentary series Hopkins. He received an ASCAP Film/TV Award for writing "Skyline," the theme song of the critically acclaimed ABC series NY Med, and his musical, Rebel Genius, was a finalist for the 2017 Jonathan Larson Grant presented by The American Theater Wing. Puckett's unique film scores include Caught (2015), Dial a Prayer (2015), Best Friends Forever (2013) and the Tribeca Film Festival-winning short Some Boys Don't Leave (2009); TV scores include Gravity, Still Single and Guidance. Other film and television music credits include Antoine Fuqua's Southpaw; MTV's Eye Candy; NCIS: LA; Being Human; Hooking Up; Held Up; Never Again; Make It or Break It and Finding Carter. He has worked with bands and artists such as Rogue Wave, The Mowgli's, Jillea, Marsha Ambrosius, Jeremy Jordan, Shawn Hook, Kris Allen, The 3AM, Clementine and The Galaxy, Royal Tongues, Glenn Philips, Beginners, Valen and Garrison Starr.
Brian Kite - Director
Brian Kite has directed live theater across the United States and abroad. He served as producing artistic director of La Mirada Theatre for the Performing Arts from 2008-2015 and directed many theater productions, co-produced by McCoy Rigby Entertainment, including their critically acclaimed productions of American Idiot, Billy Elliot, LES MISERABLES, Miss Saigon, Little Shop of Horrors, Dinner with Friends, Steel Magnolias, Driving Miss Daisy and Proof. Kite is the recipient of the Los Angeles Ovation Award for Best Direction of a Musical for his production of Spring Awakening and was again nominated for his productions of LES MISERABLES and American Idiot. He directed the national tours of Judgment at Nuremberg, In the Heat of the Night, The Graduate, and Pride and Prejudice for L.A. Theatre Works, and staged the first production of Miss Saigon to ever play in China. He also directed Top Secret: The Battle for the Pentagon Papers, which toured throughout Mainland China. In 2018, he staged the South China premiere of David Lindsay-Abaire's Rabbit Hole in Mandarin at the Guangzhou Dramatic Arts Center in Guangzhou, China.
Dana Solimando - Choreographer
Described by the Chicago Tribune as "exceptional" and "razor sharp," Ovation Award winner and six-time nominee Dana Solimando's work as a choreographer, director and performer has run the gamut from Broadway to TV and film. She made her Broadway debut in Cats playing the role of "Rumpleteazer," and went on to perform in other Broadway shows such asSwing! and Peter Pan. She has also performed in numerous other national tours and regional theater productions including Jesus Christ Superstar, A Chorus Line, Grease, SugarBabies, Gypsy, Oklahoma! and Radio City Music Hall's Christmas Spectacular. Her choreography credits include: Cabaret, American Idiot, Rent, Spring Awakening and Billy Elliot, Ragtime, Parade, Damn Yankees, The Addams Family, Hairspray, All Shook Up, Swing! and Miss Saigon. Solimando is also the co-writer, director and choreographer for Crystal Cruises'Maestro and Route 66, and the director-choreographer of the world premiere and national tour of Rudolph the Red Nosed Reindeer the Musical.
Dan Belzer - Musical Director
Dan Belzer has enjoyed a diverse career as an actor, singer, pianist and teacher. As an adjunct associate professor in the Ray Bolger Musical Theater Program at UCLA TFT, he has music directed, accompanied and conducted several musicals including Rent, Cabaret, Anything Goes, Hot Mikado and Urinetown. He also serves as a voice instructor and scored the M.F.A. film project The Making of.... Belzer served as chorus music director of The Getty Center's production of The Swallow Song, comprised of students from UCLA TFT's Department of Theater. As a pianist, he has toured Europe for more than 15 years with The Singing Waiters, performing in Switzerland, Germany, Belgium, Austria, Italy, France and the Czech Republic. He has served in a multitude of capacities including music director, pianist, conductor and keyboardist in many Los Angeles-area theaters, working on such shows as A Little Night Music; Urinetown; Oliver!; All I Really Need to Know I Learned in Kindergarten; The All-Night Strut; The Sound of Music; Annie Get Your Gun and Ernest in Love.
Jeremy Mann - Vocal Director
Jeremy Mann is director of singing for the Ray Bolger Musical Theater Program at UCLA TFT where he has developed the singing curriculum for undergraduate musical theater majors, and teaches singing and musical theater performance. His directing credits at UCLA TFT include Into the Woods, Hot Mikado, Cabaret and A Chorus Line, and vocal direction for The Last Five Years, Urinetown, Side Show, Homer in Cyberspace, Anything Goes and Rent. Before moving to Los Angeles, Mann was the resident musical director and an actor at the Pacific Conservatory of the Performing Arts (PCPA) in Santa Maria. In addition to co-creating and teaching the singing techniques for the actor curriculum at PCPA, Mann musically directed more than 20 productions there, including Honk!, My Fair Lady, How to Succeed... and Jesus Christ Superstar. Directing credits at PCPA included Peter Pan, 42nd Street and Anything Goes. A lyricist and singer-songwriter, Mann is also co-creator of the original musicals Robin Hood, Christmas Is...a Musical Memory and Christmas Is Here Again, with Brad Carroll.
About UCLA School of Theater, Film and Television
The vision of the UCLA School of Theater, Film and Television is to serve as a premier global interdisciplinary professional school that develops outstanding humanistic storytellers, industry leaders and scholars whose diverse, innovative voices enlighten, engage and inspire change for a better world. Consistently ranked as one of the top entertainment and performing arts institutions in the world, UCLA TFT offers an innovative curriculum that integrates the study and creation of live performance, film, television and the digital arts. The distinguished graduate and undergraduate programs at UCLA TFT include acting, directing, writing, producing, animation, cinematography, lighting design, set design, costume design and sound design. The school also offers doctoral degrees in theater and performance studies and cinema and media studies.