The Vagrancy Announces A Staged Reading Of Katherine Vondy's THE OCEAN DEEP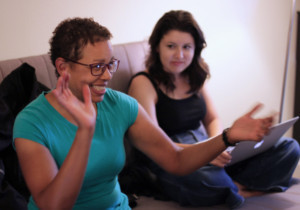 Following THE VAGRANCY's successful run of BLOSSOMING: a new play reading series: 2018, the award-winning theatre company proudly continues its commitment to new play development with a workshop and staged reading of KATHERINE VONDY's THE OCEAN DEEP, directed by MIRANDA STEWART.
THE OCEAN DEEP was originally developed in The Vagrancy's 2017 writer's group and is currently undergoing an intensive re-writing process - culminating in a staged reading and audience talkback.
After the devastating failure of her latest research project, marine biologist Doris is struggling to get her career back on track- until her best friend Marie shows up for an unexpected visit. To the surprise of all the sea creatures in the lab, Marie inspires Doris to embark upon a study of the lab's newest addition, a rare dragonfish. But with her attention focused on uncovering the secrets of her unusual specimen, Doris fails to realize that Marie has a number of dark secrets of her own. And as these secrets float to the surface, the boundaries between who is doing the studying and who is being studied start to disappear.
KATHERINE VONDY is a Los Angeles-based writer and director whose credits span theater, film, and literature. Kat is the recipient of the Davey Foundation Theatre Grant for her play The Fermi Paradox, and her award-winning short film The Broken Heart of Gnocchi Bolognese has screened at festivals worldwide. Her plays have been developed with The Vagrancy, Salt Lake Acting Company, and Paper Wing Theatre Company, and recent theater directing credits include The Complete Human Experience (Lost Moon Radio), Friends in Transient Places (Fresh Produce'd LA), and Suddenly Split and Swiping Over (All Terrain Theater). Kat has received dramatic writing residencies from the HBMG Foundation, Vermont Studio Center, Starry Night, and Wildacres. She earned a BA from Amherst College and an MFA in Film and Television Production from the University of Southern California. More information about all her creative work is available at katherinevondy.com.
THE OCEAN DEEP features an all-female cast and crew including, Nicolette Acosta, Allison Andreas*, Betsy Currie, Danielle Gonzales, Irene Park, Cameran Surles, Cathy D. Tomlin*
Katherine Vondy, Playwright; Miranda Stewart, Director; Penny Martin, Costume Designer; Katie Davis, Stage Manager
WHEN: WEDNESDAY, AUGUST 8TH @ 7PM
WHERE: The Broadwater Black Box of 6322 Santa Monica Blvd, Los Angeles 90038
TICKETS: PAY WHAT YOU WANT. Cash and Credit Card Accepted - Seats are first come, first serve
THE VAGRANCY is a bold Los Angeles-based theatre company that creates visceral work that seeks to touch the human spirit. Caitlin Hart, Founder & Artistic Director; Miranda Stewart, Managing Director; Katherine Vondy, Writer's Group Moderator; Nicolette Acosta, Public Relations; Maia Kazin, Assistant to Artistic Director; Schuyler Girion, Social Media; Erica Ibsen, Company Photographer; Andrew Walke, Storage Manager; Company Videographer, Alfredo Trueba; Allison Andreas, Box Office Manager; Danielle Gonzales, Steve Madar, Michal Sinnott, Karina Wolfe, Arthur Keng, Creative Partners.
*This reading is presented under the auspices of the Actors' Equity Los Angeles Membership Company Rule.