The BAFTA Tea Party Was Held January 5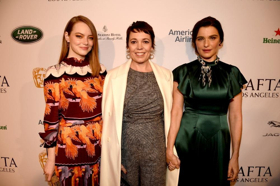 The BAFTA Tea Party was held at the Four Seasons Hotel Los Angeles at Beverly Hills on January 5, 2019. The event was presented by American Airlines, BBC America and Jaguar Land Rover.
American Airlines is the official airline partner of BAFTA Los Angeles and Jaguar Land Rover is the official vehicle partner of BAFTA Los Angeles.
Attendees included Amy Adams, Joe Alwyn, Yalitza Aparicio, Patricia Arquette, Caitriona Balfe, Ben Barnes, Marco Beltrami, Lyriq Bent, Brad Bird, Emily Blunt, Kim Bodnia, Lee Broda, Rachel Brosnahan, Daniel Brühl, Bo Burnham, Caryn Capotosto, Linda Cardellini, Kayli Carter, Raul Castillo, Timothée Chalamet, Gemma Chan, Jimmy Chin, Patricia Clarkson, Glenn Close, Sacha Baron Cohen, Joan Collins, Lily Collins, Olivia Colman, Jodie Comer, Lana Condor, Alfonso Cuarón, Willem Dafoe, Merle Dandridge, Marina De Tavira, Ceci Dempsey, Colman Domingo, Adam Driver, Peter Farrelly, Elsie Fisher, Isla Fisher, Peter Fonda, Claire Foy, William Goldenberg, Ludwig Göransson, Danai Gurira, Kathryn Hahn, Josh Hamilton, Thomasin Harcourt McKenzie, Laura Harrier, Jared Harris, Justin Hartley, Matthew Heineman, Dave Holstein, Nicholas Hoult, Helena Howard, Lynette Howell Taylor, Justin Hurwitz, Sarunas Jackson, Stephan James, Barry Jenkins, Phil Johnston, Graham King, Regina King, Sir Ben Kingsley, John Krasinski, Joanna Kulig, Eric Lange, Yorgos Lanthimos, Kiki Layne, Spike Lee, Phil Lord, Courtney Love, Danielle Macdonald, Richard Madden, Sherry Marsh, Rob Marshall, Melissa McCarthy, Martin McDonagh, Adam McKay, Janet Mock, Viggo Mortensen, Khaled Mouzanar, Thandie Newton, Lesley Nicol, Lupita Nyong'o, Paul Oakenfold, Rosamund Pike, Gabriela Rodriguez, Mark Ronson, Björn Runge, Julian Schnabel, Paul Schrader, Marc Shaiman, Dina Shihabi, Jimmi Simpson, Troye Sivan, Ron Stallworth, Lakeith Stanfield, Annie Starke, Emma Stone, Sydney Sweeney, Sandi Tan, Elizabeth Chai Vasarhelyi, Phoebe Waller-Bridge, Diane Warren, John David Washington, Rachel Weisz, Shea Whigham, Billy Zane, among others.
A staple in the Los Angeles awards season calendar, the BAFTA Tea Party welcomes nominees, members and guests for a uniquely elegant gathering. The party has a long tradition of recognizing the very best creative talents, and is hugely popular with nominees seeking a respite from the hectic and demanding Awards season. The afternoon also raises awareness and funds for BAFTA's year-round education and new talent programming.
The British Academy of Film and Television Arts (BAFTA) is a world-leading independent arts charity that brings the very best work in film, games and television to public attention and supports the growth of creative talent in the U.K. and internationally. Through its Awards ceremonies and year-round program of learning events and initiatives - which includes workshops, masterclasses, scholarships, lectures and mentoring schemes in the U.K., U.S. and Asia - BAFTA identifies and celebrates excellence, discovers, inspires and nurtures new talent, and enables learning and creative collaboration. For advice and inspiration from the best creative minds in working in film, games and television, visit www.bafta.org/guru. For more, visit www.bafta.org.
Founded in 1987, BAFTA Los Angeles serves as a bridge between the Hollywood and British production and entertainment business communities. Its commitment to professional and community education is at the heart of all activity, including an award-winning community outreach program, screenings, seminars, Q&As, scholarships for British students studying in the U.S., a Newcomers Program for emerging British talents working in the U.S., and a Heritage Archive project that preserves in-depth interviews with the industry's leading talents for future generations. BAFTA Los Angeles celebrates and promotes excellence through its annual Britannia Awards, Film and Television Tea Parties and the Student Film Awards.
BAFTA Los Angeles is a 501(c)3 Non-Profit Corporation and relies on income from membership subscriptions, individual donations, trusts, foundations and corporate partnerships to support its ongoing work. www.bafta.org/losangeles