Road Theatre Company Presents Its 9th Annual Summer Playwrights Festival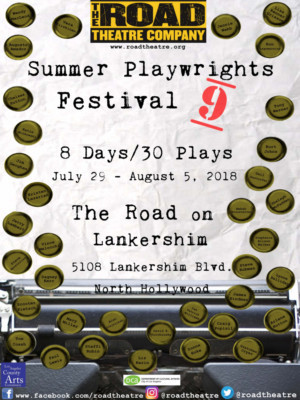 THE ROAD THEATRE COMPANY and Taylor Gilbert, Founder/Artistic Director together with Sam Anderson, Artistic Director, remain committed to their meaningful mission to produce and develop New Work for the Stage. They are thrilled to announce in their upcoming 27th season;
THE NINTH ANNUAL SUMMER PLAYWRIGHTS FESTIVAL (SPF9).
This year's festival features all new works to Los Angeles and has attracted playwrights internationally including, Wendy MacLeod (The House of Yes, nominated for 6 LADCC awards for The Water Children, and Juvenalia. She is the artistic director of the Kenyon Playwrights Conference), Bekah Brunstetter (The Cake, Alumni of the CTG Writers Group, Primary Stages Writers Group, Ars Nova Play Group, The Playwright's Group, and The Women's Project Lab, Television: This Is Us, Switched At Birth.) Ron Largomarsino (Jerome was a Finalist at the Eugene O'Neil Playwrights Conference, Directed/Staged many world premiere plays including works by Christopher Durang, Jane Anderson, and Alfred Uhry, Currently adapting his screenplay "Haight & Stanyan" for television), Stephanie Walker (The Madres, The Abuelas, Friends with Guns, The Art of Disappearing- O'Neill Playwright's Conference semi-finalist, Princess Grace Award), Jim Geoghan (The Suite Life of Zack & Cody - 2 Emmy Nominations, The Suite Life on Deck, Plays: Of Men and Cars and Only Kidding),Craig Pospisil (Months On End, Somewhere In Between, Life Is Short, and The Dunes, Award for Excellence by the Kennedy Center/American College Theatre Festival), and Dagney Kerr (Stay - Award winning Best Play and the Sherman C. Ward Jr. Award of Excellence in Playwriting in the Eastern States One Act Play Festival), Vera Kiiskinen (Award Nominee, Finnish Actress known for her roles in Under the North Star and Seamstress, Tv Roles: Karrpi and Konttori, Plays: Stripping), Scooter Pietsch (Emmy-nominated Composer for several tv shows such as Pretty Little Liars, American Idol, So You Think You Can Dance?, and All Dogs Go To Heaven:The Series, play Windfall carried a sold out run, Prodcued for shows from ABC, FOX, Lifetime, VH1, and E!)
THE SUMMER PLAYWRIGHTS FESTIVAL (SPF9) will open on Sunday July 29 at 8pm and run through Sunday August 5 at the Historic Lankershim Arts Center, 5108 Lankershim Blvd. in North Hollywood, CA.
This year's festival features noted directors such as, Taylor Nichols (Acted in Barcelona, Metropolitan, CSI: Crime Scene Investigation,NAACP Award All My Sons, LA Drama Critics Circle Award), April Webster (Emmy Award Winner-4 nominations, 4 time CSA winner. 11 nominations, Artios Awards - 13 nominations, Films - Star Trek, Star Wars: The Force Awakens, Television: LOST, The Strain), Ron Lagomarsino (Directed shows such as Pretty Little Liars, Nashville, The Fosters, Switched at Birth, and One Life to Live, 2 Primetime nominations, 1 win), Michael John Garces (Plays include Los Illegals, Points of Departure, The Forked Path, and Magic Fruit, Directed plays such as Urban Rez, The Tempest, Plumas Negras, and Café, core member of Cornerstone Theater and Living Word Project) and many Road company members and members of the Los Angeles theater community. Most of the playwrights whose work is featured will be attending and will participate in a post-show discussion with the audience and cast.
Artistic Directors Taylor Gilbert and Sam Anderson on the importance of the festival to the theatre, "The Road's Summer Playwrights Festival offers a wonderfully compressed period of new works and voices from established and emerging playwrights brought to life by the Road ensemble and guest artists who interact in lively discussions with our audiences, different live bands each evening, great food and drink and a tremendous sense of community between artists and theatregoers. An unforgettable event."
LIVE MUSIC!
One popular feature of the festival last summer was the live music that was featured during each reading reception in our gallery space. This year's festival will feature the bands and musicians Mleo, Stage 11, and Irish band sensation, Whiskey Sunday. The reception will be held in our backyard patio - Bettina's Cantina - and will feature wines from Paso Robles Wineries and Lagunitas Brewery along with delicious appetizers and desserts.
THE ROAD THEATRE COMPANY
Located in the heart of the NoHo Arts district-the fastest growing arts district in Los Angeles County-the company has called the Historic Lankershim Arts Center home for the past 23 seasons.
Fiercely committed to that most dangerous of theater missions-the dedication to new works-the Road Theatre Company led by founding artistic director Taylor Gilbert and artistic director Sam Anderson, is a multi-award winning theater that has been named one of the top ten intimate theater companies in Los Angeles (LA Weekly). It is home to over 150 theater artists devoted to the creation of the highest level of work. This festival is our way of sharing the process of play development with our community and allows participants playwrights the chance to hear their plays in a professional setting of talent and artistry. The festival is also a fundraising event for the theater to help us launch our 27th season. A suggested donation of $15 is requested of festival attendees and they are invited to give as little or as much as they want during each day's performance.
SCHEDULE AND PRICING
Performances are Monday-Friday at 8pm; Saturday at 10am 12pm, 2pm and 8pm; Sunday (August 5) at 10am,2pm and 8pm. Ticket prices are suggested donation of $15. For more details and to view complete schedule, play descriptions and cast lists visit roadtheatre.org