Review: PIZZA MAN Delivers the Message That Rape is Never OK Under Any Circumstances
In the wake of recent #MeToo headline events redefining gender roles (particularly for women)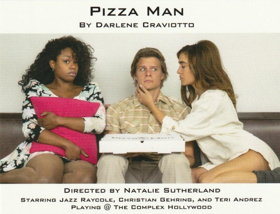 and issues of consent, PIZZA MAN by Darlene Craviotto, which debuted in 1982, seems timelier than ever. While statistics are only quoted once in the play with Newsweek saying "a rape is committed every 7 seconds," the United States Department of Justice research claims about 20 million out of 112 million women (18.0%) in the United States have been raped during their lifetime, with only 16% of all rapes reported to law enforcement. No doubt these rapes were committed almost exclusively by men. But is it possible for a woman to rape a man?
Such is the question asked during PIZZA MAN when Alice and Julie,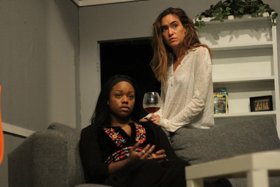 20somethings who share an apartment in Los Angeles in 1981, both distressed with the state of their lives and their place in the world, decide one night to overcome their position by doing something aggressive; "something a man would do." Intending to turn the tables on years of misogyny and sexism, they pick a guy, any guy, to take advantage of him. "Men have been doing it for years, why can't a woman try it?"
You see, Julie (Teri Andrez) is a shut-off and lonely soul
who does not seem able to hold either a job nor a man for an extended length of time, while warm-hearted Alice (Jazz Raycole) has been in a dead-end relationship with a married man who she cannot seem to live without. As they argue while attempting to seek comfort from each other, it becomes apparent that both women, tired of being harassed by men in every way, decide to hatch a scheme intended to reverse their power dynamic.
As with so many who are suffering emotionally,
Julie decides to drink herself into oblivion while Alice turns to food to squash her emotions rather than face the reality of her situation. But with too much alcohol and an empty fridge, they decide to order a pizza delivery to bring a man to their door to fulfill their needs and find out how a man would feel if a woman (or two) decided to make him fear for his life during a sexual assault while, while reciprocated at first, turns into a violent power struggle.
When the Pizza Man deliveryman Eddie (Christian Gehring) arrives at their door, it seems their prayers have been answered since he is tall, handsome, extremely well built... and married...
he fuels the fire by agreeing to have sex with them after being invited in to have a beer. After all, he says, "it's expected of me by many of my female customers." Little does he know what the girls have planned for him until he wakes up after being hit over the head with a bottle, tied up with an electrical extension cord as the two women prepare to have their way with him. But can a woman really rape a man if he is so scared that he cannot perform? Or can the act of creating such fear in a man really satisfy an angry woman's need to experience her power over a man?
While Natalie Sutherland's direction keeps the cast moving about during the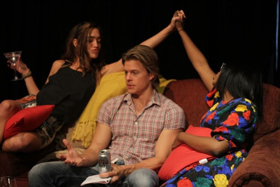 confrontation scenes in Act 2, the Act 1 dialogue drags with way too many long and unnecessary silences which extended the run time to a much-too-long two and a half hours with a 15 minute intermission. The message of this play could certainly be clearly delivered in half the time if directed at a better pace. And I am sure many in the audience would appreciate taking out the clove cigarettes almost constantly smoked by Julie whose odor filled the small room with cough-inducing moments.
Performed on a very well-designed (but uncredited)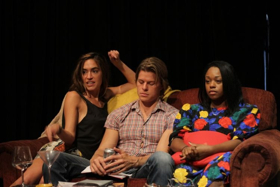 kitschy and functional living room set, it becomes apparent early on that this is really Julie's apartment (with her sitting in a corner at an easel, painting and drinking herself into oblivion from her well-stocked bar) while Alice is her latest roommate who she tolerates in order to make the rent. A small "loveseat" is placed center stage where most of the action takes place between the three characters after the pizza man arrives via the front door upstage.
While the message is loud and clear, the actors were not and my guest and I struggled to hear almost half of what Andrez and Gehring were saying as the actors spoke often in whispers as if they were the only ones in the room and no one, other than Alice, needed to hear what they were saying.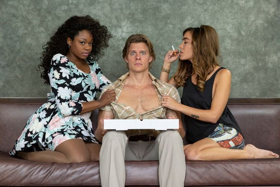 So while many in the audience frequently laughed at their lines, we looked at each other and shrugged since we had no idea what could have been said that was so funny. And we were sitting in the third row, so I can only imagine how difficult it was those farther back in the room.
This was not the case for Raycole who spoke loudly enough to be heard throughout having mastered the art of using her voice in a "stage whisper" so it could still be heard at the back of the small theater. Her performance, therefore, was the standout, her heart and emotions on full display, generated real empathy for her once she realizes their mistake and does her best to reverse the situation.
PIZZA MAN features a 90% female production team and pleads to be seen through a different perspective, the perspective of a woman. Given the "Me Too" movement and the climate of the entertainment industry, the producers felt it was an important piece of work to show at this time. To be sure their message is clear to audiences, as its producers, the show's actors Jazz Raycole and Teri Andrez, share in the PIZZA MAN program: "RAPE IS NEVER OK, UNDER ANY CIRCUMSTANCES. This play is not about the subject of rape but rather an exploration of the fragility which men can experience when the tables are turned only momentarily. It is meant to express the anger and outrage of mistreatment and years of misogynistic behavior and pleads to be seen through a different perspective, the perspective of a woman. Being seen as prey and not the predator. It's about creating a dialogue, a conversation." And for that, I applaud them.
PIZZA MAN, a dark comedy
written by Darlene Craviotto, directed by Natalie Sutherland, starring Jazz Raycole, Teri Andrez, and Christian Gehring, continues at The Dorie Theatre at the Complex, 6476 Santa Monica Blvd., Hollywood, CA 90038 through August 26th, 2018. Thurs -Fri - Sat at 8:00pm. Sun. at 3:00pm. Tickets are $17 online at www.pizzamancomplex.com or $20 at the door. CONSUMER ADVISORY: Includes material related to sex and sexual violence. Leave the kids at home.
Photo credit: Alla Wagner

Related Articles View More Los Angeles

Stories

Shows