Photo Flash: The Theatre Group at SBCC presents HIGH SOCIETY
The Theatre Group at SBCC opens the 17/18 season with Cole Porter's sparkling musical, HIGH SOCIETY, July 12-29 in the Garvin Theatre.
The Theatre Group at SBCC is excited to present the musical HIGH SOCIETY, music and lyrics by Cole Porter, Book by Arthur Kopit and additional lyrics by Susan Birkenhead, July 12-29 in the beautiful Garvin Theatre on SBCC's West Campus.
Imagine that Philip Barry had written "The Philadelphia Story", his classic 1939 romantic comedy, not as a play but a musical, with Cole Porter as his collaborator, and you have ... HIGH SOCIETY! The Lord family now lives on a waterfront estate in Oyster Bay, not Philadelphia. HIGH SOCIETY has it all: classic Hollywood charm, a fantastic musical soundtrack featuring "What is this Thing Called Love","Let's Misbehave","It's All Right With Me" and other Cole Porter classics, and a crazy love triangle.
High Society premiered at the American Conservatory Theatre of San Francisco in an out-of-town tryout on September 4, 1997 and ran through October 5, 1997. In 1998 High Society played for 144 performances on Broadway at the St. James Theatre starring Melissa Errico, Daniel McDonald, Randy Graff, Stephen Bogardus, Anna Kendrick and John McMartin. It was revived in London at The Old Vic Theatre in 2015.
The original production received Tony Award Nominations for Best Featured Actor in a Musical - John McMartin, and Best Featured Actress in a Musical - Anna Kendrick It also received Drama Desk Award Nominations of Outstanding New Musical, Outstanding Actress in a Musical - Melissa Errico, Outstanding Featured Actor in a Musical - John McMartin, and Outstanding Featured Actress in a Musical - Anna Kendrick
Cole Porter (June 9, 1891 - October 15, 1964) was an American composer and songwriter. Born to a wealthy family in Indiana, he defied the wishes of his domineering grandfather and took up music as a profession. Classically trained, he was drawn towards musical theatre. After a slow start, he began to achieve success in the 1920's, and by the 1930's he was one of the major songwriters for the Broadway musical stage. Unlike many successful Broadway composers, Porter wrote the lyrics, as well as the music, for his songs. Porter's other musicals include Fifty Million Frenchmen, DuBarry Was a Lady, Anything Goes, Can-Can and Silk Stockings. His numerous hit songs include "Night and Day", "Begin the Beguine", "I Get a Kick Out of You", "Well, Did You Evah!", "I've Got You Under My Skin", "My Heart Belongs to Daddy" and "You're the Top". He also composed scores for films from the 1930's to the 1950's, including Born to Dance (1936), which featured the song "You'd Be So Easy to Love"; Rosalie (1937), which featured "In the Still of the Night"; High Society (1956), which included "True Love"; and Les Girls (1957).
Arthur Kopit (born May 10, 1937) is an American playwright. He is a two-time Pulitzer Prize finalist (Indians and Wings) and a three-time Tony Award nominee: Best Play, Indians, 1970; Best Play, Wings, 1979; and Best Book of a Musical, for Nine, 1982. He won the Vernon Rice Award (now known as the Drama Desk Award) in 1962 for his play Oh Dad, Poor Dad, Mamma's Hung You in the Closet and I'm Feelin' So Sad and was nominated for another Drama Desk Award in 1979 for his play Wings.
The Theatre Group is excited to have local actress Katherine Bottoms as Tracy Lord and Guest Equity Actor Darren Bluestone as Dexter Haven. Katherine is well-known to local audiences having appeared at both the Garvin in Proof, The Heiress and Present Laughter and with Out Of the Box Theatre in Heathers: The Musical and Bonnie and Clyde.
Darren is joining us after having appeared in the 10th Anniversary Cast of Avenue Q in New York and on TV most recently in Transparent and Jane the Virgin. He was named in The Backstage 30 of Actors on the Brink of Breaking Out.
DEBORAH BERTLING (Margaret Lord) has appeared on stages throughout central and southern California in operas, plays, concerts, and staged readings. A few highlights include What Rhymes With America, Next To Normal (Indy Award), Carrie, The Musical, Suor Angelica, Gianni Schicchi and The Magic Flute. Episodic credits include The Bay, The Series and Unusually Thicke. She has done commercials and voice-over work for film and TV ads. Look for her in Mirror Of My Soul, a feature film premiering fall of 2017. She is president of The Performing Arts Scholarship Foundation in Santa Barbara.
Darren Bluestone* (Dexter) New York: Avenue Q (Broadway 10th Anniversary Cast), Jane Austen's Pride and Prejudice (NYMF), Rodgers and Hammerstein's Cinderella (Pre-Broadway). TV: Transparent (Amazon), Jane the Virgin (CW), Liv and Maddie (Disney). Carnegie Mellon.
*Appearing Courtesy of Actors Equity Association
Katherine Bottoms (Tracy Lord) was last seen in The Theatre Group's productions of Proof (Catherine) and The Heiress (Marian Almond), as well as A Midsummer Night's Dream (Puck) and Present Laughter (Daphne Stillington) where she won Indy Awards for both performances. Some other favorite performances include Peter and the Starcatcher (Molly Aster), Heathers: The Musical (Heather McNamara), Bonnie and Clyde: The Musical (Bonnie Parker), and The Importance of Being Earnest (Cecily Cardew and Gwendolyn Fairfax).
Alex Coleman (George Kittredge) studied theatre at SBCC before receiving his BA from the UCLA School of Theater, Film and Television. A former Shakespearean player at Ark Theater Company, Alex studied improvisation at The Groundlings and Upright Citizens Brigade. Alex was most recently seen in the The Theatre Group at SBCC's production of Proof, and in Dramatic Women's production of Are You Sitting Comfortably?
GREGG W. HART (Seth Lord) is returning to the fun and challenge of theatre after a 30 year hiatus. His last major role was Joseph in Joseph and the Amazing Technicolor Dreamcoat in 1980. He has also appeared as Billy Crocker in Cole Porter's Anything Goes, Lt. Cable in South Pacific and Charlie, in You're a Good Man, Charlie Brown, as well as several other shows.
Sean Jackson (Uncle Willie) has been performing with The Theatre Group at SBCC since 2001. His most recent SBCC credits include A Flea in Her Ear (Chandebise/Poche), for which he won a Santa Barbara Independent Theater Award, The Hound Of The Baskervilles (Jack Stapleton), Noises Off! (Gary/Roger), Present Laughter (Roland Maule), Avenue Q (Trekkie Monster), and Solid Gold Cadillac (Clifford Snell). Other Recent credits include PVT. Wars (Silvio), Reefer Madness (The Lecturer), Hair (Margaret Mead) and Evil Dead: The Musical (Jake) at Center Stage Theater; The Dining Room (Various), The Drunkard (William Dowton), and Murder At Cafe Noir (Rick) at Circle Bar B; Sexual Perversity In Chicago (Bernie) and Shopping and F**king (Mark) at The Lyric Hyperion Theater; Brooklyn Boy (Tyler Shaw) at The Plaza Playhouse Theater; and Spamalot (various) at SMHS.
MARISOL MILLER-WAVE (Liz Imbrie) was previously in The Theatre Group at SBCC's production of Light Up The Sky, Ground and The World Goes Round. A PCPA graduate and Santa Barbara native, she has performed regionally all over California, New York, New Jersey, Maryland, Illinois, New Mexico, and Nevada. Internationally she has been seen in Scotland, Mexico, and China. Favorite shows include Dames At Sea (Mona), Lend Me a Tenor (Maria), School for Wives (Georgette), Joseph (Mrs. Potiphar), Love's Labour's Lost (Princess), and Charlie Brown (Lucy). She also works as a freelance makeup artist.
CLAIRE PERALES-DUCKWORTH (Dinah Lord) is thrilled to be performing in her first show with the Theatre Group at Santa Barbara City College. Past shows include Santa Maria Civic Theatre: Seussical (Bird Girl #1);Kelrik Productions: Annie (Swing/Lily St. Regis u/s), Peter Pan (Liza/Indian ensemble) Willy Wonka (Swing); and Righetti High School: High School Musical (Sharpay Evans), Legally Blonde (Margot/Greek Chorus),Thoroughly Modern Millie (Ruth). Claire will continue her education as a Theatre Arts major at SBCC.
Pacomio Sun (Mike) is a true Santa Barbara native, and was last seen on the Garvin stage in A Flea in Her Ear (Don Carlos Homenides De Histangua), and as Bo in The Theatre Group at SBCC production of Bus Stop. This is his first musical with The Theatre Group at SBCC.
The Ensemble will feature: Paisley ForsterSaunders, Jason T. Gonazalez Larsen, Tracy R. Kofford, Meredith LeMert, Anna Moore, Anna Mooy, Eddie O'Toole, Ryan Ostendorf, Chloé Grace Roberts, Mia Valdes, Aren Vaughn and Michael Wiggins.
R. MICHAEL GROS (Director) is a member of the professional theatre directors union (SDC), currently serves as an associate professor, and is the former Co-Chair of Theatre Arts at Santa Barbara City College. He is a Fulbright finalist. He was a member of the graduate theatre faculty at Kansas State University and The University of Akron. Michael served as Artistic Director for six seasons with PCPA Theaterfest. He is Co-Artistic Director of PlayFest Santa Barbara. Michael received a residency fellowship in non-profit arts leadership at Stanford University. He earned his MFA in directing from the University of California at Irvine, studying with Robert Cohen, Keith Fowler, Ian Bernard, William Needles (Stratford Shakespeare Festival) and Brewster Mason (Royal Shakespeare Company) among others. He earned his BA in theatre, Magna Cum Laude, at UCLA. Michael served on the Board of the United States Institute for Theatre Technology and is a past directing focus group representative for the Association of Theatre in Higher Education. Michael received an Indy Award for his direction of the Theatre Group production of Present Laughter. For Theatre Group at SBCC he also directed A Flea in Her Ear, Proof, Other Desert Cities, The Hound of the Baskervilles, The Music Man, Light Up the Sky, Ground, Bus Stop, The 25th Annual Putnam County Spelling Bee, and for SBCC Theatre Arts Department he directed A Midsummer Night's Dream, Almost, Maine, Tartuffe, Trojan Barbie and Ten Red Kings, a world premiere.
David Potter (Musical Director) has conducted, musically directed and played in over 244 musical productions. He was musical director for Jesus Christ Superstar starring Ted Neeley and Carl Anderson at the Concord Pavilion. He musically directed the West Coast premiere of The Baker's Wife with Wanda Richert. In Los Angeles, They're Playing Our Song with Joyce Dewitt and Richard Kline, and Bells Are Ringing with Nancy Dussault. For the Rubicon Theatre Company, David has musically directed Man of La Mancha, Old Wicked Songs, Tintypes, High Button Shoes with Jason Grae and Susan Egan. He accompanied Tyne Daly in the opening of the New Vic Theatre and musically directed A Little Night Music for the Ensemble Theatre's opening production at the New Vic Theatre. Other shows for the Ensemble Theatre have been Gun Metal Blues and Fantasticks. For The Theatre Group at Santa Barbara City College he has recently musically directed productions of Bat Boy: the Musical, Violet, The Rocky Horror Show, The Spitfire Grill, The World Goes 'Round, Avenue Q., Spelling Bee and Music Man and has been musical director for The Theatre Group since 1972 starting with the Alhecama Players. He was music director of the UCSB's production of Appoggiatura. He composed the music for the musical drama Joan of Arc performed locally in Santa Barbara and also at New York's Westside Theatre. David attended California Institute of the Arts and Music Academy of the West, where he accompanied for Martial Singher. He was the organ soloist with the Santa Barbara Symphony with their performance of the Saint-Saens Organ Symphony. David is presently the Director of Music and Liturgy for San Roque Catholic Church. David has won several Drama-Logue Awards, five Independent Theatre Awards and the local Hero Award from the Independent.
PATRICIA L. FRANK (Scenic/Lighting Designer) is the Co-Chair and Director of Design and Technology for the Theatre Department and serves as the resident scenic and lighting designer for The Theatre Group at SBCC. She returns as the Scenic/Lighting Designer for High Society, after her critical success in the scenic and lighting design for A Flea in Her Ear, Other Desert Cities, Vanya and Sonia and Masha and Spike, and In the Next Room or the vibrator play. Recently, she was the scenic and lighting designer for the sold out production of One Good Egg at the Center Stage Theater. Pat has an MFA in Visual Arts and an MA in Dramatic Arts.
Pamela Shaw (Costume Designer) is resident costume designer for The Theatre Group at SBCC, recently designing Vanya and Sonia and Masha and Spike, Rabbit Hole, A Flea in Her Ear and the 1880's costumes for In The Next Room or the vibrator play. Ms. Shaw was Costume Designer for The Forbidden Planet at Rubicon Theater, the premiere of San Patricios at PCPA, the off Broadway show Lonesome Traveler, Assistant Costume Designer for TV sensation Vampire Diaries and The Artist, the 2011 Academy Award winner: Best Picture & Best Costume Design, designer Mark Bridges. Ms. Shaw served two terms as Vice President of the Costume Designers Guild, Local 892 and is 2017-2020 Chair for the Western Region Board of United Scenic Artists, Local 829.
LAURA SUE HISZCZYNSKYJ (Choreographer) lives in Portland, Oregon and is excited to be back working with The Theatre Group at SBCC's production team! Her last production with The Theatre Group was The Music Man. Laura holds a B.F.A. in ballet from Texas Christian University and an M.F.A. in dance from the University of Oregon. She has choreographed over 30 musicals and performed in two National Tours. Laura currently teaches at the Bridgetown Conservatory of Musical Theatre in Portland.
ASHLEY SARESS LEMMEX (Production Stage Manager) graduated from Brooks Institute of Photography in 2006 with a Bachelor of Arts in Film and Commercial Production. In 2013, Ashley graduated from SBCC with an Associate's Degree in Theatre Arts emphasis in Acting/Directing and an Associate's Degree in Business Management. Ashley has spent the last four years as the Technical Director at Crane Country Day School, where she designed; stage managed, and choreographed various levels of children theater, including mentoring a student tech crew. Ashley recently designed elements for Sweeney Todd and Picnic at Laguna Blanca High School. Her Theatre Group at SBCC Stage Managing credits include: The Hounds of Baskervilles, Music Man, Noises Off, Present Laughter and A Midsummer Night's Dream. She has also Assistant Stage Managed the Theatre Group at SBCC's Avenue Q as well as Opera Santa Barbara's receNT Productions of Carmen and The Cunning Little Vixen.
Performances will be July 12-29, 2017, Thursday through Saturday @ 7:30pm, Sundays @ 2pm. Previews on July 12 & 13 @ 7:30pm. The Sunday, July 16, 2pm performance will be live-captioned for the hearing-impaired. All performances have the assisted listening system available and the Garvin Theatre is wheelchair accessible. Ticket prices are: Previews $18 general/$15 seniors/$10 students, Thursday evening and Sunday matinees $24 general/$19 seniors/$14 students, Friday and Saturday evening $26 general/$21 seniors/$17 students. The Garvin Theatre is located on the West Campus of Santa Barbara City College in the 900 block of Cliff Dr. Parking is free and near the Theatre. For information or reservations call the Garvin Theatre Box Office at 805-965-5935 or purchase tickets online at www.theatregroupsbcc.com.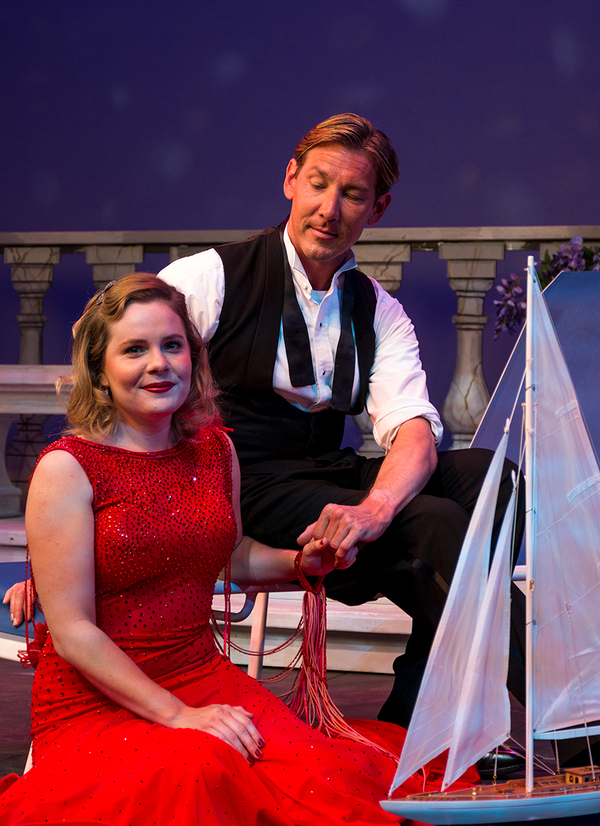 Katherine Bottoms and Tracy R. Kofford in The Theatre Group at SBCC's production of HIGH SOCIETY. Music and lyrics by Cole Porter, Book by Arthur Kopit, directed by R. Michael Gros, musical direction by David Potter. July 12-29, 2017, Garvin Theatre. www.theatregroupsbcc.com or 805-965-5935. Photo credit: Ben Crop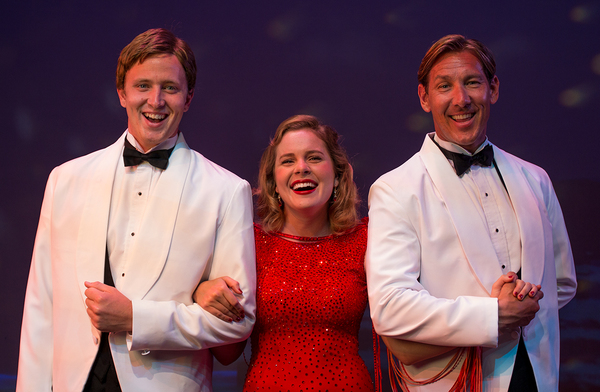 Michael Wiggins, Katherine Bottoms and Tracy R. Kofford in The Theatre Group at SBCC's production of HIGH SOCIETY. Music and lyrics by Cole Porter, Book by Arthur Kopit, directed by R. Michael Gros, musical direction by David Potter. July 12-29, 2017, Garvin Theatre. www.theatregroupsbcc.com or 805-965-5935. Photo credit: Ben Crop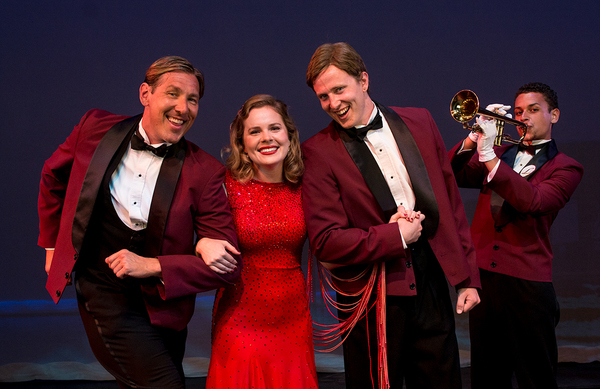 Tracy R. Kofford, Katherine Bottoms, Michael Wiggins and Aren Vaughn in The Theatre Group at SBCC's production of HIGH SOCIETY. Music and lyrics by Cole Porter, Book by Arthur Kopit, directed by R. Michael Gros, musical direction by David Potter. July 12-29, 2017, Garvin Theatre. www.theatregroupsbcc.com or 805-965-5935. Photo credit: Ben Crop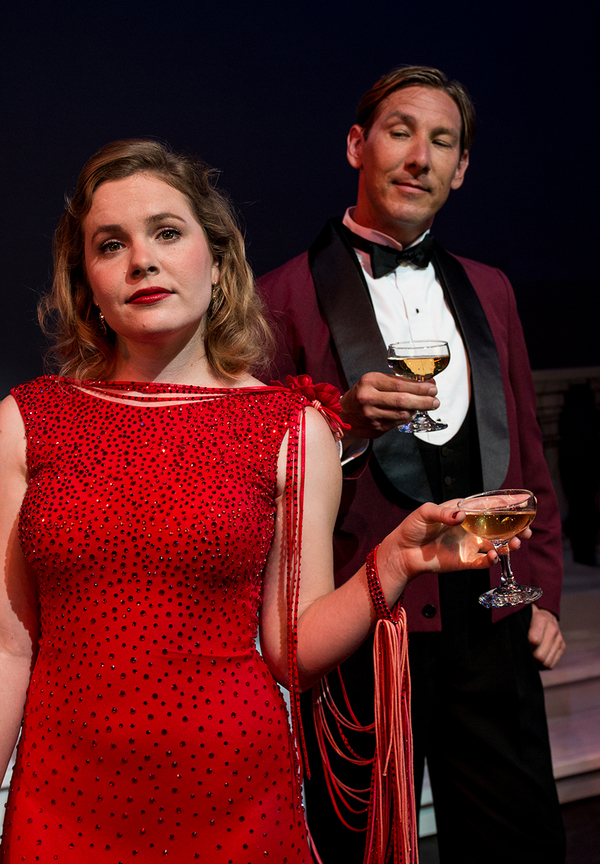 Katherine Bottoms and Tracy R. Kofford in The Theatre Group at SBCC's production of HIGH SOCIETY. Music and lyrics by Cole Porter, Book by Arthur Kopit, directed by R. Michael Gros, musical direction by David Potter. July 12-29, 2017, Garvin Theatre. www.theatregroupsbcc.com or 805-965-5935. Photo credit: Ben Crop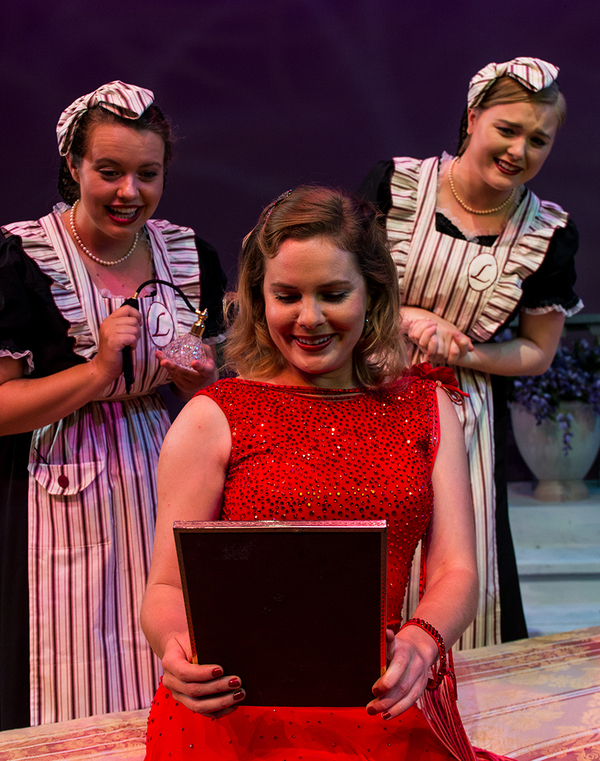 Meredith LeMert, Katherine Bottoms and Paisley ForsterSaunders in The Theatre Group at SBCC's production of HIGH SOCIETY. Music and lyrics by Cole Porter, Book by Arthur Kopit, directed by R. Michael Gros, musical direction by David Potter. July 12-29, 2017, Garvin Theatre. www.theatregroupsbcc.com or 805-965-5935. Photo credit: Ben Crop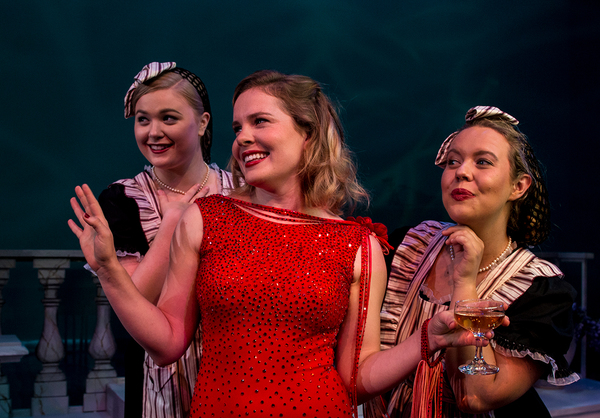 (l-r) Meredith LeMert, Michael Wiggins, Tracy R. Kofford, Katherine Bottoms Aren Vaughn and Paisley ForsterSaunders in The Theatre Group at SBCC's production of HIGH SOCIETY. Music and lyrics by Cole Porter, Book by Arthur Kopit, directed by R. Michael Gros, musical direction by David Potter. July 12-29, 2017, Garvin Theatre. www.theatregroupsbcc.com or 805-965-5935. Photo credit: Ben Crop

Related Articles View More Los Angeles

Stories

Shows
More Hot Stories For You