Photo Flash: The Dog Days of Summer Arrive Early in SYLVIA
The dog days of summer arrive early this year, as Rubicon Theatre Company presents a spring production of A.R. Gurney's howlingly funny canine comedy SYLVIA, a love story about empty nesters Greg and Kate, and an irrepressible mutt named Sylvia. Written by Drama Desk, Obie and Lortel Award-winning playwright A.R. Gurney (also known for Love Letters and The Dining Room), the plot follows what happens after a man going through a midlife crisis finds a dog in Central Park and brings her home without consulting his wife.
Heartfelt and hilarious, SYLVIA opens on Saturday, April 22 at 7:00 p.m. at Rubicon Theatre, 1006 E. Main Street in Ventura's Downtown Cultural District, with low-priced previews Wednesday, April 19 at 7 p.m., Thursday, April 20 at 8 p.m. and Friday, April 21 at 8 p.m. The production continues Wednesdays through Sundays through May 7, 2017. For tickets, go to www.rubicontheatre.org or call (805) 667-2900.
Updated to Present-Day
SYLVIA is directed by Rubicon Associate Producer and Ovation Award-winner Stephanie A. Coltrin (Miss Saigon), who also helmed Rubicon's Ovation Recommended production of Moonlight and Magnolias last season. Coltrin has updated the play to present-day New York.
"SYLVIA speaks to our need for unconditional love," says Coltrin. "The play was originally produced in 1995 - in the days before cell phones and social networking and the intense barrage of stimuli from media and advertising," she continues.
"In deciding when to set it, we felt that the world has become even more complex, and that updating the play to 2017 increases the stakes and intensifies Greg's need to connect on a basic level."
Automated Turntable - A Rubicon First
Coltrin's vision is supported by Set, Lighting and Projection Designer Mike Billings (recent Ovation nominee for Gulf View Drive at Rubicon), who has created a two-sided contemporary Manhattan environment on an automated turntable - a first for Rubicon).
Says Coltrin, "The play moves swiftly from apartment to park to airport. Mike's set supports the flow of the story and keeps the action moving as we go from one locale to another."
Michael Mullen designs the costumes (Ovation Award winner for The Boy from Oz), and T. Theresa Scarano designs the props and set dressing (dozens of Rubicon shows including the just-concluded production of The Devil's Music: The Life and Blues of Bessie Smith). Coltrin also designs the sound.
Returning and New Rubicon Artists/Chameleon Fuqua Plays Multiple Roles
The cast includes three returning Rubicon artists and an actor new to Rubicon. Kevin Symons, who plays the role of Greg in SYLVIA, returns to Rubicon having charmed local audiences as Georg in Rubicon's acclaimed production of She Loves Me. Symons just completed four seasons on NBC's "Parks and Recreation" and currently stars on the Disney Channel series "Best Friends Whenever." Symons won a 2017 Ovation Award for his sidesplittingly funny portrayal of multiple characters in The Complete History of America (Abridged)at Garry Marshall's Falcon Theatre.
The deliciously dizzy dog of the title is portrayed by Ashley Fox Linton, who appeared as Cathy in Rubicon's Ovation-recommended production of The Last Five Years. Other Fox Linton credits include Broadway National Tours of Wicked and Les Misérables, and regional performances with La Jolla Playhouse, The Old Globe, and many others.
"Sylvia is as loveable as she is stubborn, as charming as she is challenging, and as desperate for love as any human," says Coltrin. It was delightful to see Ashley bring these varied qualities and the rich physical life necessary to playing a dog to her audition."
Larry Cedar plays three distinctly different roles in Sylvia: Tom, a fellow dog lover/fanatic whom Greg meets in the park; Kate's college friend Phyllis, a New York society maven; and Leslie, the androgynous marriage counselor who tries to negotiate Kate's jealousies and Greg's obsessions.
Stasha Surdyke, new to Rubicon, plays Greg's wife Kate, who has found a new and fulfilling career as a high school Shakespeare teacher. Kate is in a new phase of her life and resents the intrusion of the dog into her life and marriage. Surdyke has extensive L.A. credits, including the LADCC Award-winner Stupid F**ing Bird at Theatre @ Boston Court, which also garnered nine Ovation Award nominations.
More about the Story
The story of SYLVIA picks up after Greg and Kate move from the suburbs (where they have raised their children), to bustling Manhattan. Although Kate flourishes in the big city, Greg feels restless in his career and his personal life. During a walk in Central Park, Greg discovers a dog with a heart-shaped tag that reads simply "Sylvia." Greg and Sylvia form an immediate attachment. Greg brings the perky pooch home only to find that Kate doesn't want the additional responsibility of a dog at this stage in her life, let alone one that jumps, slobbers, chews up books and is clearly competing for Greg's affections.
The couple agree to keep Sylvia for a few days while they figure out what to do with her, but as Greg and Sylvia return to the park and take walks around the city, Greg realizes that the relationship gives him a sense of purpose and provides him with the love and adoration he has been craving, unfettered by pretense, guile or manipulations. Kate comes to feel more and more threatened by Sylvia, and the two vie for "top dog" status in Greg's life.
Kate and Greg see a marriage counselor, and Sylvia becomes the catalyst for the expression of pent-up frustrations and long-neglected feelings. Ultimately, Greg must choose between his wife of 22 years and his dog.
History of the Production
SYLVIA debuted Off-Broadway at the Manhattan Theatre Club in 1995 under the direction of John Tillinger, with Charles Kimbrough, Blythe Danner, and Sarah Jessica Parker, earning multiple Drama Desk Award nominations. The play ran at the Coronet in L.A. in 1997, starring Stephanie Zimbalist in the title role. SYLVIA made her Broadway bow in 2015 at the Cort Theatre under the direction of Daniel Sullivan, with Matthew Broderick as Greg and Annaleigh Ashford as Sylvia
Rubicon staged SYLVIA with Joe Spano as Greg and Kristi Lynes as the title character in 2002. The cast also included Laurie Walters as Kate and Ventura native Marc Cardiff in multiple roles. The production, directed by James O'Neil was so hugely popular with audiences and critics that Rubicon decided to bring it back the following season with the same cast. The L.A. Times praised the show, stating "Sylvia's boundless energy offers welcome uplift for the dog days of summer." BackStage West gave it a "Critic's Pick" and prophetically said "This Sylvia is one to see twice." "You'd be barking up the wrong tree if you thought Sylvia was solely a comedy about puppy love," wrote the Ventura County Star, "there's a lot of humanity packed into the play, particularly in Rubicon's production."
After the second production, audiences continued to ask for the play's return, making it the most requested show in the company's 19-year history. Producing Artistic Director Karyl Lynn Burns finds the appeal to animal-lovers part of its enduring charm, but also recognizes the play's reflections on the human condition and the complexities of love.
"On a weekly - if not daily - basis, when I'm out in the community, people ask when we are doing SYLVIA again," says Burns. The play is heartfelt and hilarious, and strikes a chord with those of us who are animal-lovers and anthropomorphize our pets. But beyond that, I think the play has a universal appeal. It speaks both to the instinctual nature of love and a more sophisticated kind of love."
Sponsors
Title show sponsors for SYLVIA are Diane and Peter Goldenring. Co-sponsors are Jody Legendre (in honor and memory of her husband Ken Weiskopf), and Hilford Moving & Storage. Additional Season Sponsors are Janet and Mark L. Goldenson; Barbara Meister; Anne and Michael Towbes; and Sandra and Jordan Laby, to whom Rubicon's 2016-2017 series is dedicated.
Full Schedule, Special Performances and Ticket Info
Low-priced previews for SYLVIA begin on Wednesday, April 19 at 7 p.m., continuing Thursday, April 20 and Friday, April 21 at 8 p.m. Opening night is Saturday, April 22, at 7 p.m. with a pre-show event downstairs at the theatre beginning at 6:00 p.m. and a post-show party at a location TBA. The production continues Wednesdays at 2 and 7 p.m., Thursdays and Fridays at 8 p.m., Saturdays at 2 and 8 p.m. and Sundays at 2 p.m. through May 7. Talkbacks with actors are scheduled after the Wednesday 7 p.m. performances on April 26 and May 3.
Regular tickets for SYLVIA range from $30 to $55 (plus a $4 processing fee). Opening night is $99 (including the receptions). Tickets for students with ID are $25; Equity members and military are $30. There is a $5 discount for seniors 65 and older. Discounts of 10% to 20% are available for groups of 10 or more, depending on the size of the group.
All performances are at Rubicon Theatre, 1006 E. Main Street in Ventura's Downtown Cultural District (the corner or Main and Laurel).
Tickets for SYLVIA may be purchased in person through the Rubicon Theatre Company Box Office at 1006 E. Main Street, the corner of Main and Laurel in Ventura (Laurel entrance and downstairs), or online at www.rubicontheatre.org. To charge by phone, call 805.667.2900. Box office hours are Noon to 6 p.m., seven days a week.
More about the Cast
Ashley Fox Linton (Sylvia) returns to Rubicon where she played Cathy Hiatt in The Last Five Years, Anne Bronte in the workshop reading of The Three Sisters Bronte, and Susie Ward in a concert presentation of Babes in Arms. She has performed in Broadway National Tours of Wicked and Les Misérables. Regional credits include The Old Globe, La Jolla Playhouse, Musical Theatre West, Cygnet, North Coast Repertory, Goodspeed, and Helen Hayes Theatre Company. Fox Linton holds a BFA from The Boston Conservatory and serves as the chair of Education and Outreach for the Musical Theatre Guild.
Larry Cedar (Tom/Phyllis/Leslie) is well-known for playing the opium-addicted card dealer, Leon, for three seasons on HBOs critically acclaimed series "Deadwood," and has guest-starred on dozens of other television programs including the new John Lithgow comedy "Trial & Error," Amazon's "The Last Tycoon," "American Horror Story," 'Mad Men," "Grey's Anatomy," "Community," "House," "Terminator," "NCIS," "Enterprise," "Alias," "The Closer," "Gilmore Girls," "Boston Legal," and "Square One TV." Feature film credits include "The Crazies," "Towelhead," 'Hollywoodland," "Fear and Loathing in Las Vegas," and a starring role in the independent feature, "She Sings to the Stars." Theatre credits include King Lear (as Lear), the new plays Discord and Nightmare Alley at The Geffen Playhouse, as well as the lead role in his own one-man stage adaptation, Orwellian, based on the works of George Orwell. Larry is currently adapting a new one-man theatrical piece drawn from the works of Fyodor Dostoyevsky. For more info, visit Larry on Facebook or go to www.larrycedar.com
Stasha Surdyke (Kate) recently portrayed Melania Trump in The Tower, part of Artists Rise Up LA: E Pluribus Unum, Out of Many One at El Portal Theatre, and Jackie Kennedy in The Tragedy of JFK as Told by Wm. Shakespeare (7 Broadway World L.A. Awards) at The Skylight. Other performances in Los Angeles include Jenny Diver in The Threepenny Opera at A Noise Within, Emma/Arkadina in the LADCC Award-winning play Stupid F**king Bird at Boston Court Theatre (9 Ovation Award Nominations), Amanda in Private Lives (5 Stage Scene L.A. Awards) at Grove Center Theatre, Norma in The Value of Names (Best Actress Award, Stage Scene L.A.), Lily in The Shelter (Ovation Award Nominee) directed by Moscow Arts Theatre's Valery Belyakovitch at The Odyssey, Kate in Taming of the Shrew at The Globe, and more. Off-Broadway/Regional credits include Ethel Sings: Espionage in High C (Joan of Arc) at Soho Repertory, Time Stands Still (Sarah Goodwin) at Sierra Repertory, Mimi in An Empty Plate in the Café du Grand Boeuf at Laguna Playhouse, Edith Frank in Dreams of Anne Frank at Lewis Family Playhouse, Mamaleh! (the role of Debra was written for her) at The Egyptian Arena, and many others. TV/Film credits include "Glee," "Reasonable Doubt," "The Perfect Dress," "North Platte," "Fingerpaint," "Not Yet Tomorrow" and "Occurrence at Lookout Rock."
KEVIN SYMONS (Greg) previously playing Georg in She Loves Me at Rubicon. He recently won the Ovation Award for Best Acting Ensemble of a Play (with his two fellow cast mates) for The Complete History of America (Abridged) at Garry Marshall's Falcon Theatre. Symonds has appeared in numerous theatrical productions in L.A. and regionally at the Colony Theatre, Laguna Playhouse, Alex Theatre, South Bay CLO, MET Theatre, L.A. Theatre Center, Grove Shakespeare and Off-Broadway at the York Theatre. He has worked with legendary directors and playwrights such as Edward Albee and Jose Quintero. On television, Symonds recently concluded four seasons on NBC's "Parks and Recreation" and is currently starring on the Disney Channel series "Best Friends Whenever." Recurring and guest star roles include "NCIS," "Castle," "Teen Wolf," "Mad Men," "Jessie," "Wilfred," "Haunted Hathaways," "Weeds," "Desperate Housewives," "United States of Tara," "My Name is Earl," and numerous others. Film credits include "Alvin and the Chipmunks," "Miss India America" and the upcoming "Echo Park Blues."
About the Director
STEPHANIE A. COLTRIN directs her third mainstage show for Rubicon with SYLVIA, having previously directed the Broadway World nominated production of Moonlight and Magnolias and the Ovation-nominated The Last Five Years. She has been a producer and director for the past 25 years, with nearly 200 productions to her credit, ranging from Shakespeare and other classics, to contemporary comedies, dramas and musicals, to World Premieres. Prior to coming to Rubicon, she was the Artistic Director for both Civic Light Opera of South Bay Cities and the Hermosa Beach Playhouse, helming a ten-show season at both venues. While there, she won the Ovation award for Best Musical for producing Miss Saigon (which she also directed). Other favorite directing credits include Who's Afraid of Virginia Woolf? (Garland Award nomination); Seussical (Broadway World Award for Best Director); Art; Jesus Christ Superstar (Stage Scene L.A. Award for Best Director); Oklahoma, A Midsummer Night's Dream, Godspell, She Loves Me (Stage Scene L.A. Award, Director of the Year); Private Lives; Blithe Spirit; Steel Magnolias; Bach at Leipzig; The Weir; Stones in His Pockets; Barefoot in the Park; Wait Until Dark; Manson's Girls, Oswald: the Actual Interrogation; The Green Room (World Premiere), and Come Back to the Five and Dime. Coltrin served as the Associate Festival Director for Shakespeare by the Sea for the last seven years, directing Hamlet, Othello, The Tempest, Julius Caesar, King Lear, Romeo and Juliet, and King John, each of which toured to more than 24 locations in Southern California. For her work with SBTS, she was interviewed on PBS as well as for a Folger Shakespeare Library podcast.
About the Playwright
A.R. Gurney
(Playwright), often called "Pete," was born in 1930 in New York, the middle child of prominent Buffalo parents. He attend
Ed Williams
College, graduating in 1952, and the Yale School of Drama, graduating in 1958, after which he taught Humanities and then Literature at MIT.
He has been the recipient of numerous awards and honors, including the Drama Desk Award, a Rockefeller Award, two Lucille Lortel Awards, an Obie, and the Dramatists Guild Award for Lifetime Achievement. In 2007, he received the prestigious PEN/Laura Pels International Foundation for Theatre Award as a master American dramatist. Some of his many notable works include The Dining Room, The Cocktail Hour, The Perfect Party, Another Antigone, Love Letters, A Cheever Evening, and Ancestral Voices. Gurney is a member of The American Academy of Arts and Letters and member of the Theatre Hall of Fame.
About Rubicon
Rubicon Theatre is a non-profit regional theatre based in Ventura, California. True to the company name and the vision of founders Karyl Lynn Burns and James O'Neil, the company is committed to providing a nurturing environment for artists where exploration and experimentation are encouraged and supported. Now in its 19th Season, Rubicon has earned a reputation for innovative, reinvigorated productions of classics; and for the development of new works. The company has presented more than 115 diverse mainstage productions to more than 420,000 audience members. Described by critics as "the rising star of the Southern California cultural scene" and the "best theatre between Los Angeles and San Francisco," the company has won a New York Drama Desk Award (four nominations), the L.A. Drama Critics Circle Award for "Sustained Excellence," 15 Ovation Awards, an NAACP Award, and multiple Indy, Garland and Robby Awards. Luminaries such as Susan Clark, Dana Delany, Bonnie Franklin, Joel Grey, Gregory Harrison, Bill Irwin, Harold Gould, Larry Hagman, Stacy Keach, Michael Learned, Ted Neeley, Paul Provenza, Linda Purl, Joe Spano, Bruce Weitz, Efrem Zimbalist, Jr. and Stephanie Zimbalist have graced the Rubicon stage. Jack Lemmon and John Ritter made their final stage appearances with Rubicon.
Photo Credit: Jeanne Tanner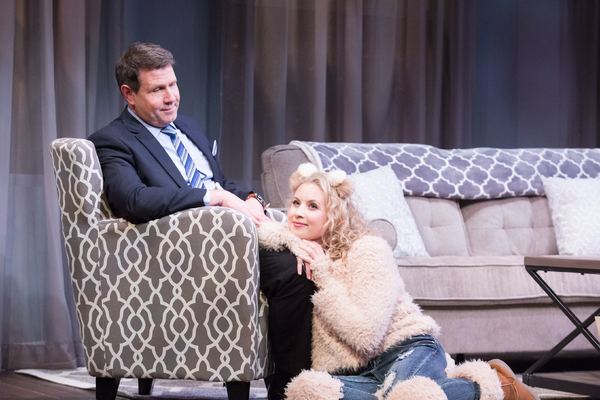 Kevin Symons,
Ashley Fox Linton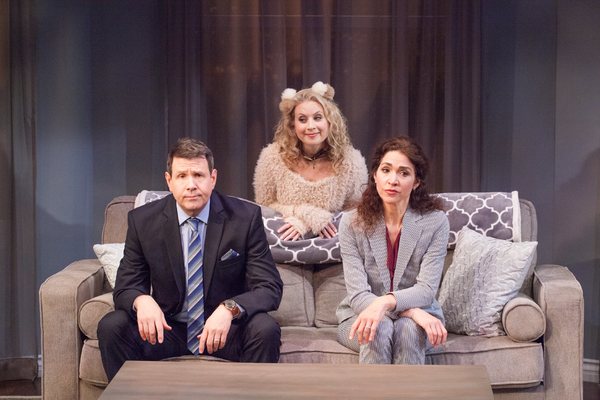 Kevin Symons,
Ashley Fox Linton
,
Stasha Surdyke
Kevin Symons,
Larry Cedar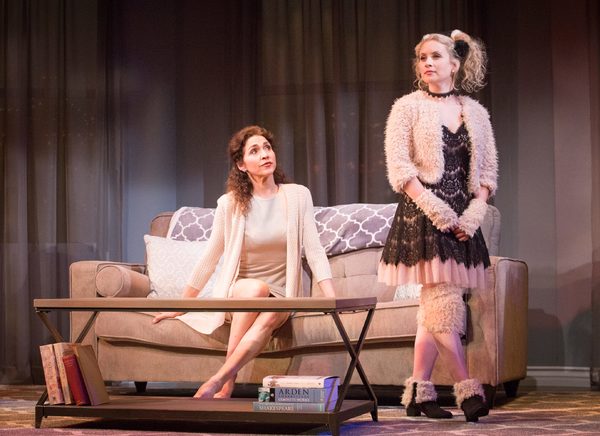 Stasha Surdyke
,
Ashley Fox Linton
Related Articles View More Los Angeles

Stories

Shows
More Hot Stories For You