Photos: L.A. Premiere of UNCANNY VALLEY Explores AI at International City Theatre
What does it mean to be human? How far will we go to live forever? The Los Angeles premiere of Uncanny Valley, a new play about Artificial Intelligence written by Thomas Gibbons, directed by caryn desai [sic], and starring Susan Denaker and Jacob Sidney, opens April 21 at International City Theatre. Two low-priced previews take place on April 19 and April 20.
Claire (Denaker) is a neuroscientist who has devoted her entire life to crafting a non-biological being. Her latest attempt, named Julian (Sidney), starts out as a head without a body. As Julian receives a torso, arms and legs and becomes fully functional, Claire tries to teach him how to become "human." The play was inspired by a National Geographic article that featured a photo of a sentient robot named Bina48 created by the LifeNaut Project. "LifeNaut is investigating the possibility of downloading human consciousness into an artificial body as a means of extending our lifespan," Gibbons explained in an interview. "Bina is basically a head and shoulders sitting on a table. I was really haunted by that photo." According to the playwright, the title "refers to the feeling that people have when they're confronted with a very realistic robot, a feeling of fascination. But the more realistic the robot becomes, at some point that fascination turns to a kind of revulsion. They're creeped out, and that effect is called the 'uncanny valley.' The play is exploring that moment." The creative team for
Uncanny Valley
includes set designer Tesshi Nakagawa, lighting designer
Donna Ruzika
, costume designer Kim DeShazo, sound designer Jeff Polunas, props designers Patty and Gordon Briles, and hair and wigs designer Anthony Gagliardi. Casting is by
Michael Donovan
.
Uncanny Valley
premiered at the Contemporary American Theater Festival as a National New Play Network Rolling World Premiere that also included productions at San Diego Repertory Theatre, InterAct Theatre Company in Philadelphia and Capital Stage in Sacramento. The CATF production transferred off-Broadway.
Thomas Gibbons
is playwright-in-residence at InterAct Theatre in Philadelphia, which has produced eight of his plays:
Pretending to America
, 6221,
Axis Sally
,
Black Russian
,
Nee Luterh-Hatchee, Permanent Collection, A House With No Walls
and
Silverhill
. His plays have been seen at the National Playwrights Conference at the Eugene O'Neill Theatre Center, off-off-Broadway at Blue Heron Theatre, at Mixed Blood Theatre,
Northlight Theatre
, Actors Express,
Florida Stage
, Unicorn Theatre, Repertory Theatre of St. Louis,
Arizona Theatre Company
, Center Stage,
New Repertory Theatre
, Aurora Theatre, Roundhouse Theatre and many others. He is the recipient of seven playwriting fellowships from the Pennsylvania Council on the Arts, a
Roger L. Stevens
Award from the Fund for New American Plays, a Barrie and Bernice Stavis Playwriting Award, an NAACP Theatre Award, two Barrymore Awards for outstanding new play, and a Pew Fellowship in the Arts.
Permanent Collection
was the pilot selection of the National New Play Network's Continued Life of New Plays Fund, and
A House With No Walls
was a subsequent selection.
Uncanny Valley
runs Thursdays, Fridays and Saturdays at 8 p.m. and Sundays at 2 p.m., April 21 through May 7. Two preview performances take place on Wednesday, April 19 and Thursday, April 20, both at 8 p.m. Tickets are $47 on Thursdays and Fridays, and $49 on Saturdays and Sundays, except for April 21 (opening night) for which tickets are $55 and include a post show reception at Utopia Restaurant. Low-priced tickets to previews are $35. International City Theatre is located in the Long BeachPerforming Arts Center at 330 East Seaside Way in Long Beach, CA 90802. For reservations and information, call
562-436-4610
or go to
InternationalCityTheatre.org
.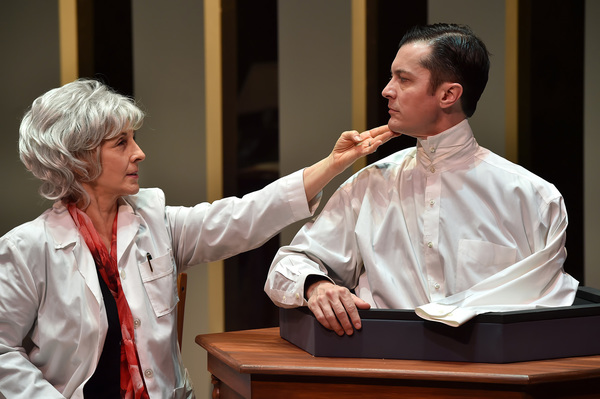 Susan Denaker
and
Jacob Sidney
star in the Uncanny Valley, directed by Caryn Desai at the International City Theatre in Long Beach. Photo by Steven Georges 714 330-6105
Susan Denaker
and
Jacob Sidney
star in the Uncanny Valley, directed by Caryn Desai at the International City Theatre in Long Beach. Photo by Steven Georges 714 330-6105
Susan Denaker
and
Jacob Sidney
star in the Uncanny Valley, directed by Caryn Desai at the International City Theatre in Long Beach. Photo by Steven Georges 714 330-6105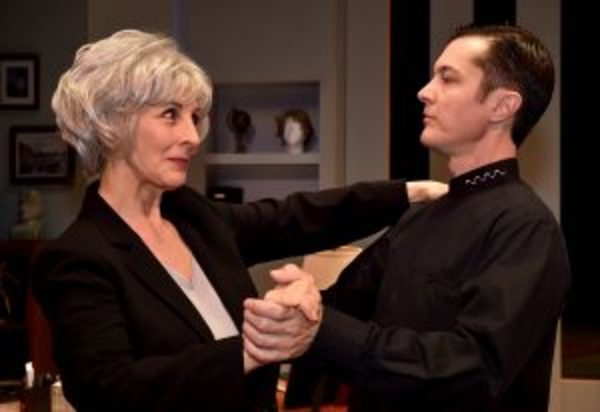 Susan Denaker
and
Jacob Sidney
Photo by Steven Georges
Susan Denaker
and
Jacob Sidney
star in the Uncanny Valley, directed by Caryn Desai at the International City Theatre in Long Beach. Photo by Steven Georges 714 330-6105