Photos: 'Forever Plaid' Taped Live For Movie Release
It was an an eclectic crowd that gathered on a sound stage of Sunset's CBS Studios to watch a live performance of FOREVER PLAID as it was being taped for pending movie release.  The show was performed start to finish with invitation only audience that included such PLAID fans as Kate Linder, Loni Anderson, Rose Marie, Melissa Manchester, and a previous stage production cast member Fred Willard.  The FOREVER PLAID cast consists of Daniel Richard (as Francis), Larry Raben (as Sparky), Stan Chandler (as Jinx) and David Engel (as Smudge) with the celestial MC played by David Hyde-Pierce.
The show was performed start to finish with audience members that included not just a few personalities who love are PLAID fans such as
Loni Anderson
, Kate Linder,
Rose Marie
,
Melissa Manchester
, or have appeared in previous stage productions such as Fred Willard.26 year veteran of the popular daytime drama Young and The Restless, Kate Linder joked "How funny is it that Im sitting here for the first time in my career as an extra, only weeks after receiving a star on the Walk of Fame?  Im certainly in great company though with Loni (Anderson),
Rose Marie
, Melissa (Manchester) and Army (Archerd)." Produced for the "Big Screen" by Benni Korzen, Barney Cohen, and Suren M. Seron, the plays creator
Stuart Ross
is directing the movie.  The sets have been designed by Tony Award winner Neil Peter Jampolis and Musical Director
David Snyder
brings musical classics like "Three Coins in a Fountain," "Love is a Many Splendored Thing" while Costume Designer Deborah Stein has the distinction of dressing the "Plaids."FOREVER PLAID is a musical comedy revue interspersed with witty and insightful banter about the love of music, and growing up, and "making one's mark." It is also about the everyday courage we need to face life, warts and all, kind of a swinging American version of "
Happy Days
" meets "The Full Monty" meets
Tony Bennett
.  As Peter Allen once sang, everything old is new again, the production is chock full of "retro" songs that are cool again (e.g. Gwen Stefani's, "If I were a Rich Man" and similar songs by Pink,
Mariah Carey
and
Justin Timberlake
). The current worldwide total box office gross: $265,000,000 and rising. The show has played non-stop, worldwide for nearly twenty years.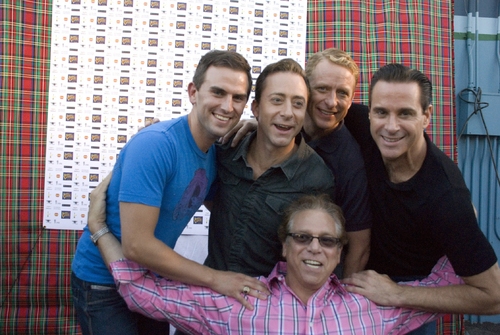 Forever PLAID Cast Left to right: Daniel Reichard, Larry Raben, Stan Chandler, and David Engel and Director Stuart Ross on the bottom

Producers Benni Korzen, Barney Cohen and Suren M. Seron

Loni Anderson and Kate Linder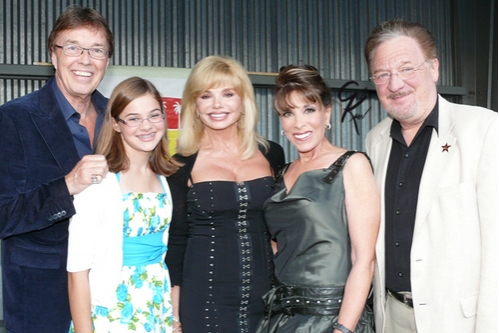 Loni Anderson with grandaughter, Megan Hoffman, husband Bob Flick, Ron Linder and Kate Linder

Melissa Manchester with Rose Marie

Punk Plaids Kaiden Blake (blue hair), Audrey Kitching (pink hair) and Clint Catalyst

Melissa Manchester with daughter Hannah DeRemer