NIGHT OF THE LIVING DEAD Takes the Stage at Archway Theatre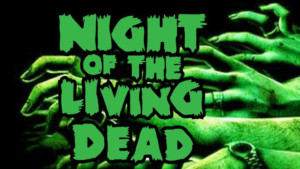 The award-winning Archway Theatre will present a live stage tribute adaptation of the zombie film that began it all when "Night of the Living Dead" opens Friday, Oct. 13. Last Fall Archway's production of Strindberg's "Ghost Sonata" was the North Hollywood Fringe Festival award-winner for Best Halloween Season Drama. This season, popular Archway director, Ron Milts, leads a classic of different sort to the stage with his adaptation of "Night of the Living Dead. Performances are 8 p.m. Fridays and Saturdays; 2 p.m. Sundays, Oct. 13 through Nov. 18. Tickets are $28 general; $14 for students and seniors.
"We are always fortunate to have someone with Ron's (Milts) eye and ingenuity leading a production for us, and this is one I know he has had great passion for bringing to the stage for some time now," said Archway producing artistic director Steven Sabel.
Milt's production pays honest tribute to the original storyline, but sets the events in modern times. When a small group of people find themselves trapped by a growing population of walking dead, the dramatic implications are both frightening and disturbing.
"It isn't just a zombie story, it's the mother of any such thing as a zombie as we know it today, and thus all other zombie stories since. It is a tale that explores the deepest nature of human fear, and the monsters we ourselves can become in one way or another," said Sabel.
The play is set in and around a simple country farm house. When the action begins, the dead have already begun to rise from their graves. In a manner that would please Alfred Hitchcock and Rod Serling, the audience is immediately thrust into the dramatic experience the characters are trying to live through. As more zombies continue to gather, tempers run short, panic begins to reign, and rash actions must be risked.
The cast of "Night of the Living Dead" is led by Archway Theatre resident company member Brent White in the role of Ben. Ashley Sullivan plays the role of Barbara. Additional cast members include Vinny Brar, Carlos Chavez, Christina Cruz, Whitney Blake Dean, David Galano, Connor Green, Lauren Harris, Christian Hermida, Daniel Kohl, and Lexi Scanlan.
A special opening gala reception after the performance Friday, Oct. 13, will feature a ghoulish buffet of themed food and drinks. The Archway Theatre celebrates Industry Night Friday, Nov. 3, by offering half-priced tickets to members of local theatre organizations, followed by an industry social hour featuring dessert and drinks.
The Archway Studio/Theatre is located at 10509 Burbank blvd., North Hollywood, CA. For additional information visit: www.archwayla.com or call (818)980-PLAY (7529).

Related Articles View More Los Angeles

Stories

Shows
More Hot Stories For You