Latin Grammy Winners ILe & Gaby Moreno Join Forces At VPAC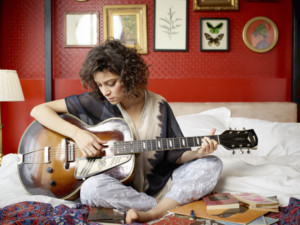 iLe (Ileana Cabra Joglar) is a Puerto Rican singer, composer and vocalist who spent a decade touring Latin America with her brothers in the popular band Calle 13. Now, as successful solo artist she comes to Los Angeles performing music from her recent album that combines alt-rock with traditional boleros. Gaby Moreno, who sings the theme song for the series opening intro of Disney's first Latina princess Elena of Avalor, moved to the US from Guatemala after high school and now calls Los Angeles her home. Her guitar and bluesy vocals move easily between pop, soul, and classic Latin sounds. Both boast a Latin Grammy win and will serve up their unique blend of cultures onstage as part of the Music Knows No Borders series at VPAC (The Soraya) on Saturday, November 18 at 8pm.
"Our venue has really become a meeting ground for extraordinary artists from all over the world to come together and collaborate," said Thor Steingraber, Executive Director of The Soraya. "This performance is no exception as these two Latin, female artists will showcase their strong storytelling skills, which explore the music of their diverse cultures. It's another prime example of our Music Knows No
Borders
initiative, which we are so proud of, this season." For more information or to purchase tickets, visit
www.valleyperformingartscenter.org
or call
818-677-3000
.
The Valley
Performing Arts Center
is located at
18111 Nordhoff Street, Northridge, CA 91330
. Ticket prices subject to change. About
iLe
Ileana Cabra Joglar, artistically known as iLe, was born in Santurce, Puerto Rico, on April 28, 1989. She was the female voice for 10 years of the musical group Calle 13, along with her brothers René Pérez Joglar and Eduardo Cabra. >From boleros to Latin funk and jazzy blues, iLe's tracks on her debut album iLevitable seem timeless and effortless. The well-crafted album, co-produced by Calle 13's drummer Ismael Cancel and iLe, allows the Puerto Rican singer/songwriter to show off her deep and powerful vocals. For iLe, the old-school romance album is about "music that has a lot to say. And in the times we are living in today, I think people are looking for that kind of direct communication." iLevitable received countless praise from critics and the public. According to NPR, "the album immediately positions her as a first-class performer of the classic sounds that permeate throughout Latin America."
Jon Pareles
of The New York Times described it as "a retro study of the past of Latin American music, full of romance, longing and despair. She can sing boleros of great orchestration as well as delicate ballads and a rhythmic boogaloo and mambo, without insinuating neither irony nor ingenuity." About Gaby Moreno Since moving to Los
Angeles
from her native Guatemala, singer-songwriter
Gaby Moreno
has achieved remarkable success as a musician. She has been nominated for an Emmy and won a Latin Grammy for Best New Artist. She has released five albums, toured with singers
Tracy Chapman
, Ani DiFranco, Punch Brothers,
Hugh Laurie
and Calexico, and has shared the international stage with pop music luminaries such as Bono, Andrea Boccelli and
Van Dyke Parks
. Inspired by artists such as
David Bowie
,
Memphis
Minnie and
B.B. King
, Gaby Moreno's Latin American folk and jazzy music is anything but pop. Even so, the Guatemalan singer/songwriter scored a nomination under the best Latin pop category for her fifth album Ilúsion, a beautiful bilingual collection of soulful lyrics mixed with blues, country and rock 'n roll beats.
When it came time to record her latest album, Ilusión, Moreno decided it was time to harken back to beginnings. Musically, the new album captures the pure spirit of the aspiring immigrant artist who made her way in a new country with just her guitar, her gifted voice, and a pocketful of songs she was eager to share. Moreno says of her new album, "I wanted something human. I'm not a robot. I wanted to embrace the imperfections. That's human. Maybe in the moment, I'm feeling something that's making my voice break. It's raw emotion. I wanted to keep that." Music Knows No
Borders
Series at The Soraya
A musical melting pot comes to the Valley
Performing Arts Center
(The Soraya) this season, in more than 20 different performances. Curated by Thor Steingraber, The Soraya's Executive Director, the Music Knows No
Borders
events are inventive and bold, infectious and pulsating; putting a positive spin on current geopolitical themes such as migration, race, and religion. The digital age inspires musicians from every corner of the globe, delivering an endless expanse of musical styles, and inspiring innovation and fusion. More than ever before, global artists command a platform to spread their message of cultural unity and social activism. "At The Soraya we give voice to the musical diasporas," said Steingraber. "We are committed to a simple idea-the concert hall is an inviting and inclusive place. The communal joy of music and dance is immediate, intergenerational, and accessible. After all, ears know no borders. Hands clap and feet stomp regardless of nation-of-origin, religion, or cultural background." Music Knows No
Borders
events begin November 2017 and will perform through May 2018. About Valley
Performing Arts Center
(The Soraya) Valley
Performing Arts Center
(The Soraya) opened its 2017-2018 season on
September
16 with a performance of AMADEUS Live (Milos Foreman's 1984 Academy Award winning Best Picture with live orchestra) with the
Los
Angeles
Chamber Orchestra and members of the
LA Opera
Chorus. The evening honored the Younes and Soraya Nazarian Foundation in recognition of the family's recent $17 million gift that will rename VPAC as the Younes and Soraya Nazarian Performing Arts Center, known as The Soraya. The gift is one of the largest in the history of the
California
State University and the system's largest single gift to support the arts; gift to support the programming and operations of the award-winning Valley
Performing Arts Center
- which has become one of the cultural jewels of the region in the six years since it opened. The 2017-18 Soraya season signals a new era for the premier event venue. Under the leadership of Executive Director Thor Steingraber, the renamed Younes and Soraya Nazarian
Performing Arts Center
expands its programming and outstanding multidisciplinary performances. The mission of The Soraya is to present a wide variety of performances that not only includes new and original work from the Los
Angeles
region but also work from around the world that appeal to all of LA's rich and diverse communities. Located on the campus of
California
State University, Northridge, The Soraya's season offers a vibrant performance program of nearly 50 classical and popular music, dance, theater, family and international events that will serve to establish The Soraya as the intellectual and cultural heart of the San
Fernando
Valley, and further establish itself as one of the top arts companies in
Southern
California. The award-winning, 1,700-seat theatre was designed by HGA
Architects
and Engineers and was recently cited by the Los
Angeles
Times as "a growing hub for live music, dance, drama and other cultural events."