Heidi Duckler Dance Presents EBB & FLOW: CULVER CITY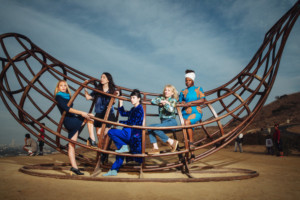 Los Angeles-based company, Heidi Duckler Dance (HDD) is proud to present Ebb & Flow: Culver City 2019. After a successful one day event in 2018, HDD was asked to bring the festival back to the Baldwin Hills Scenic Overlook for two days in 2019! The festival will take place at the Baldwin Hills Scenic Overlook from 11 am - 7 pm on February 23 and 24, 2019.
Ebb & Flow: Culver City is a free, site-specific community festival of local artists at the Baldwin Hills Scenic Overlook which integrates dance, visual arts, music and technology to explore climate change and its impact on the environment and, consequently, our health. The day begins with free public dance workshops for all ages and abilities, booths from local artists, and opportunities to engage in environmental and wellness activities from Culver City health & wellness organizations. The festival also includes student performances by Culver City High School, St. Mary's Academy and A Place Called Home throughout the day.
Curated by Heidi Duckler Dance, the weekend event will feature site-specific performances by diverse local artists from neighboring communities. Choreographers featured in the event will present their new works on HDD's fish sculpture. HDD collaborated with architect Alex Ward to design and build a 15-foot steel fish sculpture that acts as an interactive public art piece. The sculpture has moved throughout the Los Angeles area, from Downtown LA's Pershing Square to San Pedro's Cabrillo Marine Aquarium and more. Choreographers include Bernard Brown, Raymond Ejiofor, Comfort Fedoke and Jacob "Kujo" Lyons. Headlining the festival will be a new work created by Duckler in collaboration with composer/performer, Drum & Lace, exploring issues of climate change.
This project is supported by the California Arts Council. This performance is made possible in part by the City of Culver City, in celebration of the 25th anniversary of the Performing Arts Grant Program, with support from Sony Pictures Entertainment.
Initially founded in 1985, HDD is a pioneer in producing interdisciplinary performances. The company develops and rehearses each multi-sensory experience in the site where the work is performed. HDD advances social equity in under-resourced communities by providing opportunities for audience members and students to interact with meaningful spaces, both public and private, that they may not otherwise have access to. These innovative experiences allow participants to view these places, and their communities, in new and interesting ways. Over the past 33 years, HDD's Artistic Director, Heidi Duckler, has created over 300 original works locally, nationally and internationally, including in many LA neighborhoods such as: Downtown LA (the Historic Core, Arts District, Produce District and Fashion District), Boyle Heights, Koreatown, Studio City, Van Nuys, Hollywood, Venice, San Pedro and South LA. Duckler's work has been internationally recognized in Hong Kong (Hong Kong Urban Arts Festival 2007), Russia (Link Vostok International East-West Arts Exchange 2010), Montreal (Transatlantique Quartier 2013), Germany (Tanzmesse, 2014 and 2018), Australia (Brisbane Festival 2014), Cuba (Ciudad en Movimiento 2016) and Chile (Puerto de Ideas 2018). This year HDD was awarded grants for upcoming performances and arts education initiatives including; LA County Arts Commission, Dance/USA and Doris Duke Charitable Foundation and awards from the California Community Foundation, James Irvine Foundation, California Arts Council, LA Dept of Cultural Affairs, Bloomberg Philanthropies, Green Foundation, DEW Foundation, Annenberg Foundation, and the National Endowment for the Arts. HDD produces over 25 original productions each year, and over 4,000 diverse residents are served annually.
Heidi Duckler:
Heidi Duckler is the Artistic Director and founder of Heidi Duckler Dance in Los Angeles, California and Heidi Duckler Dance/Northwest in Portland, Oregon. Titled the "reigning queen of site-specific performance" by the LA Times, Duckler has created more than 200 dance pieces all over the world. Duckler earned a BS in Dance from the University of Oregon and an MA in Choreography from UCLA, and is currently a Board Member of the University of Oregon's School of Music and Dance Advancement Council. Awards include the Distinguished Dance Alumna award from the University of Oregon School in Music and Dance, the Dance/USA and the Doris Duke Charitable Foundation's Engaging Dance Audiences award, and the National Endowment of the Arts American Masterpiece award.
Bernard Brown:
Is a Los Angeles based dance artist, choreographer and educator. He received his MFA from the Department of World Arts and Cultures/Dance at UCLA and his BFA from Purchase College. Bernard began his dance training at the Lula Washington Dance Theatre School and continued on to the illustrious Idyllwild Arts Academy.
Mr. Brown's choreography has been presented at Royce Hall, REDCAT, Highways Performance Space, the Fowler Museum, HomeLA, Southern Methodist University, Japanese American National Museum, El Camino College, Lula Washington Dance Theater, California State University Long Beach, Crocker Art Museum, Brooklyn Baptist Church, Bryant Lake Bowl and Patrick's Cabaret. He had the honor of choreographing Scott Joplin's opera, "Treemonisha" for Skylark Opera. His work "Champion" was presented at the launch of the Institute on Inequality and Democracy at UCLA Luskin in 2016. He has created original dance works for Sacramento State University, El Camino College, Lula Washington Dance Theatre School, Pasadena Dance Theatre School, and South Chicago Dance Theatre. His work has been supported by the Department of Cultural Affairs for City of Los Angeles. In recognition of his choreographic body of work, Bernard received the Westfield Emerging Artist Award. He was awarded the Lester Horton Award for his work as a performer and choreographer.
Raymond Ejiofor:
Raymond Ejiofor, a Gates Millennium Fellow, earned a Masters of Public Health Policy from USC and his B.S. in Decision Science from Carnegie Mellon University. He began his training under Judith Rhodes Calgaro in Arlington, VA and the Dance Theater of Harlem. Ejiofor has danced and created works with Daniel Ezralow, Ryan Heffington, Aszure Barton, Lula Washington, Bryan Arias, Danielle Agami, Sidra Bell, Kyle Abraham and Robert Battle. Ejiofor currently collaborates with various companies including Ezralow Dance, Ate9 Dance Company, Heidi Duckler Dance, Post:Ballet and David Roussève/REALITY. Some of his credits include the 59th Annual GRAMMY Awards, MTV VMAs, Audi, Toshiba, Hermès, Samsung, Apple, Beijing Dance Festival, Springboard Danse Montreal, Israeli Opera House, and Lincoln Center: David H. Koch Theater. He has performed with artists such as Sia, Katy Perry, Pharrell, Dua Lipa, 30 Seconds to Mars, Little Boots, Fitz and the Tantrums, and Daft Punk.
Comfort Fedoke is a multi-talented, Emmy-Award Winning dancer, choreographer, director, actress, and singer. Known for competing on So You Think You Can Dance Season 4, Comfort was invited back as an All-Star and continues mentoring new competitors each season.
Comforts dance roots stem from the street and has competed in freestyle dance battles all over the world. Recently, her success in battle has taken her from the dance floor to the commentator's booth, working alongside Sway Calloway for Red Bull TV. Comfort was also featured in Nike's 30-year celebration of Air commercial promoting the new VaporMax shoe.
On stage, Comfort has performed live with talented artists such as LL Cool J, Rihanna, and Missy Elliott at the Super Bowl 49 Half-Time Show. Comfort currently serves as a dancer for Hip-Hop legend Missy Elliott and has appeared in a number of her music videos.
Comfort is now transitioning into more choreography and directing doing a number of big music videos for artist such as indie artist Karmin and Nia Sioux.
Jacob "Kujo" Lyons:
Jacob "Kujo" Lyons has 27 years of experience in the performing arts, as a b-boy, choreographer, aerialist, and Chinese pole acrobat. Almost entirely self-taught (and almost entirely deaf), he regularly travels worldwide to perform in circus and dance theater, teach workshops and seminars, and judge b-boy competitions. His choreography has earned him numerous awards, and has been called "drop-dead awesome" by the LA Times. Some of Kujo's media work includes back-flipping into jeans for a Levi's national commercial, being featured as the principal b-boy in Run DMC's music video, "It's Like That," and appearing in the films Battle of the Year: The Dream Team and Step Up 2: The Streets.
Drum & Lace:
Drum & Lace, aka Sofia Hultquist, is an Italian composer, sound artist & performer. She received her Undergraduate Degree from Berklee College of Music (Film Scoring & Composition) and Masters Degree (Music Technology) from NYU.
Inspired by interesting sounds and cinematic elements, Drum & Lace melds together sampled field recordings and lush layers of synths to create densely textural and beat-heavy music, greatly drawing from film music, music concrete and modern electronica. Her ambient and chamber work also gathers inspiration from nature & natural sounds, as well as the juxtaposition of unlikely sounds with one another.
Her composition work includes writing for fashion, dance, theater, and commercials for clients such as NARS, Always, Saudade Theatre, Tanya Taylor and Girls Who Code. Her feature-length film credits include "The First Monday in May" (dir Andrew Rossi) , "The Gospel According to André" (dir Kate Novack), "Invisible Hands" (dir Shraysi Tandon), and upcoming HBO doc "At The Heart of Gold" (dir Erin Lee Carr) and Apple tv-series "Dickinson" (created by Alena Smith).
Recent performances include The Echo Society VI: Family (USA ), an installation at Pulse Art Fair Miami 2018 (USA) & "Debussy e la Natura" at Festa Dell'Opera 2018 (Italy).