BWW Review: Visually Stunning THE WOMAN WHO WENT TO SPACE AS A MAN Explores the Secret Life of Writer Alice B. Sheldon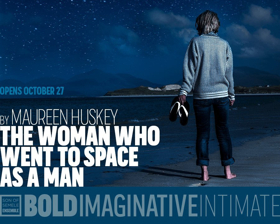 The new experimental play THE WOMAN WHO WENT TO SPACE AS A MAN is part fact, part fever dream, and part musical, with its overall effect creating one of the most stunning and visually stimulating plays I have ever seen. This captivating new work written and directed with amazing, imaginative flair by Maureen Huskey is now being produced by Son of Semele, staged in a black box theater with a central moveable platform attached to the walls with bungee-type white cords, upon which sits a single wooden chair in which we meet Alice B. Sheldon (better known to sci-fi aficionados as author James Tiptree, Jr.) as she contemplates suicide.
Formidable actress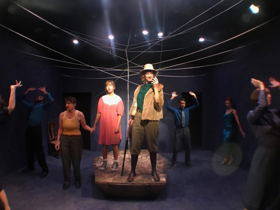 Betsy Moore brilliantly portrays Alice as an adult who questions whether or not to end her life due to personal and professional road blocks. Her mind wanders, creating a visit from Mira, an extraterrestrial "star caller" from one of Tiptree's stories, portrayed by Megan Rippey, phantasmagorically dressed by Lena Sands in mermaid-like, metallic green, who leads Alice on an episodic, emotional journey through the shadows of her past where, despite her life's accomplishments, buried pain and unmet desires reside.
During her journeys, Alice encounters her younger selves (Isabella Ramacciotti as Little Alice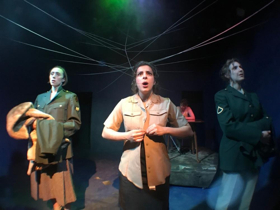 and Paula Rebelo as Young Alice) during the dreamlike remembrance sequences in which Alice travels to Africa with her mother (Anneliese Euler), becomes an officer in the Army, works for the CIA and the Pentagon before she started writing science fiction under the male pen name of James Tiptree, Jr. as a last grasp for life at the age of 50. Without expecting any success, Sheldon as Tiptree ended up taking the science fiction world by storm writing the most provocative and socially relevant stories to this day.
As her life is recalled, James Ferrero takes on the role of James Tiptree, Jr.,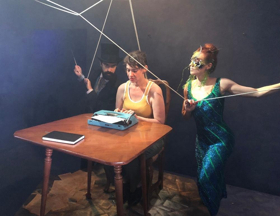 dressed as an Abraham Lincoln lookalike, who, along with Alice and Mira, let us see the two sides of her writing personality working together at a typewriter to document the experience of her life. Dodging in and out of reality, the play, with a bold musical score from award-winning world music artist Yuval Ron, investigates gender, longing and creativity as self-exploration through one of the science fiction world's greatest literary tricksters, most notable for breaking down the barriers between writing perceived as inherently 'male' or 'female,' as it was not publicly known until 1977 that Tiptree was, in fact, a woman.
The atmosphere of travelling in space, as well as through Sheldon's mind, is stylistically represented by all characters intertwining themselves in the flexible cords, allowing them to appear weightless as they weave their way around each other on Eli Smith's imaginative set.
Awe-inspiring technical wizardry is also reflected thanks to Rose Malone's lighting design and Martin Carrillo's spacey sound design.
I found myself lost in Huskey's mind-expanding story and attention-grabbing direction, swept into the journey along with Alice and the most important people in her life, supported by the talented ensemble players Kamar Elliott, Anneliese Euler, Emma Zakes Green, Nathan Nonhof, Robert Paterno, Ashley Steed, and Alex Wells as Shelton's real-life husband Ting. The entire cast proves how effective a true ensemble of players can be when their give-and-take onstage support of each other lifts the production into a true state of imaginative reality.
This new play has universal and topical resonance as it deals directly with the repression of women, of gender/sexual orientation, depression and the search for hope.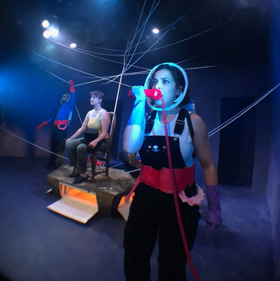 It also brings science fiction - a form that was long marginalized - to the center stage and shows how Alice B. Sheldon used the genre to address issues that continue to plague humanity to this day.
I invite you to sit back and set your imaginative mind free during this creative 95-minute ride into the tortured soul and brilliant mind of THE WOMAN WHO WENT TO SPACE AS A MAN. Performances run through November 18 on Tuesdays at 7 p.m., Fridays and Saturdays at 8 p.m., and Sundays at 5 p.m. at Son of Semele Theater, located at 3301 Beverly Blvd, Los Angeles 90004. General admission tickets are $25 available by calling 818-841-5422, online at www.sonofsemele.org or via email to info@sonofsemele.org. Patrons 25 and under get $5 off with valid ID at the door.
Photo credit: Mauricio Gomez