Review: P R I S M at REDCAT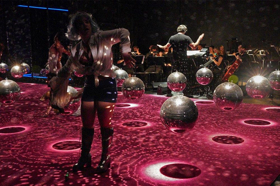 On Thursday evening November 29, 2018, Los Angeles Opera presented the world premiere of Ellen Reid and Roxie Perkins' psychologically charged opera, p r i s m. It's creators insist the title be written in lower case type with a space between each letter.
This past year the LA Chamber Orchestra, the LA Master Chorale, and the LA Philharmonic have also played Reid's music, so she has definitely arrived on the West Coast. p r i s m encompasses a variety of styles and genres of music as diverse as the population of the City of Angels. Beth Morrison Projects commissioned Reid and Perkins to write this opera. Five years and a couple of workshops later it arrived performance-ready.
In Reid's p r i s m, I hear many different musical influences including those of Richard Strauss's DIE FRAU OHNE SCHATTEN (THE WOMAN WITHOUT A SHADOW), Claude Debussy's PELLEAS AND MELISANDE, Poulenc's DIALOGUES OF THE CARMELITES, and Igor Stravinsky's THE RITE OF SPRING. However, these influences tend to merely color harmonies and rhythms that revolve around a core of Reid's own individual and distinctive sonorities. While traversing a broad spectrum of musical styles, her orchestration is thoroughly polished and monumentally complex. She illustrated various states of Bibi's mind with changes in style. I would like to hear this work more than once in order to get a complete picture of its music.
For the first act, Conductor Julian Wachner was hidden behind a screen but we could watch his beat on a monitor at the side of the hall. After that, we could see him at the side of the stage as he led members of the Los Angeles Opera Orchestra in a rousing rendition of this thoroughly modern musical endeavor. I found it particularly interesting to watch pianist Bryan Pezzone play both the keys and the internal strings of the piano.
Designer Adam Rigg's scenery for Act I was a neon outlined glass box that reminded me of the opening of Mason Bates' opera THE (R)EVOLUTION OF Steve Jobs, but that was only a momentary thought. This box had an iconic bed in it. The two singers who portrayed the leading parts took this unique psychological story and, thanks to the fluent direction of James Darrah, they run with it.
For the second act, Rigg utilized 24 suspended soccer ball-sized jewel-studded globes. Anna Schubert as Bibi and Rebecca Jo Loeb as Lumee sang, acted, danced, and propelled their characters through the throes and insistent beat of modern life. Pablo Santiago-Brandwein's changing lighting and its myriad effects showed us the whirling of Bibi's mind. Dancers Tatiana Barber, Charbel Rohayem, Gigi Todisco, and Choreographer Chris Emile were a strong addition to the scene as they writhed with Bibi to show rape and the result of her lack of self-determination. For the third act, Rigg again offered the bed in the glass box, but this time it was shabby, unkempt and looked like a drug lair.
Although we did not see them, throughout the performance we heard interesting vocal harmony from members of the Choir of Trinity Wall Street who were brought to LA for these performances. Anna Schubert as Bibi sang and acted most effectively with her silvery lyric soprano voice. Mezzo-soprano Rebecca Jo Loeb has a plum colored sound that she used lyrically as a supposedly caring mother in the first act and dramatically as a shrew in Acts II and III.
P r i s m's three acts were labeled as follows: Act I, Sanctuary as it Should Be; Act II, Sanctuary as it Was; Act III, Sanctuary as it Is. Director James Darrah first gave us the drug induced dream that makes everything seem good and pleasant, In Act II we see that the reality of the situation was quite different. I noticed in Act I that Bibi always called her mother Lumee, never Mom or Mother.
In Act II, Bibi tries to call her mother Mom but is sharply rejected by Lumee's refusal to acknowledge motherhood or show maternal love for the child she bore. Singing and dancing to music that contains elements of Heavy Metal, Lumee shows that her true personality is quite different from what we saw in the first act. Watching her, I began to believe that motherhood took her by surprise and that she might have wanted to kill her daughter with her "medicine."
The final act belongs to Bibi as she begins to picture a life apart from her mother. Bibi and Lumee are again in the glass cube bedroom, but the bed is just a mattress on the floor and the room is filled with piles of non-descript ragged clothing. Designer Rigg and director Darrah show us the state of Bibi's mind with this disorderly room. She is frightened, but her actions show us that she knows she will have to brave the outside world. She has matured and leaves us to believe she will make her own way in life.
After the performance Creative Producer Beth Morrison conducted a Talk Back with Reid, Perkins, Darrah, and Wachner for the many audience members who wanted to learn more about this unusual work. It provided a fine end to a fascinating show but I wish Morrison had devoted a bit more time to questions from audience. P r i s m will be repeated on November 30th, December 1st, and 2nd with Slovenian Conductor Daniela Candillari leading the final two performances.
Photo by Larry Ho for LA Opera