Beth Morrison News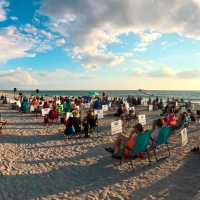 Kareem Fahmy, Shariffa Ali and More to be Featured in Hermitage Artist Retreat January 2023 Programming
by Chloe Rabinowitz - Nov 21, 2022
The Hermitage Artist Retreat has announced the first several programs for the new calendar year. These events will be presented on the Hermitage's historic beachfront campus on Manasota Key and throughout Sarasota County.
The Crossing Releases CAROLS AFTER A PLAGUE On New Focus Recordings December 9
by A.A. Cristi - Nov 16, 2022
On December 9, 2022, acclaimed GRAMMY-winning choir The Crossing, led by Donald Nally, releases its 29th album Carols after a Plague, on New Focus Recordings (physical album available January 6, 2023).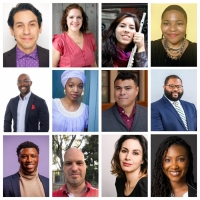 Cleveland Institute of Music Catches 12 Rising Stars For 2023 Future of Music Faculty Fellowship
by Stephi Wild - Nov 15, 2022
On Tuesday, the Cleveland Institute of Music announced the 12 scholars named to its 2023 Future of Music Faculty Fellowship (FMFF), a one-of-a-kind program nurturing the academic careers of young Black and Latinx professionals and a cornerstone in CIM's wide-ranging commitment to changing the face of classical music.  
The Cell Theatre Announces 2023 Programming Featuring Over 30 Resident Artists
by Chloe Rabinowitz - Nov 9, 2022
Nancy Manocherian's the cell theatre (Artistic Director Kira Simring) has announced their 2023 season, featuring a year of full productions, art exhibitions, developmental workshops, and over 30 resident artists.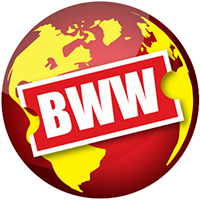 THE CROSSING @ CHRISTMAS Returns For Two Holiday Performances In December
by A.A. Cristi - Nov 1, 2022
Grammy Award-winning choir The Crossing's holiday tradition The Crossing @ Christmas returns with two concerts featuring the world premiere of Ochre by Caroline Shaw alongside Mass Transmission by Mason Bates on Friday, December 16, 2022 at 7:00 p.m. at the Church of the Holy Trinity in Rittenhouse Square (co-presented by Penn Live Arts) and on Sunday, December 18, 2022 at 5:00 p.m. at the Presbyterian Church of Chestnut Hill.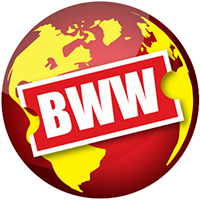 Harlem Stage and Beth Morrison Projects Present SONG CYCLES This Weekend at Harlem Stage
by Stephi Wild - Oct 24, 2022
Harlem Stage and Beth Morrison Projects, in their first ever collaboration, present Song Cycles, featuring visionary women and non-binary composers and musicians Tamar-kali (she/her), Yaz Lancaster (they/them), and Tanyaradzwa Tawengwa-Nzou Mambano (she/her).
Opera Philadelphia Films Coming To Five Movie Theaters This Fall
by Stephi Wild - Oct 20, 2022
 Following the success of September's Festival O22 presentation of live opera productions alongside opera films, "redefining opera on stage and screen" according to the Wall Street Journal, Opera Philadelphia will bring its renowned films to five regional movie theaters, offering audiences an opportunity to appreciate the intersection of two art forms.
The Crossing Performs World Premiere Of Michael Gordon's TRAVEL GUIDE TO NICARAGUA This November
by A.A. Cristi - Oct 14, 2022
Grammy Award-winning choir The Crossing gives the world premiere performance of Michael Gordon's Travel Guide to Nicaragua at Congregation Rodeph Shalom in Philadelphia, PA on Wednesday, November 16, 2022 at 7:00pm and the NYC premiere performance at Carnegie Hall's Zankel Hall on Thursday, November 17, 2022 at 7:30pm. Avante-garde cellist Maya Beiser joins The Crossing for the long-awaited premieres, which were postponed due to the pandemic.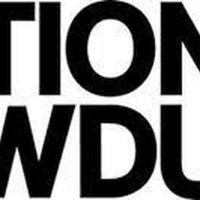 Center for Contemporary Opera and National Sawdust to Present WE, THE INNUMERABLE Workshop
by Blair Ingenthron - Oct 14, 2022
The Center for Contemporary Opera's (CCO) Fortieth Season will continue with We, The Innumerable by the Iranian composer Niloufar Nourbakhsh and the librettist Lisa Flanagan.  The workshop premiere of this one-act opera in concert form, takes place on Friday, October 21 at 7:30pm at National Sawdust.
Review: A Singular Sensation Returns to Philadelphia Opera with the O22 Festival
by Richard Sasanow - Oct 6, 2022
O22, as Opera Philadelphia's festival was called this year, wasn't exactly "something old, something new" but more like big fat sandwich cookie. On one side, there was a kind of "traditional" contemporary opera, Hosokawa's THE RAVEN , a big filling of Rossini's OTELLO opera seria in the middle, and finished with the Little-Waldman BLACK LODGE, a rock opera that was half ear-blasting concert performed live, half film.
Beth Morrison Videos
STAGE TUBE: Sneak Peek at NYC Premiere Opera, DOG DAYS
by Stage Tube - Dec 30, 2015
New York City Premiere, Dog Days is a work of contemporary opera-theatre that investigates the psychology of a working class American family pitted against a not-so-distant-future wartime scenario. Exploring the ultimate struggle of humanity—stuck between nature's indifference and society's barely restrained brutality—Dog Days asks: is it madness, delusion, or sheer animal instinct that guides us through severely trying times? Where is the line between animal and human? At what point must we give into our animal instincts merely to survive?