Review: ORPHEUS AND EURYDICE at Dorothy Chandler Pavilion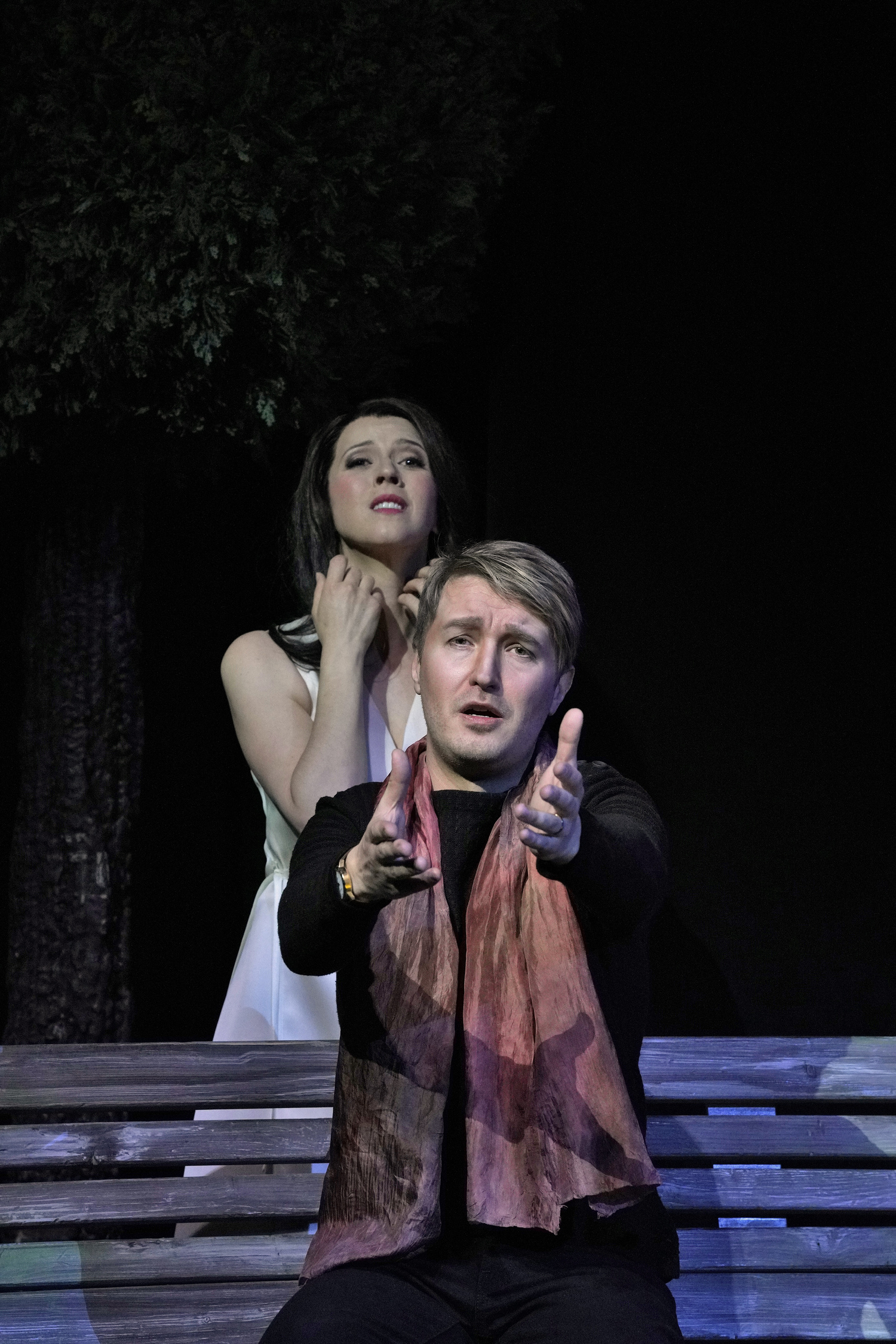 On March 11, 2018, Los Angeles Opera presented Christoph Willibald Gluck's ORPHEUS AND EURYDICE in conjunction with Joffrey Ballet Chicago at the Dorothy Chandler Pavilion. Having previously presented the Italian version of the opera with a mezzo-soprano as Orfeo, L. A. Opera offered the 1774 French version with a tenor Orpheus and a great deal more dance this time. Lyric Opera of Chicago, Los Angeles Opera, and Staatsoper Hamburg commissioned this production jointly.
John Neumeier's three scenic structures were partially mirrored and contained large open spaces through which artists could enter or leave. For the scene in which Orpheus sings of the beauty of the sky and the clarity of the sun, the atmosphere was accomplished by lighting. Most of Neumeier's costumes had Grecian lines and many were white. We only saw strong colors at the very beginning as Orfeo planned his ballet and at the end in the dance celebrating the triumph of love.
Russian tenor Maxim Mironov was a trumpet-voiced Orpheus who never tired during his ultra-long part. In this version of the opera by director, choreographer, and designer John Neumeier, Orpheus is a choreographer working on a ballet in which his wife, Eurydice, is a soloist. A temperamental artist, she arrives late for rehearsal and plants her myriad belongings in the middle of the floor. Orpheus fights with her and she leaves slamming the door. Moments later, she is run over and killed by a car and her husband can hardly believe what has happened.
His assistant, Amour, tries to help but Orpheus despairs and is haunted by dark thoughts and black-clad creatures he believes to be Furies from the underworld. He sings to the writhing and kicking Furies. Eventually they relent and let him pass through to Elysium. When he arrives in the afterlife, he sees the beauty of the spirit world and the happiness of the blessed spirits. Now, instead of dark Furies lunging at him, he sees Happy Shades dancing to express their joy. On Saturday evening, Heather Clark was the most excellent solo flutist playing Gluck's enticing tune. This score calls for a chamber orchestra. At L. A. Opera, that means every player in the ensemble is capable of solo work.
Upon entering Elysium, Orpheus' music becomes more melodic. He sings with bright tones, but continues to grieve. He tells of his lost love with sounds buoyed up by the harmonies of Grant Gershon's chorus and James Conlon's impeccable orchestra. Although ORPHEUS was first seen in 1774, it has a great deal of enduring music. Its solos and its choruses are still powerful theater. The Furies' "No" was almost frightening and Mironov's rendition of the opera's best known aria, "J'ai perdu mon Eurydice" ("I have lost my Eurydice"), was absolutely exquisite.
Dressed in white with a billowing cape as the deceased Eurydice, Lisette Oropesa looked and moved like one of the dancers. Her sounds were liquid silver and she seemed to be an amazingly graceful creature from another world. She sang through a veil at times, but it never marred the focus of her sound. My only thought was that her part was too short. She will sing Gilda in the LA Opera's RIGOLETTO later this spring. Domingo-Colburn-Stein Young Artist Program member Liv Redpath sang with clear and accurate coloratura as Amour. She is definitely a singer to watch for the future. This summer he will be Naiade in Santa Fe Opera's ARIADNE AUF NAXOS.
Singing is only a small part of this opera, however, and the collaboration between Los Angeles Opera and Joffrey Ballet Chicago resulted in a most interesting production. Neumeier's choreography combined traditional Russian style classical ballet with modern dance. For devotees of traditional ballet, it was a surprise, but the two styles merged smoothly for this gorgeous production. Although there were times when the steps danced by various couples differed, the work of the group as a whole was always well coordinated. In all probability, the Joffrey made converts to ballet who will turn out for non-operatic dance offerings in the future.
As in the legend, Orpheus is told that he can bring Eurydice back to earth if he does not look at her while enroute. They start the journey and they begin to dialogue. Unfortunately, human nature takes over and Eurydice accuses Orpheus of no longer loving her. She asks why she should return to earth with a man who will not even look at her. Has she aged too quickly? That question struck a nerve with opera patrons.
Of course, the moment her husband looks at her she falls lifeless. Over time, however, as the dancing and merriment continues, Orpheus's grief becomes less painful and he begins to realize that Eurydice will always live in his heart. Perhaps we would not believe the story if it ended more happily. Orpheus has learned a great deal about life and he can continue his search for conjugal happiness.
Conductor James Conlon's orchestra played Gluck's eighteenth century music on their modern instruments and the result was magnificent. A conductor who specialized in performing in eighteenth century style on older or recreated instruments would have had a leaner sound, but Conlon's meaty tones fit this combination of old and new music and dance perfectly. Performances of ORPHEUS AND EURYDICE will continue through March 25.
Photo by Ken Howard for L.A. Opera