Review: KNIFE TO THE HEART Hits A Bullseye!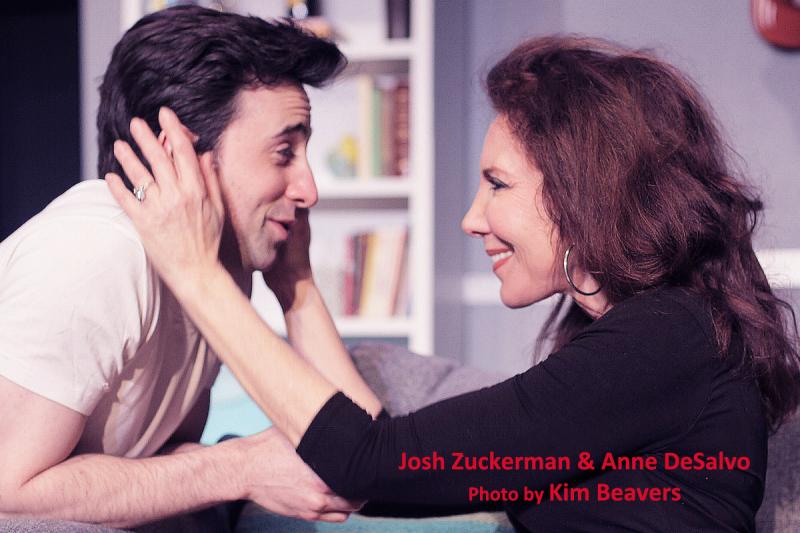 KNIFE TO THE HEART/by Stan Zimmerman & Christian McLaughlin/directed by Stan Zimmerman/Dorie Theatre @ The Complex/thru May 20, 2018
The smart and witty script by Stan Zimmerman & Christian McLaughlin keeping the one-liners and puns steadily coming make for a fast-paced one-act. Easy to tell the writers really know their way around gay and Jewish life. Zimmerman most assuredly directs his talented cast of four in a quick stride, with real-time, heart-felt dramatic situations emerging out of the more comic set-ups.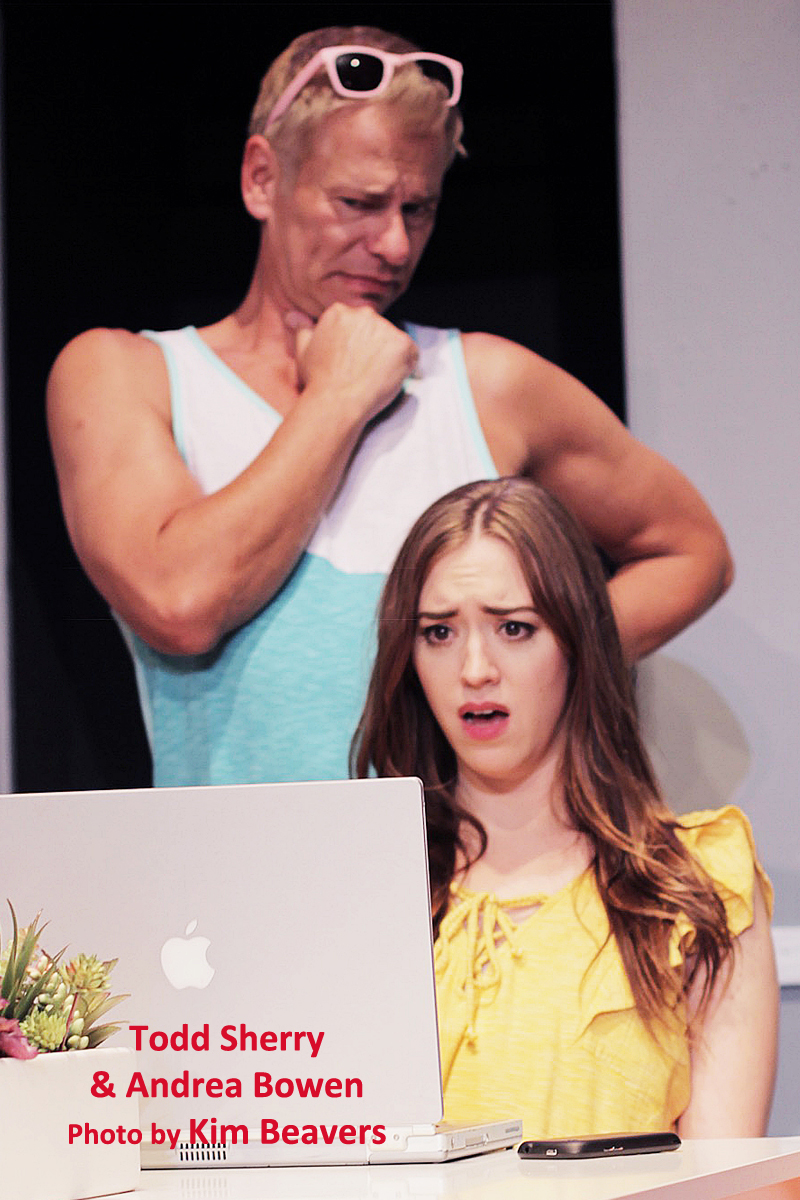 KNIFE TO THE HEART (sure-handedly produced by TADA Theatricals, Kicky Productions and Pop-Up Playhouse) focuses on Julie Ann and Marshall about to have their first baby with Marshall's mother Rhonda hovering over them and Julie Ann's fellow teacher Deacon around for moral support. All seemingly goes smoothly until Julie Ann accidentally learns from Deacon just what exactly the bris Rhonda's planning involves. Then all good will and politeness dissolves.
Andrea Bowen and Josh Zuckerman perfectly embody the soon-to-be parents Julie Ann and Marshall with much wonderfully believable chemistry (the looks, the subtle touching, the communal joy from the realization of Julie Ann's fertile condition). With Rhonda's frequent visits (mostly unannounced), Marshall often finds himself in the uncomfortable position of having to explain and defend both women's intentions to the other when misunderstood (Rhonda's) or misinterpreted (Julie Ann's).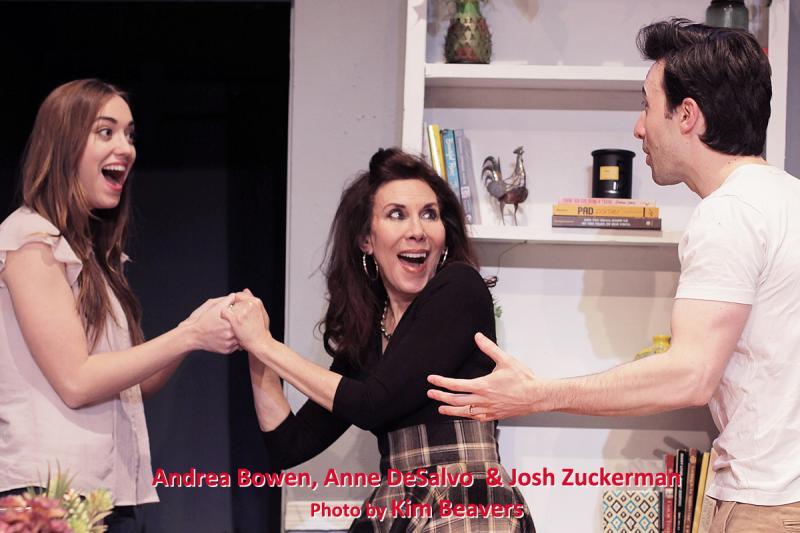 Anne DeSalvo nails her role of the caustic Rhonda, the over-loving, meddling mother of Marshall, and Julie Ann's controlling, manipulative, (but loves her like her own daughter) mother-in-law from hell. But it's DeSalvo's later-in-the-one-act admission that lets the audience see what really makes Rhonda tick the way she does. More manipulation? Or a 'valid' excuse for Rhonda's overbearing behavior? You, as the audience, can decide for yourself. Well done, Ms. DeSalvo!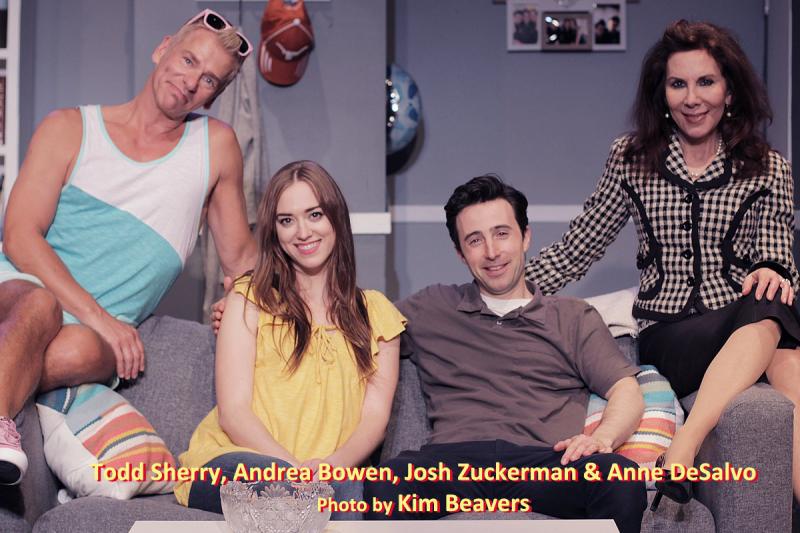 Todd Sherry just floats through each of his scenes as Julie Ann's gay BFF and co-worker Deacon, with swift deliveries of a biting one-liners and a Killer Paul Lynde impression (look up classic TV series Bewitched or game show Hollywood Squares.) Sherry's sobering re-telling of being bullied in gym class effectively and vividly exposes the underlying hurt beneath all his wisecracking retorts. Very nice!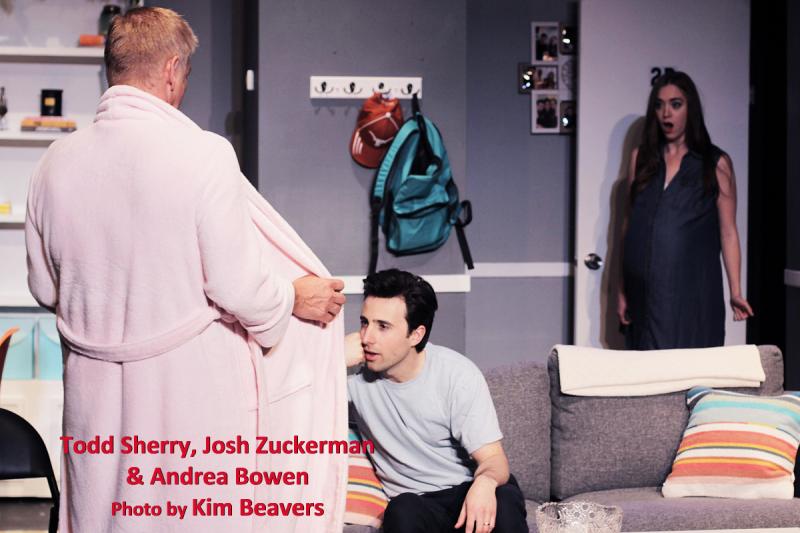 Use of various pop songs for entré-scenes spot-on, receiving appreciative chuckles from the audience.
Would not be adverse to ending the play at the baby shower's climatic moment. End scene seems tacked on, but does have a cute physical bit of Zuckerman curling his two baby carriers, and then, there's the final decision reveal.