Review: SHE LOVES ME Makes a Lovely Holiday Gift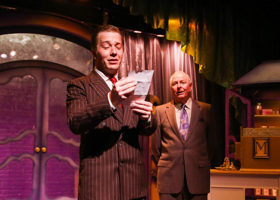 She Loves Me/book by Joe Masteroff/music by Jerry Bock/lyrics by Sheldon Harnick/based on a play Parfumerie by Miklos Laszlo/directed & choreographed by Cate Caplin/Actors Co-op/David Schall Theatre/through December 16
Classic musicals usually hold up well if the book and music are strong and relevant. She Loves Me has its corny moments and is dated, but is so bent on love and the romantic side of life, we buy into its premise and come away entertained. Currently onstage at Actors Co-op through December 16, She Loves Me receives flawless direction from Cate Caplin and may boast a deliciously inviting ensemble of players.
The musical bowed on Broadway in 1963 with Barbara Cook creating Amalia Balash and her unforgettable version of Bock and Harnick's "Ice Cream". However, there have been three movies: the 1940 nonmusical The Shop Around the Corner with Jimmy Stewart, the 1949 musical version In the Good Old Summertime with Judy Garland and Van Johnson and then the 1998 more contemporary You've Got Mail with Tom Hanks and Meg Ryan. The Garland vehicle is set in a music shop but the original and She Loves Me take place in a parfumerie, in Budapest, Hungary in 1934.
The plot involves penpals Amalia Balash (Claire Adams) and Georg Nowack (Kevin Shewey) who work together at Maraczek's. They clash with one another consistently and do not know that they are spending every other waking hour writing love letters to each other. George is the first to find out that his love interest is Miss Balash but keeps pretending not to know, in her presence. It's amazing how this simple plot evolves into a big play when by today's standards it would be considered a mere sketch at best. I haven't seen She Loves Me in a dozen or so years, but have seen the films on TCM many times. I like the surprise element of the film scripts more, for when the couples finally do come together at the end, it is unexpected, at least for Amalia. In this musical they befriend each other at work much too soon and sort of yearn for the happy ending. Many will delight in this familiarity, though, especially women and theatre lovers, for love is at stake ... and love is displayed in abundantly fun ways.
In fact, comedy takes over the story line, as featured characters revel in finding what they want, and the actors playing them are deliriously off track and devilishly funny. Ilona Ritter (Avrielle Corti) and Steven Kodaly (Darren Bluestone), Arpad Laszlo (Beau Brians) and Ladislav Sipos (Tim Hodgin) all have terrific moments in the spotlight and are amazing triple threats. Bluestone and Corti especially rivet audience attention in every scene. Caplin as director really lets loose, allowing her actors to go all the way, and her choreography is over.the.moon, particularly in the restaurant scene, almost as frantic as in Hello Dolly! with special praise going to the busboy (Tyler Joseph Ellis), whose leaps and spins are nothing short of remarkable.
As to the leads, Shewey is sensationally manic as Nowack with his nervous energy securely in place at every second. His "Tonight st Eight" and "She Loves Me" are both delivered with over.the.top enthusiasm without sacrificing deep sincerity. I was somewhat disappointed in Adams as Balash. Always a resourceful character actress, she is not the right match for Amalia's gentle, vulnerable, seemingly standoffish nature. She forces too much in her scenes with Shewey, but her work gets better in Act II. Her lilting voice, on opening night, was in and out, not sustaining the final note of "Ice Cream" as it should be. Last but hardly least, Greg Martin as Mr. Maraczek turns in a sturdy performance.
Kudos to Stephen Gifford for his lovely scenic design. Maraczek's looks like a beautiful hatbox tied up with a big pink ribbon. Michael Mullen's period costumes are right.on.the.money. Luke Moyer's lighting and Adam R. Macias' sound design are equally appealing.
Go see She Loves Me! It may have dated elements, but is still a lot of fun to watch and perfect for the holiday season, so accept it for what it is ... and with Caplin's vibrant direction and choreography and this splendid cast, how can you go wrong?
(photo credit: John Dlugolecki)