Don Grigware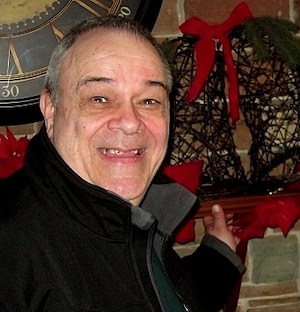 Don Grigware was a writer for BroadwayWorld through December 2019.                                                    
     Don Grigware is an Ovation nominated actor and journalist/writer whose contributions to theatre through the years have included 6 years as theatre editor of NoHoLA, a contributor to LA Stage Magazine and currently on his own website:
www.grigwaretalkstheatre.com
  
   Don hails from Holyoke, Massachusetts and holds two Masters Degrees from the University of Massachusetts, Amherst in Education and Bilingual Studies. He is a teacher of foreign language and ESL.
   Don will soon be entering his eleventh year with BWW, currently serving as Senior Editor of the Los Angeles Page. He received a BWW Award for Excellence in 2014 as one of the top ten Regional Editors around the globe.
   Don is also an author/playwright and recently published Books I, II & III of his children's fable Two Worlds Together: Donnelly's Greatest Christmas. You may purchase copies of the two volumes at  amazon.com A trilogy of one-acts in a collection called Holiday Madness was recently revised and re-published, also on amazon.com. Both the story and plays are available on kindle as well as in paperback. 
There are still creative writing projects on the horizon, including publishing a collection of scary mini-plays - 10-15 minutes in length - and publishing a sequel to Two Worlds Together, entitled Donnelly Tackles Technology. There is also a play in mind about my mother and her card-playing friends called Old Maid? Hell!  Stay tuned for the rest of 2019, 2020 and beyond for more fun and games...and challenges!
 
MOST POPULAR ARTICLES
LAST 365 DAYS
BWW Interview: Pop Singer Tiffany Bailey Talks About Her Projects for 2020

January 28, 2020

Actress/singer Tiffany Bailey has many talents. She also happens to be a behavioral therapist for children with autism. I laud her for that. Last spring 2019 she released an album entitled Jazz with Pop and her cabaret show was very well received. In this interview she updates our readers as to the success of the CD and talks about her other projects for 2020.
---
BWW Review: Megan Hilty and Cheyenne Jackson a Smash at the Wallis Annenberg

January 27, 2020

One of the most highly anticipated concerts of the season took place Saturday January 25 at the Bram Goldsmith Theater of the Wallis Annenberg in Beverly Hills. It co-starred Megan Hilty and Cheyenne Jackson. To say the least both performers were at the very top of their form and blew the roof off the Annenberg by just being their professional selves, singing sublimely separately and together and sharing stories about their career and personal lives.
---
BWW Interview: Alfred Molina Speaks About THE FATHER at Pasadena Playhouse

January 24, 2020

Florian Zeller's play The Father is so topical, for it deals with a father who is suffering from dimentia. It opens for previews on February 5 at the Pasadena Playhouse with the official opening night set for Tuesday February 11. Alfred Molina whose stage and film appearances are laudatory stars as the father Andre, a former tap dancer. He talks succinctly about the role as he settles in to a comfortable rehearsal period.
---
Candlelight Pavilion Presents a Sterling MAN OF LA MANCHA

January 22, 2020

Man of La Mancha /book by Dale Wasserman/music by Mitch Leigh and lyrics by Joe Darion/ directed by Chuck Ketter/choreographed by Daniel Solis/ music direction by Douglas Austin/Candlelight Pavilion Dinner Theatre/through February 22 This has to be my hundreth viewing of this show. As many times as I see Man of La Mancha, I relish the music and high dramatic moments of this classic piece of theatre. Such is the case when the production is top notch, with the perfect actors and highly skilled direction. Candlelight Pavilion's current revival is fantastic with artistic director John LaLonde stepping into the role of Cervantes for the sixth time. In spite of the entire cast's excellent performances, he is the main reason to see this fine production.
---
BWW Review: Suzy London Presents a Playful TATTOOS ON MY HEART

January 21, 2020

Actress Suzy London is a dynamite performer onstage. She really digs in deep to become the character she is playing. Her cabaret appearance - her second over the past year - on Sunday January 19 at Sterling's Upstairs at the Federal proved that she can conquer the cabaret scene with equal finesse. It takes a performer of versatility to grab hold of an audience and keep them riveted to you... as yourself. Here in cabaret, you are exposing a side of yourself that is covered over in a specific character role.
---
BWW Review: WHAT THE CONSTITUTION MEANS TO ME Moves Taper Audiences

January 20, 2020

As soon as the ordinary theatregoer hears the title What the Constitution Means to Me, he may think 'a boring two hours of history and politics! I get enough of that on a daily basis. I think I'll pass.' Beware! Do not make such judgmental statements! Take a leap of faith and see this play. I found it scintillating; it educated and enlightened me. Now onstage through February 23 at the Taper, Heidi Schreck's in depth exploration is not a one person play about the contents of the Constitution. Yes, of course it presents facts, but the overwhelmingly violent issues at hand are extremely personal and relatable. In spite of its dark corners, it will surprisingly shower you with laughs and hopefully make you want to stand up and fight for human rights.
---
BWW Interview: Artist Miwa Matreyek Talks INFINITELY YOURS

January 14, 2020

REDCAT presents the Los Angeles premiere of Infinitely Yours by animator, designer and performer Miwa Matreyek for the debut of her latest work. Running for three performances from Thursday, January 16 through Saturday, January 18, 2020, the award-winning interdisciplinary creator brings her nightmarish vision of climate grief to Los Angeles audiences before heading to Park City, Utah for the works' world premiere during Sundance Film Festival's New Frontier program. Infinitely Yours will then embark on a North American tour throughout June. 
---
BWW Interview: Dr.Venus Opal Reese Talks Book Tour Coming Up at Highways

January 10, 2020

Best-selling author, acclaimed international speaker and business mentor Dr. Venus Opal Reese will kick-off her latest tour, The Raw Truth Book+ Tour, during MLK weekend at Highways in Santa Monica. Highways is stretching the limits once again to add enrichment to the Los Angeles theatre scene. Dr. Venus is one very theatrical lady who tells our readers in detail where she came from and how she has risen to the heights of fame and success. Tell our readers about your background and how it affected your current career. As a writer, I am always pleased to see someone rise up out of poverty, take charge and shape their destiny.
---
BWW Interview: Bryan Rasmussen Discusses SOLOFEST 2020

January 9, 2020

An award-winning actor as well as a director, producer, and artistic director of the Whitefire Theatre, Bryan Rasmussen is proud to be celebrating its 37th season this year. In the fifteen years he has owned the Whitefire, he has produced over 500 shows, as well as over 50 world premiere productions. With Solofest about to begin, Rasmussen tells us in detail about the program and how it will benefit the actors involved as well as the theatre itself this season. Explain to our readers the exact meaning of Solofest.
---
BWW Interview: Suzy London Talks About TATTOOS ON MY HEART

January 2, 2020

Actress/singer Suzy London loves her work with a passion. She is one of those gifted performers who can do a role brilliantly in a play onstage and ... perform equally well in cabaret. In our conversation she tells our readers about how different one arena is from the other. She will do her brand new cabaret show Tattoos on My Heart at Sterling's Upstaris at the Federal on Sunday January 19, 2020. The show is described as an evening of country, bluesy, jazzy tunes. London relates to us with great humor about singing country.
---
BWW Interview: Actor Patrick Burke Talks About His Love for AVENUE Q

December 28, 2019

Actor/director Patrick Burke is nominated for a BWW Award for his outstanding direction of Avenue Q at Group Rep this past summer. This interview shows his deep connection to the show and desire to move it forward. You've been an active member of the Group Rep for years, as an actor and producer.  The Group Rep is not known for having musicals on their season schedules.  How did Avenue Q get on the 2019 Season Schedule?
---
BWW Interview: Actor/ Playwright Doug Haverty Tells Us About His Goals as New Artistic Director of Group Rep

December 27, 2019

Actor/playwright Doug Haverty will become Group Rep's new artistic director in January 2020. In our conversation he tells our readers in great detail about the upcoming season and talks in depth about his vision for the theater. How long have you been a member of Group Rep? DH: I started in 1983, so 36 years.
---
BWW Review: GMCLA HOLIDAY SPECTACULAR Shorter and Very Sweet

December 24, 2019

This year's Holiday Spectacular concert for GMCLA was very special due particularly to the direction of the interim leader Jenny Wong. This super talented lady took the chorus to a new high. I have never heard such beautiful harmony and singing, and I have been attending every year...for many, many years. Ernest H. Harrison will assume his new leadership immediately and will hold the baton for the spring concert. Wong was available to rehearse the holiday show, and choosing her was a blessing, so in spite of the positive anticipation of having Harrisonj on board, the chorus is indeed sad at Wong's departure. In a brief speech she told the audience that the all male chorus inspired her.
---
BWW Review: Ilene Graff Brings Christmas Cheer to Feinstein's

December 24, 2019

Actress/singer Ilene Graff may be best remembered to TV audiences for 'Mr. Belvedere' and for her varied performances on Broadway, but for Los Angeles audiences no one holds a cabaret audience more captivated than this down.to.earth yet sparklingly talented lady. On Saturday December 21, Graff brought a fun-filled holiday show to a packed audience at Feinstein's Upstairs at Vitello's. Backed by superb musical director/husband Ben Lanzarone at the piano, Jamey Tate on drums and Dominic Genova on guitar and bass, the 80 minute set was a real family entertainment with Graff's brother Tony nominated Todd Graff as special guest star. Another special guest was Harlan Boll, a pr rep by day and singer by night. Being a holiday show, Graff interspersed her anecdotes of growing up in Brooklyn and being a Jew with colorful Christmas tunes. When she was asked why as a Jew she sang Christian songs, she delightfully replied that Yiddish music is so sad and, 'OK, Im going to sing, but you're not going to enjoy it.' It is this kind of self-deprecating humor that makes Graff so loved and admired.
---
BWW Interview: Kristin Towers Rowles Reflects on Acting and Directing in 2019

December 16, 2019

Actress Kristen Towers Rowles is also an amazing director. She is nominated this year for two BWW Awards. In the conversation that follows she talks about acting, directing and the meaningful choices she has made in her career so far. Congratulations on your BWW Award nominations! Tell our readers in what categories you received them. Thank you. I'm nominated for Best Actress in a Play (Local) for playing Hattie in Laundry and Bourbon at Group Rep and as Director of a Play (Local) for Directing the World Premiere of The Lost Virginity Tour at The McCadden Place Theatre. If you had to choose winning one, which would that be? Why this choice?
---
BWW Review: Heartfelt Rendering of THE MERRY LITTLE CHRISTMAS SHOW

December 16, 2019

As the poster shows, The Merry Little Christmas Show was a visit to Scott Dreier's living room. It was an intimate evening with a very up close and personal man who sang and told stories about his love of Christmas. Scott has a very lovely and warm singing and speaking voice. It doesn't matter if he is singing or talking, it comes across as one on one. He is performing just for you. The 85 minute show included guest star Kurtis Simmons, who sang beautiful original compositions about Christmas as well as dueting with Dreier. Both were backed by superb musician,/musical director Andy Langham, whose rapport with the two singers is top notch.
---
BWW Review: Susan Edwards Martin's HOLIDAY EXTRAVAGANZA Hits The Mark

December 14, 2019

When I attend a cabaret show, I look for great talent and the ability of a performer to relate to the audience with warmth and humor. I've become a real snob about these things. If they are missing, I might as well have stayed at home. Ladies and gentlemen, I have encountered a brand new nightclub star. Welcome the fabulous Susan Edwards Martin to the world of Los Angeles cabaret. She has performed amongst others in the past few years but An unpredictable Evening with Susan Edwards Martin on Sunday Febreuary 3 at Upstairs at Vitello's was her very first solo show, and, was she worth waiting for. A knockout singer and comic actress, Martin in some ways, might be considered the female Jason Graae. She holds her audience in the palm of her hand with friendliness and charm and exudes a nonstop fast paced energy that never lets down. The laughs come naturally, never forced. She's just funny, pure and simple. Accompanying her at the piano for the hour set was Sam Kriger, who comedically got into the act himself.
---
BWW Interview: Doug Engalla Talks About A TWISTED CHRISTMAS CAROL

December 13, 2019

A Twisted Christmas Carol marks Doug Engalla's eighth production as Director at The Group Rep. Doug has worked with Phil Olson since 1997 on a number of productions, including five World Premieres in the Don't Hug Me series (most recently, as director of Don't Hug Me, We're Family in 2018), as well as the 2016 World Premiere of A Nice Family Christmas (featuring Tony Award-nominated actor, Marcia Rodd) at The Group Rep. A Twisted Christmas Carol is Doug's sixth World Premiere as Director with Phil Olson. Doug's cast of Phil Olson's A Nice Family Gathering - also in 2016 at The Group Rep - earned a Best Ensemble, Small Theatre nomination from the NAACP Theatre Awards. Doug's previous directing project at the Group Rep was for Neil Simon's Rumors in 2018. He is preparing to open A Twisted Christmas Carol this Sunday December 15. You have such a great rapp
---
BWW Interview: Actress Roslyn Cohn Shares High Points In Her Theatrical Career Thus Far

December 12, 2019

Actress Roslyn Cohn is remarkably versatile. She is nominated for a BWW Award this year for The Sound of Murder at Theatre 40. In our converrsation she tells our readers about her work and who and what she admires in the acting profession. Tell us about your BWW nomination for The Sound of Murder at Theatre 40. What kind of character did you play? RC: I was excited to get a nomination for this show as we didn't get the amount of reviews we should have
---
BWW Interview: Gina D'Acciaro Talks About Her Award Nominated Show

December 11, 2019

Actress/singer Gina D'Acciaro has a remarkable show Famous Adjacent that I reviewed this past year. She is up for a BWW Award for it, Cabaret - Intimate Space, Female. She is terribly funny, yet down.to.earth and very likable. In our conversation she tells us in depth about herself and her show. To what do you attribute your success with Famous Adjacent? What makes the show so appealing? In a city without actors competing, would it be as big a hit? 
---