Actors Co-op Theatre Co. Presents A WALK IN THE WOODS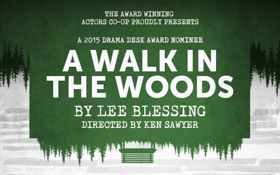 Actors Co-0p Theatre Company (Ovation Award-Winner 2014 Best Intimate Theatre Musical for 110 in the Shade) presents the Pulitzer Prize finalist and Tony Award nominated drama A Walk in the Woods written by award-winning playwright Lee Blessing, directed by Ken Sawyer, produced by Lauren Thompson. A Walk in the Woods will preview, Thursday, February 8 at 8:00 pm, and will open Friday, February 9 at 8:00 pm, and run through Sunday, March 18 at the Actors Co-op Crossley Theatre, 1760 N. Gower Street, 90028 (on the campus of the First Presbyterian Church of Hollywood) in Hollywood.
In A Walk in the Woods, Lee Blessing takes a well-known historical incident involving deadlocked arms reductions talks in Geneva the summer of 1982, and reshapes it to reflect his own political observations and dramatic interests. The witty two-hander explores the relationship between two negotiators and what happens when they step out of the war room and into the woods. Produced on Broadway in 1988, Time Magazine called it one of the best dramas to hit the stage that year.
Actors Co-op Theatre Company's production of A Walk in the Woods features the talents of Phil Crowley (voice of "Shark Tank"; An Evening With C.S. Lewis) and Nan McNamara* (33 Variations; Wit (LADCC and LA Weekly Awards).
The Production Design Team includes Selah Victor* (Production Manager), Ellen Lenbergs (Set Designer), Nicholas Acciani* (Lighting/Projection Designer), Wendell C. Carmichael (Costume Designer), Adam R. Macias (Sound Designer), E.K. Dagenfield* (Dialect Coach), and Christian Eckels (Stage Manager).
Lee Blessing (Playwright) Blessing's plays include: A Walk In The Woods (Broadway and London's West End), Going to St. Ives, (Outer Critic's Circle Award, Best Play, Obie for ensemble performance); Thief River (Drama Desk nomination, Best Play); Cobb (Drama Desk award, best ensemble); Chesapeake, Eleemosynary,Down The Road, The Authentic Life of Billy the Kid, and Cold Water. In the 1992-93 Signature Theatre season: Fortinbras, Lake Street Extension, Two Rooms and the world premiere of Patient A. Recent regional world premieres: A Body of Water at the Guthrie Theater and the Old Globe Theatre; Lonesome Hollow, Flag Day and Whores, all at the Contemporary American Theatre Festival; The Scottish Play at La Jolla Playhouse; Black Sheep at Florida Stage and The Winning Streak at George Street Playhouse. Other plays: Independence, Riches, Oldtimers Game and Nice People Dancing To Good Country Music and Perilous Night. Other awards: The American Theater Critics Circle Award, the L.A. Drama Critics Award, The Great American Play Award, The Humanitas Award and the George and Elisabeth Marton Award among others. Nominations for Tony and Olivier award as well as for the Pulitzer Prize. Blessing is married to playwright and TV writer Melanie Marnich and lives in New York. He heads the graduate playwriting program at Mason Gross School of the Arts, Rutgers University.
Ken Sawyer** (Director) directed The Goat, D'FunQT, The Laramie Project:Ten Years Later, Deathtrap, a reimagining of The Search for Signs of Intelligent Life, and the award winning Hit the Wall for the LA LGBT Center. Other credits include the world premiere of Ingmar Bergman's 1954 radio play The City at The Demon Theatre in Faro, Sweden; Ragtime and Sweeney Todd (CSUN); Lovelace: A Rock Opera (Hayworth Theatre, Edinburgh Fringe Fest), and an all-star cast performance of Paris Barclay's One Red Flower featuring David Burnham, Levi Kriess, Hunter Parrish, and Maureen McGovern (The Rubicon, The Brentwood Theatre). After mounting Crime and Punishment at the Co-op several years ago, Ken is excited to return to the Crossely Theatre to work with such a talented and passionate company. Ken is a graduate of The Juilliard School. For more info, please log on to: www.kensawyerdirector.com
Lauren Thompson (Producer) is a proud Co-op member celebrating five years at Actors Co-op! Previously Lauren produced Summer and Smoke and Our Town on the Co-op stage, and has been seen in The 39 Steps, Cat's Paw, Dancing at Lughnasa, Hound of the Baskervilles, The Mystery of Edwin Drood, and The Matchmaker. In addition to her work with Actors Co-op, Lauren works as an actor and producer in TV/Film and performs regularly as a lead singer for live events throughout the country. www.laurenellenthompson.com
A Walk in the Woods opens Friday, February 9 at 8:00 pm. Runs February 9 - March 18. Fridays and Saturdays 8:00 pm, Sunday matinees 2:30 pm. Additional Saturday matinees February 17 and February 24 at 2:30 pm. Tickets: $30.00. Seniors: $25.00 Students: $20.00. Group rates available for parties of 6 or more. To buy tickets or make reservations please visit www.ActorsCo-op.org or call (323) 462-8460. Actors Co-op Crossley Theatre, 1760 N. Gower Street, 90028 (on the campus of the First Presbyterian Church of Hollywood) in Hollywood.
Related Articles View More Los Angeles

Stories

Shows
More Hot Stories For You