31st Annual Colleagues Spring Luncheon And Oscar De La Renta To Honor Marlo Thomas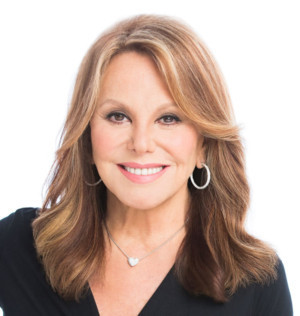 The 31st Annual Colleagues Spring Luncheon and Oscar de la Renta will present award-winning actress Marlo Thomas with The Colleagues Champion of Children Award, which honors those who have made a lasting impact on the lives of children.
The luncheon will take place at 11:00 am on Tuesday, April 9th at the Beverly Wilshire Hotel and will include a fashion show from Oscar de la Renta's Fall 2019 collection designed by creative directors Laura Kim and Fernando Garcia. Television host and best-selling author Christina Ferrare will host for the second consecutive year.
Thomas joins an impressive list of prior Champion of Children Award recipients including former First Ladies Nancy Reagan, Betty Ford and Laura Bush and her two daughters Barbara Pierce Bush and Jenna Bush-Hager, Carol Burnett, Roma Downey, Princess Charlene of Monaco, James and Gloria Stewart, Audrey Hepburn, Sophia Loren, Jane Seymour, Anjelica Huston and Robert Graham, California First Lady Maria Shriver, Annette Bening and Warren Beatty.
Founded in 1950, The Colleagues, a 501c3 non-profit corporation, are a group of 65 active women and over 25 sustaining members who volunteer their time and expertise to support and raise funds for their sole beneficiary, the Children's Institute, Inc. In their efforts to serve Los Angeles' most vulnerable children harmed by community and family violence, abuse and neglect, the Colleagues have donated over $25 million to CII through their high-end resale and vintage clothing shop and their annual spring luncheon. In addition to direct services, CII reaches more children through professional training, research and other leadership activities working with more than 24,000 children and families each year. To learn more about the Colleagues and CII, please visit http://www.thecolleagues.com/ and www.childrensinstitute.org.
An award-winning actress, producer, author, social activist and philanthropist, Marlo Thomas has been a role model for women and girls since blazing the trail as television's first single woman living alone in the hit television series That Girl, which she conceived and produced. Thomas has garnered critical acclaim on the Broadway stage appearing in Elaine May's comedy-drama Relatively Speaking and the Tony Award-winning playwright Joe DiPietro's 2015 dark comedy Clever Little Lies. Marlo has been honored with four Emmy Awards, the Peabody, a Golden Globe and a Grammy, and has been inducted into the Broadcasting Hall of Fame. In 2014 she was awarded the Presidential Medal of Freedom, the highest honor a civilian can receive, by President Barack Obama at a White House Ceremony. In addition to her acclaimed acting award Marlo is the author of seven bestselling books. Marlo proudly serves as National Outreach Director of St. Jude Children's Research Hospital, which was founded in 1962 by her father, the renowned entertainer Danny Thomas. She is the driving force behind countless fundraising and awareness efforts to educate the public about the lifesaving research and treatment being done every day at St. Jude. In 2004 she and siblings Terre and Tony Thomas created the St. Jude Thanks and Giving campaign, which has since become a national holiday tradition. In 2014, in recognition of her commitment to the hospital, St. Jude christened its newest building The Marlo Thomas Center for Global Education and Collaboration. Hillary Clinton presided over the ribbon-cutting ceremony.
Oscar de la Renta is one of the world's leading luxury goods brands. The New York based house, established in 1965 by its namesake, and currently under the creative direction of Laura Kim and Fernando Garcia, produces a full line of women's shoes, handbags, jewelry, eyewear, bridal, childrenswear, home décor and fragrance, in addition to its signature women's ready-to-wear collection.
The luncheon is executive produced by Gary L. Pudney, and produced and directed by Scott H. Mauro for the fifth consecutive year. Colleagues member Anne Johnson is the Executive Chairman of the event. For tickets to The Colleagues Spring Luncheon please call 310-474-5377 or email annetopaz@aol.com.