Photos: First Look at Rob Gallagher, Kim Carson and More in SOUTH PACIFIC at John W. Engeman Theater
Sailor hijinks, the danger of war, and the passion of young love are all joined together by Rogers & Hammerstein's sensational score in one of the most powerful musicals of all time, SOUTH PACIFIC. The musical runs now through July 14, 2013 at the John W. Engeman Theatre. BroadwayWorld has a first look at the cast in action below!
Considered to be one of the greatest musicals composed by Rodgers and Hammerstein, South Pacific weaves together characters and elements from several stories into a single plotline. It centers on two love stories: the story of Nellie Forbush, a young naive nurse from Arkansas, and Emile deBecque, an older Frenchman who has had a life full of varied experiences and the story of Lt. Joe Cable from Philadelphia and the young and beautiful Liat, a Tonkenese girl with whom he falls in love. This powerful story, with themes of prejudice, war, death and love features classic songs like "Bali Ha'i", "I'm Gonna Wash That Man Right Outta My Hair", "Some Enchanted Evening", "Happy Talk", "Younger than Springtime" and "I'm in Love with a Wonderful Guy".
South Pacific is produced by Richard T. Dolce, the theater's Producing Artistic Director.
The Director, Igor Goldin, Drama Desk Award nominee, and winner of NYMF Awards for Excellence in Direction. Credits include With Glee (Off-Broadway), The Foreigner, A Little Night Music, Romance Romance, The Spitfire Grill and The Full Monty. Mr. Goldin was a finalist for the Joe A. Callaway Award for Distinguished Direction. He is a proud member of the Stage Directors and Choreographers Society (SDC)
The Choreographer, ANTONIETTE DiPIETROPOLO, returns to the John W. Engeman Theater as Choreographer (Hairspray and I Love You Your Perfect Now Change). Director/Choreographer credits include Nunsense, Chicago, Jesus Christ Superstar, Ragtime and Annie. She was also the Choreographer for Candide starring George Hearn and, Rita Moreno. With Glee (Off Broadway). She was also Associate Director for the National Tour of How The Grinch Stole Christmas.
The Music Director, James OlmSTEAD, returns to the John W. Engeman Theater after music directing Sweet Charity earlier this season. Assistant music director credits include NYU's productions of Most Happy Fella, Marriage of Figaro, and Violet. As well as Footloose, Legally Blonde, Ragtime, Hot Mikado, and Hello, Dolly!
South Pacific will feature scenic design by Josh Zangen (Spiegelworlds' Empire, Desir and Absinthe. John Lithgows' Sunny side of the Street and Nickelodeon Storytime Live! National Tour). Costume design by Amy Pedigo-OTTO (NYC: New York Classical Theatre, Peccadillo Theatre Company, St. Luke's Theatre, New York Theatre Workshop's 4th Floor Theatre, Ars Nova). Lighting is designed by Cory Pattak (Skippyjon Jones Theatreworks USA, This Side of Paradise Off-Bway, Hot Mess in Manhattan Chernuchin, Dreyfus in Rehearsal Beckett Theatre, Ingmar Bergman's Persona HERE, Nymph Errant, With Glee). Sound design by CRAIG KAUFMAN (Credits include 11 shows at the John W. Engeman Theater. Off-broadway credits include Things To Ruin, Rewrite: The Musical and The Black Suits). Hair and Make-Up design by Mark Adam Rampmeyer (Associate Artistic Director at the John W. Engeman Theater, his work can currently be seen in the Roundabout Theatre Company's production of Talley's Folly with Sarah Paulson. Other designs have been seen on Broadway in Lysistrata Jones, West Side Story and The Farnsworth Invention). Trey Compton (Assistant Director) off-Broadway credits include Yank! (also directed by Mr. Goldin) and White's Lies.. Casting by Stephen DeAngelis and the Production Stage Manager is Michelle Lynn Hines.
The featured actors in South Pacific are: Rob Gallagher (EMILE DE BEQUE) has previously performed this role on Broadway. Previous John W. Engeman productions include Sound of Music (Capt. Von Trapp), Oliver! (Bill Sykes) and Man of LaMancha (Dr. Carrasco). Other Broadway: Les Miserables (Javert). Kim Carson (NELLIE FORBUSH) last appeared on this stage as Guinevere in Camelot. Other Credits include 59E59, Fulton Theatre, Walnut Street, Arden Theatre, Passage Theatre Co, Philadelphia Theatre Co, and Peoples Light. David McDonald (CAPTAIN BRACKETT) returns to the John W. Engeman Theater where he portrayed Don Quixote/Cervantes in Man of La Mancha. Broadway credits include Les Miserables, Side Show, Mamma Mia, Bye Bye Birdie and Memphis. Amy Jo Phillips (BLOODY MARY) Comes straight from the Delaware Theater Co. production of South Pacific, and is thrilled to be here at the John W. Engeman Theater. Broadway: Show Boat (Queenie), Tom Sawyer. Peter Carrier (LT JOSEPH CABLE) has performed Off-Broadway and regionally at theatres including The Ogunquit Playhouse, Westchester Broadway Theatre, and Gateway Playhouse.
The Cast also includes: Diana Rose Becker (ENSIGN DINAH MURPHY); Kate Cherichello (ENSIGN BESSIE NOONAN); MIRANDA DeMOTT (NAGANA); ERIN RAQUEL GARCIA (ENSIGN LISA MINELLI); Hsin-Yu Liao (LIAT); RICK MALONE (COMMANDER HARBISON); JOHNNY MARX (JEROME); TIM QUARTIER (BUZZ ADAMS); Audra Rizzo (ENSIGN JANET MCGREGOR); Ben Rosenbach (YEOMAN QUALE); JOSH ROTHBERG (PROFESSOR); T.J. RUSSELL (LT CARMICHAEL); Jamila Sabares-Klemm (LT GENEVIEVE MARSHALL); Dennis Setteducati (SEABEE WISE); Evan Teich (STEWPOT); MOOREe THEOBALD (JEROME); SKYA THEOBALD (NAGANA); JUSTIN STEPHON TRICE (HENRY); MATTHEW MICHAEL URINAK (SEAMAN O'BRIEN); PAUL VELUTIS (SEAMAN HESSINGER) and MATT WOOD (LUTHER BILLIS).
The John W. Engeman Theater at Northport is Long Island's only year round professional theater company, casting our actors from the Broadway talent pool. From curb to curtain, we have made it our business to provide affordable, Quality Theater in an elegant one-of-a-kind location with outstanding facilities and extraordinary service. The renovated Theater offers stadium-style seating, state-of-the-art lighting and sound, a full orchestra pit, and a classic wood-paneled piano lounge with full bar.
Tickets are ON SALE and are $65. Tickets may be purchased by calling (631) 261-2900, by visiting www.engemantheater.com, or at the Engeman Theater Box Office at 250 Main Street, Northport. Visa, MasterCard, Discover and American Express accepted. For a complete show schedule and more information contact the theater directly at 631-261-2900, visit the box office at 250 Main Street, Northport or visit www.EngemanTheater.com.
Photo Credit: AnnMarie Christiansen Snyder

Rob Gallagher (EMILE DE BEQUE) and Kim Carson (NELLIE FORBUSH)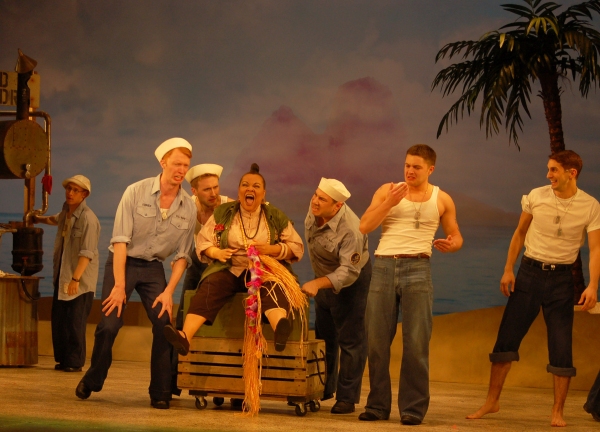 JOSH ROTHBERG (PROFESSOR); MATTHEW MICHAEL URINIAK (SEAMAN O'BRIEN); TIM QUARTIER (BUZZ ADAMS); Amy Jo Phillips (BLOODY MARY); Dennis Setteducati (SEABEE WISE);PAUL VELUTIS (SEAMAN HESSINGER) ; T.J. RUSSELL (LT CARMICHAEL)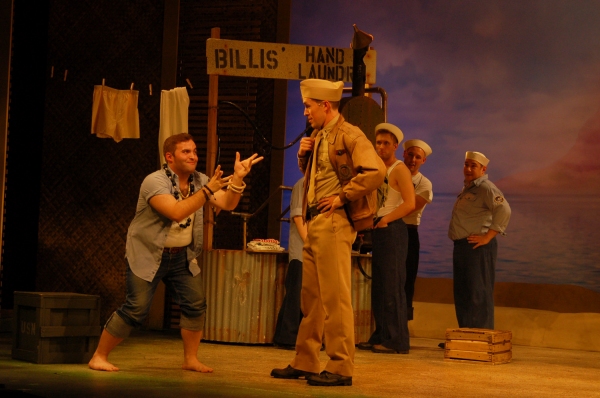 MATT WOOD (LUTHER BILLIS); Peter Carrier (LT JOSEPH CABLE); TIM QUARTIER (BUZZ ADAMS); Evan Teich (STEWPOT); Dennis Setteducati (SEABEE WISE)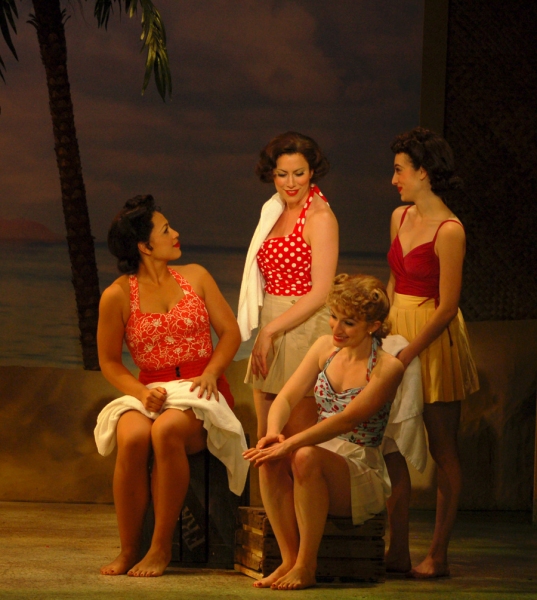 Jamila Sabares-Klemm (LT GENEVIEVE MARSHALL); Kim Carson (NELLIE FORBUSH); Kate Cherichello (ENSIGN BESSIE NOONAN); ERIN RAQUEL GARCIA (ENSIGN LISA MINELLI)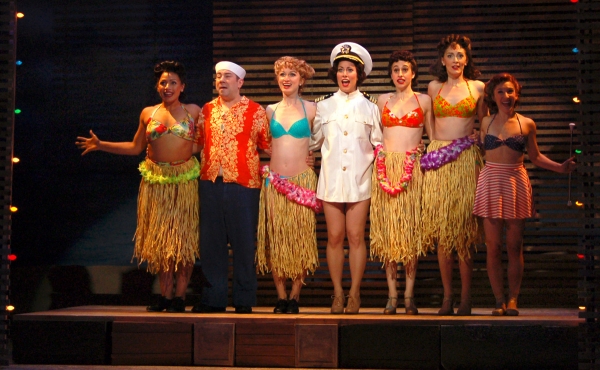 Jamila Sabares-Klemm (LT GENEVIEVE MARSHALL); Dennis Setteducati (SEABEE WISE); Kate Cherichello (ENSIGN BESSIE NOONAN); Kim Carson (NELLIE FORBUSH); ERIN RAQUEL GARCIA (ENSIGN LISA MINELLI); Diana Rose Becker (ENSIGN DINAH MURPHY); Audra Rizzo (ENSIGN JANET MCGREGOR)

Hsin-Yu Liao (LIAT); Amy Jo Phillips (BLOODY MARY); Peter Carrier (LT JOSEPH CABLE)