FRIENDS! The Musical Parody Offers A Valentine's Day Escape For Friends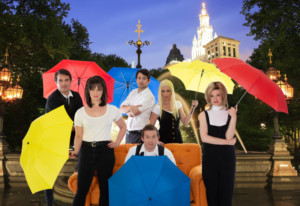 FRIENDS! The Musical Parody at the D Las Vegas announced a new Valentine's Week ticket offer. The special VIP package is valid February 10-17, 2019, and each ticket includes a drink and oreos, both inspired by iconic moments in the television show.
During the promotion, the bar inside the showroom will serve Monica's Tiki Death Punch. The specialty cocktail will be served in a souvenir FRIENDS! theatre cup.
Fans of the 90s sitcom can purchase the Valentine's Week package for $50++, a 30 percent discount from the typical pricing. Use promo code "VDAY19" online or at the box office to access the discount.
"This show is perfect for super and fair-weather F.R.I.E.N.D.S. fans alike," said Lynn Shore, producer of FRIENDS! The Musical Parody. "Whether you're in a relationship or not, we want you to spend Valentine's Day laughing and reminiscing with your friends."
FRIENDS! The Musical Parody is the hilarious new musical that lovingly lampoons TV's Friends! You'll laugh! You'll cry! You'll Unagi! Friends! The Musical Parody celebrates and pokes fun at the wacky misadventures of a group of 20-something pals as they navigate the pitfalls of work, life and love in 1990s Manhattan.
FRIENDS! The Musical Parody performs at the D Las Vegas. Doors open at 8:15 p.m. and the show begins at 8:38 p.m., dark on Tuesdays. Tickets can be purchased online at theD.com or by calling the box office at 702-388-2111. Group pricing available.