BWW Feature: OPIUM BY SPIEGELWORLD at The Cosmopolitan Of Las Vegas
The spaceship OPM 73 cruises into interactive theater three-quarters-in-the-round with the out-of-this-world show Opium. Flying into Vegas for the past year, the adults-only show combines Flash Gordon, Buck Rogers, and almost every science fiction-themed program and movie ever made with intergalactic acts at The Cosmopolitan of Las Vegas Sunday to Monday.
The outrageous crew includes Captain Kuton, Rob the Robot and his sidekick Chip, Scottie, Dusty Moonboots, and a rocking house band guided by cruise director Lt. Harriet.
The experience begins with its landing as earthlings and aliens come out to entertain the (mostly) human audience. Whether a fan of Star Trek, Star Wars, or Battlestar Galactica, the audience is swept up in the fantasy. Be warned; there is a big dose of Galaxy Quest, Mars Attack, and Spaceballs for the irreverent at heart.
Lt. Harriet is a girl from the Midwest, who somehow ended up in space and hitched a ride on OPM 73 from Uranus to Earth. Her personality and spunkiness inspired Captain Kuton to make her the cruise director. With her wicked ways, Lt. Harriet lets everyone know what to expect (almost) and, most importantly, have a good time.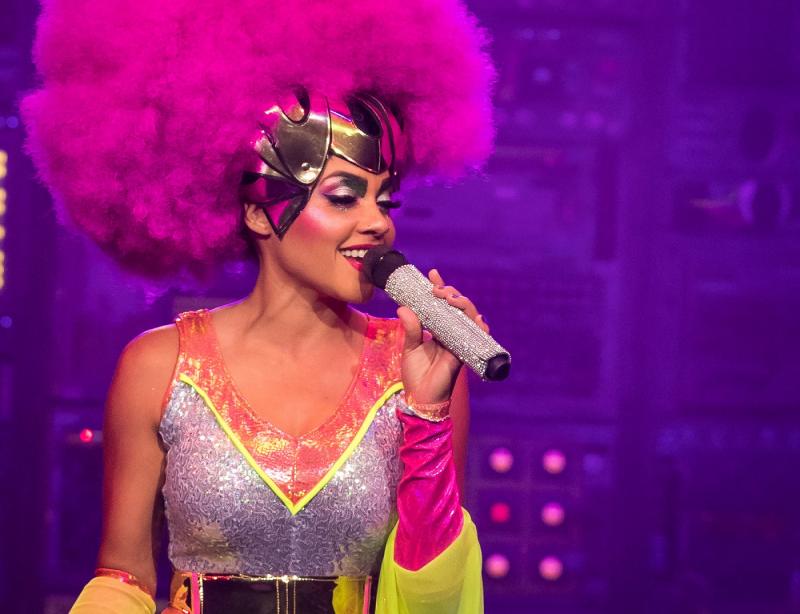 Dusty Moonboots belts out the tunes with a set of pipes that is not of this planet. Bubble Man blows bubbly magic with dancing bubbles floating in unique shapes. Todd Vader outdoes Darth Vader with his sword-swallowing act. Major Tom twists and turns in unnatural ways using a tennis racket. Leeloo the Bubble Dancer (different from light, airy bubbles) amazes with BIG bubbles. There is even a puppy dog (Sputnik) balancing on Yuri to embrace the warm fuzzies. The adventure dazzles and delights with a Lost in Space feel.
Opium orbits the earth and lands at The Cosmopolitan of Las Vegas every Monday and Wednesday at 8 p.m. and Thursday through Sunday with shows at 8 p.m. and 10 p.m. To book your trip, visit Spiegelworld.com.