Cork Pops Orchestra Presents Harp Magic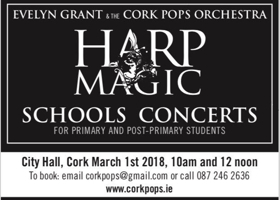 The annual Cork Pops Orchestra series of concerts for primary and post primary schools continues with 'Harp Magic', presented by Evelyn Grant and featuring harpist Jean Kelly. The concerts will take place on March 1st 2018 at City Hall, Cork at 10am and 12noon.
This year's programme features the instrument that is Ireland's national emblem - The Harp. Music for concert harp provides a context for social and cultural history of the 18th and 19th century, while the electric harp brings us right in to the 21st century, accompanying songs and dance tracks from recent pop music hits.
They will start each concert with the National Anthem, the words of which will be projected on a big screen. This initiative to sing the National Anthem has been encouraged by the Lord Mayor of Cork, Councillor Tony Fitzgerald.
Dance music producer DJ Dashka http://www.djdashka.com and vocalist Keith Hanley will join forces with our soloist, Jean Kelly, http://www.jeankellyharp.co.uk on electric harp. Plenty of audience participation is always encouraged and song lyrics and images will be projected on the screen.
Harpist Jean Kelly is based in London and has performed worldwide in genres ranging from classical to folk. She is much in demand as a session musician and has worked with Jonny Greenwood (Radiohead) on the score of 'We need to talk about Kevin'. This score was nominated for a Palm d'Or award at the Cannes Film Festival. She was also featured on 'Lord of the Rings' and more recently put a bit of 'harp magic' into the score of 'Paddington'. She has made numerous recordings with the 'Locrian Ensemble', with whom she performs regularly at St. Martin in the Fields, London.
The programme, as usual, is curriculum-based, and makes connections between music of the past and present. The concert focuses on active and attentive listening, encourages audience participation, and is a multi-media experience. Classroom resources are provided to participating schools. Further Internet links can be found on the orchestra's website on www.corkpops.ie
Tickets €10 (Teachers free)
Booking email corkpops@gmail.com or ring 0872462636
More Hot Stories For You