Stephen Cole and Todd Ellison's New Musical THE BLACK AND WHITE BALL to Receive Industry Reading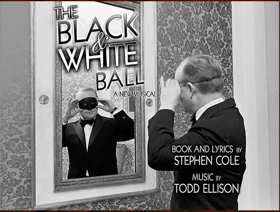 It's 1966. Summer in New York City. America is a country in transition. Racial tensions are coming to a head. Black Power is a new catch-phrase in all the daily papers. The country is divided. Protests and violence are everywhere. The classes are ready to clash!
And best selling In Cold Blood novelist Truman Capote announces he will host a Black and White Ball for five hundred of his closest friends at New York's elite Plaza Hotel.
In Brooklyn, 16 year old Emma, longs to go to Truman's Black and White Ball.
When Capote and Emma meet he takes her under his wing and grooms her for the big night.
Secrets and lies are uncovered at the ball, where Negro and Caucasian really do converge. Add to the mix Truman's fabled swans (Babe Paley, Slim Hayward, Kay Graham and Lee Radziwell) and Emma's protective step-brothers and you have the "real story" of The Black and White Ball.
The Black and White NY Creative Team
Book and Lyrics by Stephen Cole (Goin' Hollywood, Merman's Apprentice, After the Fair)
Music by Todd Ellison (London current productions of 42nd Street and An American in Paris, forthcoming Roman Holiday)
Directed by Hannah Ryan (Resident Director of Hamilton, An American in Paris, The Curious Incident of the Dog in the Night-Time )
Musical Direction by Lawrence Yurman (War Paint, Thoroughly Modern Millie, Merman's Apprentice, Grey Gardens, On A Clear Day)
The NY Cast
Brooks Braselman as Truman Capote
Ariana Burks as Emma (Trevor, TV's Chicago Fire, Steppenwolf)
Wonza Johnson as Mikey (All Shook Up, Dreamgirl's)
Emma's Brothers
Jordon Bolden (Grease, SAGA)
Dimitri J. Moise (Book of Mormon, Once on This Island)
DeMone Seraphin(Miss Saigon, The Woman of Brewster Place, Ragtime)
Donald Webber, Jr (The Wiz Live, Hamilton, Motown)
Truman's Swans
Heather Townsend(Hairspray, Sunday in the Park with George, Sunshine)
Teal Wicks (Ballad of Little Jo, Wicked, Finding Neverland)
Jill Paice (The Woman in White, An American in Paris, Curtains)
Dominique Plaisant (The Wild Party, Lestat)
Book Writer/Lyricist Stephen Cole is an award-winning musical theatre writer whose shows have been recorded, published, and produced from New York City to London to the Middle East and Edinburgh, Scotland.
Stephen's creations include: After the Fair, The Night of The Hunter (Goodman), Saturday Night at Grossinger's, Casper (Chita Rivera), Dodsworth (Dee Hoty and Hal Linden) and The Road to Qatar.
In 2014, Cole wrote and directed Inventing Mary Martin, which played Off-Broadway starring Emily Skinner, Jason Graae, Lynne Halliday and Cameron Adams. Other produced shows include two family musicals commissioned by Walden Media: MERLIN'S APPRENTICE (Music by Matthew Ward) and ROCK ODYSSEY (Music and Lyrics by Billy Straus). ROCK ODYSSEY has been annually produced the last ten years. Stephen is also a published author with four books to his credit including THAT BOOK ABOUT THAT GIRL and I COULD HAVE SUNG ALL NIGHT, the autobiography of the late Marni Nixon, NOELCOWARD and Charles Strouse's memoir PUT ON A HAPPY FACE.
In addition, Cole has written special material for Marlo Thomas, Phil Donahue, Liz Smith, Liza Minnelli, Michelle Lee, and Bernadette Peters to name a few. Stephen is honored to be the winner of the prestigious Edward Kleban Award for his musical The Night of the Hunter, written with the late composer, Claibe Richardson. (www.stephencolewriter.org)
COMPOSER Todd Ellison: Hailed by The New York Times as one of "Broadway's Electric Conductors," Ellison is one of the most accomplished and sought after music director/composers working today.
Currently the Music Supervisor/Conductor/arranger of the new Broadway bound musical Roman Holiday, he is also the composer of the award winning new musical The Black and White Ball with Stephen Cole, as well as The Canterville Hotel with Brendan Cull. He also composed the songs "The Long Way" for Emily Skinner, and "Gettin' Nowhere Fast" for Guy Haines.
He is currently the Music Supervisor of An American in Paris at the Dominion Theater in London's West End, as well as 42nd Street at the Drury Lane Theater.
His Broadway credits include Michel Legrand's Amour, Monty Python's Spamalot (Best Musical Tony Award), La Cage aux Folles (Best Musical Revival Tony Award), 42nd Street (Best Revival Tony Award ), Elton John's Lestat, Annie (The Palace Theater), The Wild Party, On the Town, Once Upon a Mattress (starring Sarah Jessica Parker), How To Succeed (starring Matthew Broderick), She Loves Me, Taller than a Dwarf and A Class Act.
He was the music director of the "Radio City Christmas Spectacular" at the famed Radio City Music Hall for several seasons.
As Marvin Hamlisch's music director, Ellison worked with him on Ballroom and The Nutty Professor directed by Jerry Lewis.
For City Center's Encores!, he conducted their acclaimed version of On The Town and The Bandwagon.
Internationally he has conducted at the Vienna Konzerthaus with Dawn Upshaw and Jerry Hadley, The Dublin Film Orchestra, Radio City Christmas Spectacular (Mexico City), World Science Festival at Lincoln Center, Cole Porters' Jubilee at Carnegie Hall, the Pittsburgh Symphony, San Diego Symphony, The Philly Pops, Nashville Symphony, Long Beach Symphony, New Haven, New Jersey and York Symphonies.
He has conducted more than 20 albums including the Grammy Award winning cast albums of his shows. In addition, Todd has accompanied such stars as Beyonce´, Meryl Streep, Mike Nichols, Nicole Kidman, Barry Manilow, Jane Lynch, Bea Arthur, David Hyde Pierce, Tracey Ullman and Kelsey Grammar.
Born in Essex, Connecticut, Ellison began his piano lessons at age 6 and is a graduate of Boston University School of Music with a degree in piano performance. (www.toddellisonmusic.com)
http://www.theblackandwhiteballthemusical.com/
Watch the You Tube performance of "One Night" from "The Black and White Ball" sung by Chicago's rising star, Ariana Burke: