BWW Review: JANE LYNCH, A SWINGIN' LITTLE CHRISTMAS at The Cabaret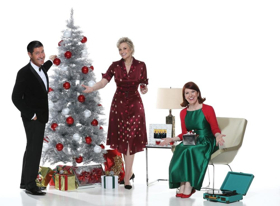 'Tis the season for merriment and general jollity, and both are guaranteed when you take your seat for Jane Lynch, A SWINGIN' LITTLE CHRISTMAS at The Cabaret, housed in Cook Theater at the Indiana Landmarks building. And both the setting and the art form lent themselves to an evening of food, music, and genuine laughter.
Celeste:
When coming to this performance, I own that I was most attracted by the headliner, Jane Lynch. However, this show proved to be a feature of a plethora of talent. Of course, Jane Lynch did shine throughout the show, but she shared the stage with Kate Flannery, the drunk on NBC's The Office, and Tim Davis, a music producer and vocalist who was an integral part of Glee. Tim arranged all of the vocals for the performance, which highlights the music of their collaborative album. His talent was readily apparent as his smooth, silky voice moved through their upbeat repertoire. Kate was the source of much laughter; her body movements, facial expressions, and little asides lent the show an air of unembarrassed fun. Jane also earned herself many laughs (often at the expense of Kate), and she showed through every number that her talents go beyond screen acting and voice acting.
Shockingly, I have yet more to say about the sheer talent on the stage at The Cabaret because the band was exceptional. They are called the Tony Guerrero Quintet, and they are clearly dedicated and soulful musicians. Their unabashed show of masterful musicality hearkened to a day when performers couldn't hide behind recordings and computers and remixes. It is evident that they are on that stage because playing music is what they love, and that made every note that much more impressive and impactful.
Watching the evening's performance was like watching a trio of siblings banter back and forth, and that scenario is only improved by the addition of a fantastic jazz band. Be sure not to miss out on the Christmas album that was the source of all the music, and also be sure to look out for another great season at The Cabaret, who plans to move to a new venue in March. This is a very special art form, and The Cabaret and its patrons are intent on bringing the best of Broadway and beyond up close and personal just for you.
Dylan:
Jane Lynch, A SWINGIN' LITTLE CHRISTMAS, presented at the Cabaret in downtown Indianapolis, is the USO-style show that accompanies the soundtrack of Emmy award-winning actress Jane Lynch. As so aptly put in the title, the show is comprised of carefree swingesque arrangements of Christmas classics that the whole audience will recognize and five originals. Lynch's lively vocal performance is accompanied by comedic actress, Kate Flannery, and the Glee vocal arranger, Tim Davis. Together they successfully are able to wind their way through some impressive three-part harmonies. The trio is backed up by the Tony Guerrero Quintet, whose leader actually wrote a few of the songs featured in the show, including the "Sentimental Christmas", "Winter's Never Cold (When You're Around)", and covers of "We Three Kings" and the cheery "Up on the Housetop."
Even if your family really doesn't get into the Christmas spirit, this show is completely worth seeing just because of Jane... I'd even go as far as to say she has more pep than an elf on peppermint. This variety show will 100% help you get into that special holiday spirit. So, prepare yourself for a side-splitting evening of comedy with a dash of wit.
Jane Lynch is best known for her portrayal of Sue Sylvester on Glee. She currently hosts Hollywood Game night on NBC. She is also joined by Kate Flannery, who appeared as Meredith on The Office for nine seasons, and Tim Davis, whose producing and singing credits include all six seasons of Glee, Lady Gaga's 2017 Super Bowl Halftime show, Pentatonix Christmas, and the feature film Beauty and the Beast.
Performances are: December 9, 2017: 7PM; and December 9, 2017: 9:30PM. Tickets: $115 - $20*. *Student ticket. Shows take place at the Indiana Landmarks Center, 1201 Central Avenue, Indianapolis, IN 46202.