Photo Flash: Sneak Peek - Theatre Southwest's 16th Annual Festival of Originals
Theatre Southwest presents "The 16th Annual Festival of Originals" produced by Mimi Holloway. For the 16th time, Theatre Southwest presents 5 new plays directed by 5 directors performed by 5 casts. Drama, Suspense and Comedy all in one entertaining evening of live theatre. Scroll down for a sneak peek at this year's shows!
The festival runs July 19 - August 3, 2013 - Fridays and Saturdays, 8 pm (Matinee July 28 at 3 pm). Tickets $15 (Not Covered by Season Tickets). For reservations, visit theatresouthwest.org, email tickets@theatresouthwest.org, or call (713) 661 9505. Theatre Southwest is located at 8944A Clarkcrest.
THE PLAYS:
"Re: Kill the Messenger", written by Bryan Maynard, Directed by John Mitsakis
Wade Gonsoulin (77375)
Andrew G. Barrett (77459)
"Identity", written by Dale Griffiths Stamos, Directed by Kelly Walker
Tanya Terry (77071)
Scott McWhirter (77445)
Robert Lowe (77079)
"Games We Play", written by Michael Weems, Directed by Steve Carpentier
Howard Block (77056)
Elyse Freeman (77056)
Lance Stodghill
Stefani Patch (77027)
"Closing Time", written by Carl L. Williams, Directed by Bob Maddox
Matt Elliott (77095)
BRyan Reilly (77380)
Samantha Walker (77084)
Barbara Dell (77056)
"Many Miles", written by Rose-Mary Harrington, Directed by Jay Menchaca
Taylor Biltoft (77009)
Roxanna Barnes
Tausheli McClure
Scott Holmes (77040)
Helen Rios (77099)
Jonathan Moonen (77084)
Kathy Drum (77586)
Jose Luis Rivera (77076)


Jenny (Barbara Dell) and Rhonda (Samantha Walker) urge restraint as Rick (Matt Elliot) attempts to exact revenge on Howie (BRyan Reilly) in "Closing Time" by Carl L. Williams.

Luisa (Stefani Patch) gets a golf lesson from Brandt (Lance Stodghill) while Hector(Joshua Riley), Ryan (Jason Tull) and Bobby (Howard Block) look on in "Games We Play" by Michael Weems.

Miles (a Feral Cat) is distracted by Pretty (another, very attractive cat) in "Many Miles" by Rose-Mary Harrington.

The Recipient (Wade Gonsolun) agonizes about his lot in life as he waits for the Messenger in "RE: Kill the Messenger by Bryan Maynard.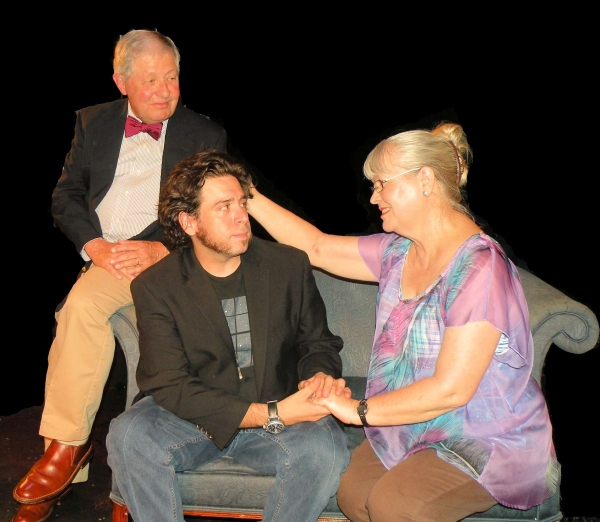 Lawrence (Robert Lowe) and Roxanne (Tanya Terry) discuss events of the past with their son Paul (Scott McWhirter) in "Identity" by Dale Griffiths Stamos.

Related Articles View More Houston

Stories

Shows
More Hot Stories For You