BWW Review: WAITRESS Serves What You Would Expect at the Hobby Center
Who reads a review of WAITRESS? Why write a review of WAITRESS? Both feel like exercises in futility. It's a shell of a show and its emptiness is contagious. This is not to say that the production isn't good, or the performances aren't stellar-they are-or that the music isn't inspired. But like every middle-of-the-road work of art, it's for nobody and everybody at the same time. And that makes it hard to connect to.
---
The touring production has a promising start. The overlay, before the show begins, is a large-scale image of a mouth-watering cherry pie with dark red cherries peeking through strips of flaky crust.
The premise is intriguing and the story against the grain. Jenna, the center of WAITRESS, is knocked up and unabashedly open about not wanting her baby. Dawn and Becky, Jenna's best friends and co-workers are incredibly odd in the most amazing way. Dawn is a spinster with OCD tendencies, and Becky, a lonely woman taking care of an ailing husband, who wins the prize for worst employee of the month all year round. So far, so good.
The musical is based on Adrienne Shelly's film of the same name. WAITRESS, the film, is a critically acclaimed indie hit. The source material is and Shelly's writing aren't the problem.
Nor is the music. WAITRESS features original music and lyrics by singer-songwriter Sara Bareilles, known for "Brave" and "Love Song." Her songs are complex, sometimes haunting ("What's Inside," "She Used to Be Mine"). At other times darkly funny ("Never Ever Getting Rid of Me," "Bad Idea," "When He Sees Me"). And the house band, known as The Waitress Band comprised of Nadia DiGiallonardo (piano), Rich Mercurio (drums), Lee Nadel (bass), Yair Evnine (cello/guitar), Rich Hinman (guitar), Meghan Toohey (guitar) and Jamie Edwards (keyboard), lend a sweet, airy sound.
It's the book, by Jessie Nelson, that burdens the musical. Nelson squishes all of the quirkiness and authenticity from Shelly's film into stock characters and turns domestic violence into a plot point. And in a world with NEXT TO NORMAL and THE BOOK OF MORMON, this just wasn't necessary.
Much of the story and the dialogue is lifted directly from the movie, so it's a wonder that Nelson gets it so wrong. In the film, Jenna's abusive husband has to be dragged out by hospital staff after she declares her independence. In the musical, he walks away with his tail between his legs.
In Nelson's world, abusive men won't hit you when you're pregnant and will definitely walk away after given a stern talking to. Because violent men don't walk through restraining orders "Goodbye Earl"-style. And of course, babies can do anything. Cure cancer. Pay off student loans. Bring Offset and Cardi B and back together.
The most egregious of characters is the role of Becky, usually played by Maiesha McQueen but played by swing Tatiana Lofton on opening night, is a shucking and jiving caricature of a black woman. She is the only character that doesn't get a semblance of rootedness. Line after line, she plays directly to the audience while sashaying across the stage dispensing wisdom and sass. If the musical took itself more seriously, the character would be offensive. Instead, it's just cringeworthy.
The performers bolster the musical. Even though the musical glosses over domestic violence, giving it a soft-focus dreamy look, Christine Dwyer (Jenna) and Matt DeAngelis (Earl) take the subject matter seriously. Dwyer gives breath and heart to a two-dimensional character in a two-dimensional story. She has a honeyed, beautiful voice. You can't help but root for her character, even when that character is doing the wrong thing. Dwyer's skills as an actress and singer cannot be overstated. DeAngelis strikes genuine fear in your heart as Jenna's volatile and manipulative husband Earl.
Jessie Shelton (Dawn) has a big, powerful voice, a great contrast to her mousy character. You'll be blown away. Jeremy Morse is Ogie, Dawn's lilliputian beau. Morse gives such a good performance--one of the best in the show--you forget he's a stalker. You're never going to get rid of him.
The production itself is superbly done. You instantly feel you're in the hands of people who know what they're doing. And you are. Tony Award®-winner Diane Paulus is an adroit director. And though, like Nelson, Paulus relies on stereotypical shorthand, such as in the home of Jenna and Earl, which is reminiscent of the set of Roseanne, you don't question the veracity of her choices.
Paulus' use of color is interesting, especially in the lighting and costume design. Lighting designer Ken Billington (SWEENEY TODD, CHICAGO) deptly alternates between moody, ominous, shades of purple and smiling blue skies which is balanced perfectly with the playful pink and bright citrus colors found in the costumes by Suttirat Anne Larlarb (FINDING NEVERLAND, SLUMDOG MILLIONAIRE).
The scenic design by Scott Pask (PIPPIN, THE BOOK OF MORMON), a frequent collaborator with Paulus, is--of course--impressive. It's grand and elaborate, but it doesn't overwhelm.
In the end, there's no use in criticizing WAITRESS for being the epitome of what it is. It's of no consequence, but it's fun while it lasts. And if you're feeling empty afterwards, fill that hole in your heart with food. House of Pies is open 24 hours.
---
WAITRESS. Through February 3, 2019 at the Hobby Center, 800 Bagby Street. Tickets start at $35. For information call (800) 982-2787 or visit HobbyCenter.org.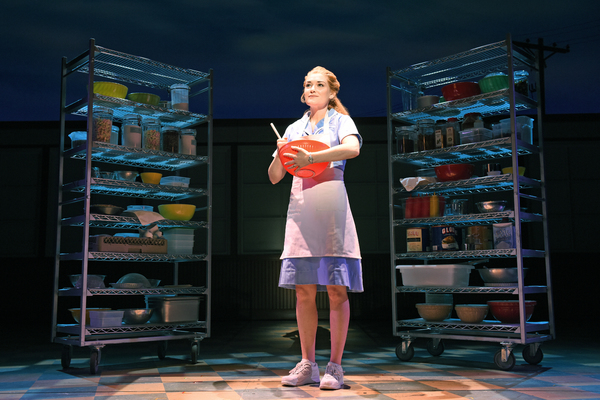 Christine Dwyer as Jenna in WAITRESS. Photo credit: Tim Trumble

Steven Good and Christien Dwyer in the tour of WAITRESS. Photo credit: Philicia Endelmand

Steven Good and Christien Dwyer in the tour of WAITRESS. Photo credit: Philicia Endelmand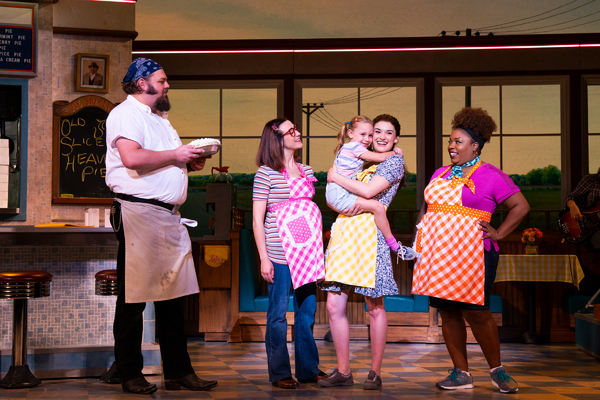 National tour of WAITRESS Photo credit: Philicia Endelmand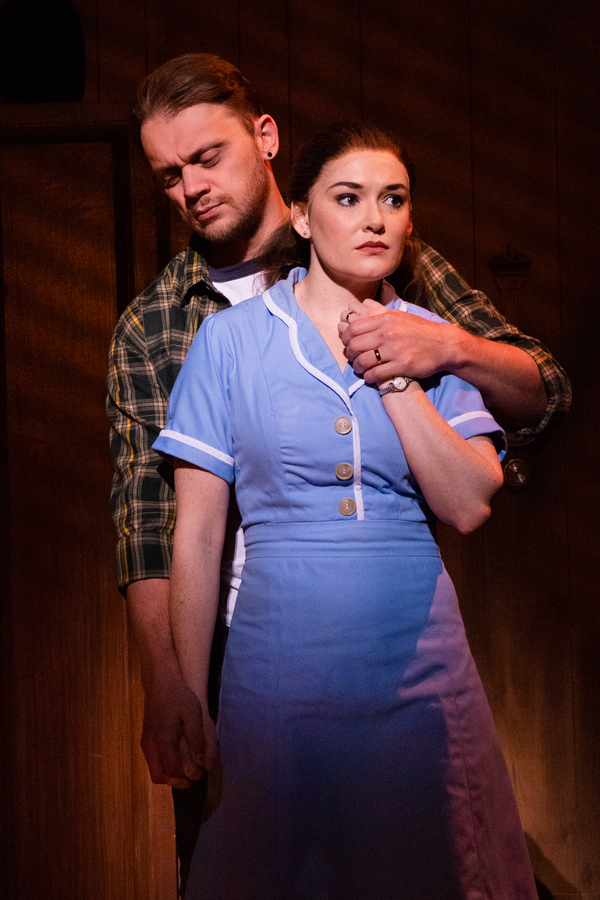 Matt DeAngelis and Christine Dwyer in the national tour of WAITRESS. Photo credit: Philcia Endelman

Maiesha McQueen, Chrstine Dwyer, and Jessie Shelton in the tour of WAITRESS. Photo credit: Philicia Endelmand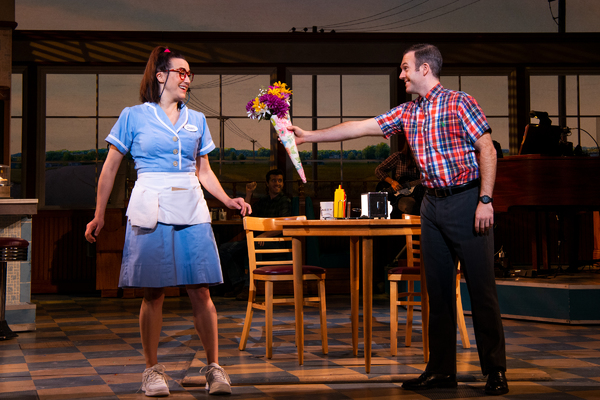 Jessie Shelton and Jeremy Morse in the national tour of WAITRESS. Photo credit: Philicia Endelmand
Related Articles View More Houston

Stories

Shows