Click Here for More Articles on THE PHANTOM OF THE OPERA
Interview: IIDA ANTOLA is CHRISTINE of THE PHANTOM OF THE OPERA at the Finnish National Opera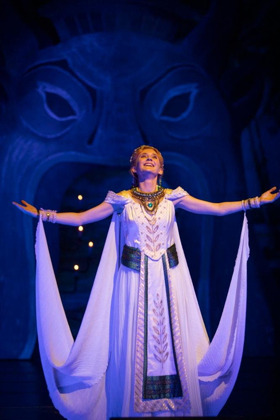 "Is it okay if I take a smoothie?" The perky young woman asks as she walks towards me in the cafeteria. It's certainly okay and also my chance to buy some hot chocolate. We find a comfy place in the corner, sit down and so the interview starts.
/So Iida, I did a little research that you've studied in the Sibelius Academy here in Helsinki, at what age did you get in?
- 18, straight from high school. But I've done a bunch of all kinds of musical studies before I've studied singing. In the Sibelius academy I started in the Church Music department, but shortly switched to the Choir Conducting department.
/After Sibelius you went to study in the Universität der Künste Berlin, Germany. How did the teaching or atmosphere differed from Finland?
- Perhaps the biggest difference was that most of the teachers were still having a career while teaching in the University, or they have had a big, international career. So they do have practical experience in the things they teach and many of them are still doing gigs. So it's like studying with living artists so to speak. Also that the standards are really high because people go there from all over the world: from the US, Asia like Korea, Germany, France...
/Were there auditions to the University?
- Well, the year I auditioned only 3 got a place while around 60 auditioned.
/Oh, wow! So... Because you've studied to be a Choir Conductor I want to ask you what is a good Choir Conductor like?
- Oh dear, well... A nice guy or gal at least! In general someone who is a good leader is the one who can help and inspire with her or his own example. Of course there's got to be talent and good technique in singing and a good ear for tones. A good Choir Conductor's has to hear the right balance in the choir.
/Okay. Do you then have any favorite choirs you like?
- This is a hard question. One of my favorite ones has to be a French one called Accentus. It's amazing, I'm not sure if they're still performing anywhere. Some Finnish ones I like almost any of the Helsinki choirs like Kamarikuoro Kaamos. Also Emo Ensemble, which is in Espoo. Kampin Laulu is also great and Kamarikuoro Värinä.
/We've seen a heartwarming video of "the National Opera in 2040" where these children do their dream jobs at the Opera. At what age did you know music is your thing and at what age did Opera come along?
- I always knew I'm into music, I never did a conscious decision that now I'm gonna be a musician. But I did have different paths in music. First I thought I'm going to be Concert Pianist and then a Choir Conductor. Opera came a little later, probably during the times I had my exchange year in the Conservatoire National de Lyon (CNSMD). There I heard the students singing and was amazed. See, the Opera singing culture is really different there than here in Finland. Here we adore those deep, dark and loud voices, which is kinda Russian influenced. But in France they adore also very light tuned voice and brightness in the voice. There I got the thought that I do want to learn to sing like that too.
/Do you remember the first moment you hit the E6, which is in the Sing my Angel -part?
- Well, it was one of the first parts we begun to rehearse. It made me the most afraid; when they offered this role, I thought I couldn't do it! But after rehearsing tons it went well. It was probably in March when I rehearsed it the most and during that time got it really sharply with a good technique. Repetition made it better and more rooted in me.
/What is you register then?
- Depends on the day. I have some whistle notes too, you see. But hmm, I'm not sure how high I can get. *Does a whistle note in A6*. Well, there! The Lowest may be C3.
/It's really wide!
- Well, I wouldn't necessarily sing on stage either with the most low or high end. I'm also really tall and thus my vocal cords are quite long, so it affects it too. I'm a lyric soprano.
/Then, into acting... When you're on stage, do you ever get the feeling of being sucked into the character or the present, imagined moment? What do you think on stage?
- I've got to admit that it depends on the evening... But especially for this character I've developed quite lot, specifically through acting.
/Yeah, I noticed that!
- Because the pace of acting is so quick compared to other operas where the music leads the drama. In other operas we repeat same sentences over and over again, so the text itself is really small part of it and thus the drama is slow. But in here it is as if from a movie so that every sentence brings new information. On stage I try to react to what happens around me. And of course holding in mind what is coming next and keeping my eyes open in terms of what my co-actors are doing.
/Excellent. Then, what was the first time you encountered The Phantom of the Opera as a story and a musical and was the role of Christine a dream come true?
- Hmm! Perhaps the first time was when I helped two of my friends out in Sibelius High School while they were performing the All I ask of you l. I played the piano for it and they sung. That was the first time. I'm a hard on Disney-fan, so the aesthetics of The Phantom of the Opera are familiar to me, but I hadn't seen the musical itself before I auditioned for the role. But it certainly has been a dream come true to all of my princess-fantasies that come from my past of being a Disney-fan! Not even during my studies had I ever thought or dreamed of singing in a musical-- but truly, this is a dream come true.
/Fantastic! Then is there something in common with you and your role as Christine
- I'm also really sensitive, though stronger! Perhaps I've taken that bit of me to my interpretation of the role. I have more feminist characteristics in me than Christine has. I don't agree to be pin-palled between the men, see.
/Has it been a conscious decision you planned out with the director?
- Yes, well, as a performer I have had a lot of space to lead my character into a direction I wanted, so I'm not sure what the director has even thought about it after all. But at least she understood my decision.
/Okay, because my preconception of Christine was that she would be as if in between the men, as you said, not being able to make up her mind. That she'd be easily manipulated emotionally?
- Well, I see the relationship between the Phantom and Christine-- not so much as a relationship based on love.
/Certainly, it's really toxic, isn't it?
- Yeah, I think it's more like the Phantom is an abusive teacher character. Something happens inside Christine in the second act after the interval, she gets detached from the Phantom... She uses the love and engagement of Raul. She thinks that this other man is going to solve her problem... But in the end, when Raul also lets Christine down by suggesting that "oh, you do can sing in this opera, can't you?" even though Christine could die because of it. Also when Christine goes to the graveyard and meets the Phantom and is being chased by Raul that is the moment when it climaxes and Christine exclaims in her mind: that's enough! Time out, men!
/Nice. Now, the same question I had for Ilkka: there was a technical issue that occurred... How did it affect the group or you?
- Hahaha! Well, first I thought what's going on... We were there in our ballet-outfits, little cold, thinking that when is our time to get on stage and dance, and then it came like oh, never mind then. If I was even slightly nervous at that time, after the technical issue I wasn't nervous at all. If there's a mistake, it just relaxes me. It's a positive thing, like, it's just life! Of course it was a little pity for the audience because it's a really epic moment when the chandelier raises to the ceiling, the music banging loud in the background.
/Yeah, to Ilkka I told also that it did bring a nice meta level to the show, because in the show and script there's a scene of technical issue inside the show and the show is stopped and when that scene occurred I was able to hear some giggles from the audience.
- They must have been like "he's here..."
/Exactly, Ilkka said he would have wanted to have his mic open and be able to sing: I'm here, The Phantom of the Opera!
- Hahahaha! We hadn't thought about that strategy! I heard also that actually three years ago the fire alarm had gone on and everyone had to leave the building... That must have been a moment of its own too!
/I bet. Then the last question: why should we come and see The Phantom of the Opera and what can it offer us?
- You just simply cannot see this anywhere else in Finland. I doubt that there is a musical with such resources we have. We have a huge ensemble, great singers and a unique production. It's visually beautiful and the story itself is very moving. Everyone has enjoyed of it!
And she doesn't lie.
The Phantom of the Opera runs in the Finnish National Opera till 12.1.2019

Photo: Pyry Kantonen, Stefan Bremer
Article: Rosanna Liuski