The Phantom of the Opera - Broadway
For over 30 years, The Phantom of the Opera has been haunting New York! The longest running musical in Broadway history, Andrew Lloyd Webber's unforgettable score has become synonymous with the musical theatre.
"Phantom" won seven Tony Awards in 1988, including Best Musical. Based on the classic french novel of the same name by Gaston Leroux, thePhantom of the Opera tells the story of the hideously deformed Phantom who lurks beneath the stage of the Paris Opera.
However, when the Phantom falls in love with the young Soprano, he devotes himself to turning the chorus girl into the opera's new star by nurturing her extraordinary talents and employing all the skills at his disposal.
Video preview
Photo preview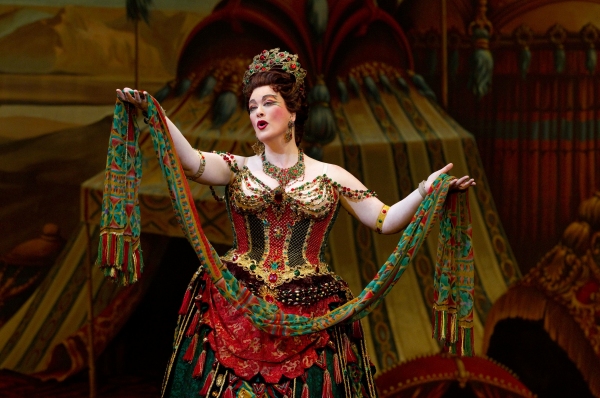 Schedule
Running Time: 2 hours and 30 minutes, with one intermission
Mondays: 8:00pm
Tuesdays: 7:00pm
Wednesdays: 8:00pm
Thursdays: 2:00pm and 8:00pm
Fridays: 8:00pm
Saturdays: 2:00pm and 8:00pm
(New York, NY)
245 West 44th St.
Seating Chart
Featured Reviews For The Phantom of the Opera
Stage: Phantom of the Opera - New York Times
It may be possible to have a terrible time at 'The Phantom of the Opera,' but you'll have to work at it. Only a terminal prig would let the avalanche of pre-opening publicity poison his enjoyment of this show, which usually wants nothing more than to shower the audience with fantasy and fun, and which often succeeds, at any price. It would be equally ludicrous, however - and an invitation to severe disappointment - to let the hype kindle the hope that 'Phantom' is a credible heir to the Rodgers and Hammerstein musicals that haunt both Andrew Lloyd Webber's creative aspirations and the Majestic Theater as persistently as the evening's title character does. What one finds instead is a characteristic Lloyd Webber project - long on pop professionalism and melody, impoverished of artistic personality and passion - that the director Harold Prince, the designer Maria Bjornson and the mesmerizing actor Michael Crawford have elevated quite literally to the roof. 'The Phantom of the Opera' is as much a victory of dynamic stagecraft over musical kitsch as it is a triumph of merchandising uber alles.
The Phantom of the Opera - New York
To look on the bright side first, The Phantom of the Opera is a terrific technical achievement. If you want scenery and costumes, sight gags and sight thrills, they're all there—$8.5 million worth of them—on the aptly named Majestic stage. And who doesn't want to see candles sprout all around an underground lake (even if it does not make technological sense) and a giant chandelier almost crash into the audience below (even if it looks more like a giant balloon changing courses in midair)? It is good, mindless fun, and costs less than a trip to Disney World... The only areas in which The Phantom of the Opera is deficient are book, music, and lyrics.
The Phantom of the Opera Broadway Cast