HOW DID THIS GET MADE? Comes to Paramount Theatre, Today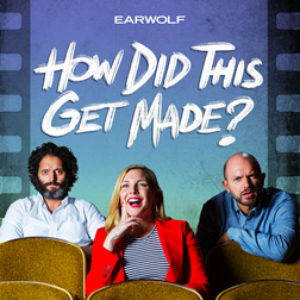 HOW DID THIS GET MADE? with Paul Scheer, Jason Mantzoukas and June Diane Raphael is coming to Paramount Theatre in Denver on Saturday, August 25th at 7:00pm and 9:30pm. Tickets are $45.00 and go on sale Friday, May 4th at 10am. Tickets may be purchased online at AltitudeTickets.com, 866-461-6556, and, starting Monday, May 7th, will also be available for purchase at the Pepsi Center Box Office and Dick's Sporting Goods Park box office, or Paramount Theatre box office (event days only). The early show is an official headlining show of High Plains Comedy Festival. Festival passes are $135.00 and include a ticket to both the early show and the David Cross Friday Night Headlining Show, along with full access to the rest of the fest and a t-shirt. Pass pre-sale to High Plains subscribers begins Wednesday, May 2nd at 10am, with the public on-sale starting Friday, May 4th at 10am at highplainscomedy.com.
ABOUT HOW DID THIS GET MADE?:
Have you ever seen a movie so bad that it's good? Paul Scheer (The League & Veep), Jason Mantzoukas (The League & The House) and June Diane Raphael (Grace & Frankie, New Girl) are experts in the best of the worst of cinema. On each episode of their Award Winning podcast, HOW DID THIS GET MADE? they gather with their funniest friends and subject themselves to a cinematic nightmare and report back to you with the results.
With over 160 episodes, past guests have included Adam Scott, Amy Schumer, Nick Kroll, Patton Oswalt, Whitney Cummings, Illana Glazer, Abbi Jacobson, Gillian Jacobs, Vanilla Ice, Chris Hardwick, Chelsea Peretti, Pete Davidson, Kumail Nanjani, Scott Aukerman and many more.
Every episode features the deconstruction and mockery of one particular film such as 'Surf Ninjas', 'XXX: Return of Xander Cage', 'The Room', and the entire 'Fast and Furious' franchise. With sold out shows across the country, each live episode is truly unique as the audience gets to play a part in the show by asking questions of the hosts and coming up with impromptu songs for segments of the show and seeing one of a kind clips.
HOW DID THIS GET MADE? has been voted "The Best Comedy Podcast" by LA Weekly, one of Vogue's 'Best Podcasts to Listen to Now', one of TIME Magazine's '50 Best Podcasts', one of Entertainment Weekly's '15 Podcasts That Will Give You A Break From Reality', one of Vulture's 'Funny and Fascinating Podcasts", one of Backstage's 'Podcasts to Inspire and Entertain You', as well as being listed as one of the Top Film podcast's in The Washington Post and is also consistently one of the Top 10 most downloaded comedy podcasts.
Paul Scheer is most known as a star of the FX series 'The League' and also as the co-creator and one of the stars of the cult MTV sketch series, Human Giant as well as the Adult Swim action-comedy series NTSF:SD:SUV::. He has regularly been seen on the HBO comedy, 'Veep', the ABC sitcom, 'Fresh Off The Boat', Netflix's 'Wet Hot American Summer' and 'Lady Dynamite.' He'll next appear in the James Franco directed film, 'The Disaster Artist' and alongside Chance the Rapper in 'Slice.'
Jason Mantzoukas is best known for his starring role in the Will Ferrell/Amy Poehler film THE HOUSE as well as his recurring role as Rafi in the FX comedy series 'The League'. You can also see him in 'Brooklyn 99', 'Transparent', 'I'm Sorry', and the upcoming independent film, THE LONG DUMB ROAD, co-starring Tony Revolori. Mantzoukas has also appeared in such films as THE DICTATOR, SLEEPING WITH OTHER PEOPLE, THEY CAME TOGETHER, and HOW TO BE SINGLE.
June Diane Raphael is best known for starring in comedy programs such as Burning Love, Adult Swim's NTSF:SD:SUV:: and is currently in the Netflix series 'Grace and Frankie'. You can also see her in 'New Girl', 'Lady Dynamite' and 'American Dad'. Notable film work includes supporting roles in YEAR ONE and ZODIAC, as well as her 2013 Sundance film ASS BACKWARDS, which she co-wrote and starred in with her creative partner Casey Wilson. She is also co-authoring a book to help women get into politics titled "The Badass Woman's Guide to Running for Office and Changing the World," which will be released in 2019.
HIGH PLAINS COMEDY FESTIVAL (highplainscomedy.com) is held each August in Denver, Colorado with title sponsor Illegal Pete's. The sixth annual High Plains will run August 23 - 25, 2018. Founded in 2013 by Denver comedian/writer Adam Cayton-Holland, the Festival features a mix of local and national comics in venues throughout the city-with a special emphasis on the historic Baker neighborhood surrounding South Broadway. High Plains has quickly gained a reputation as one of the most talent-packed and fun-filled festivals in the country.
More Hot Stories For You