Uptown Players Announces Lineup for Gay History Play Festival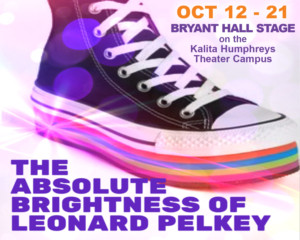 Uptown Players, a professional theater group located in the Uptown area of Dallas, has announced its programming for its upcoming Gay History Play Festival. From September 28 through October 19, 2018, Uptown Players will present three plays with themes that focus on Gay History.
Angels in America Part Two: Perestroika
written by Tony Kushner
On the main Kalita Humphreys stage, Uptown Players will present Angels in America Part Two: Perestroika as a special event to kick-off Gay History Month from September 28 through October 7. Angels in America received a record 11 nominations at the 72nd annual Tony Awards this month, winning three awards, including Best Revival of a Play. As one of the great plays of the 20th century, Angels in America, Perestroika picks up right where Millenium Approaches leaves off, with the epic conclusion of the fate of two couples in which one partner has abandoned the other and God has abandoned Heaven. The award-winning play explores gay culture, race, political injustice, inequality, and the future of America through the lens of the AIDS crisis of the 1980s. Americans - in the face of crumbling structures and systems are still wrestling with how best to navigate the complexities of hope. This Gay Fantasia on National Themes raises the stakes with characters confronting the real, the ethereal, and themselves, with the conclusion taking place five years after our introduction to these memorable characters.
Uptown Co-Producer Craig Lynch looks forward to bringing the production team back together, exclaiming, "We put together the perfect cast for the entire journey. Taking these gifted and collaborative artists through the rest of the story will be exciting. Bringing this award-winning ensemble together to finish telling the rest of Kushner's story after all this time will be a wonderful experience that Cheryl Denson is excited to bring to the Dallas audience."
Under the direction of Cheryl Denson, Uptown will showcase the original star-studded Dallas cast to reprise their roles, including: Emily Scott Banks (Angel), Pam Daugherty (Hannah Pitt), Marianne Galloway (Harper Pitt), Kyle Igneczi (Joe Pitt), Walter Lee (Belize), David Lugo (Roy Cohn), David Meglino (Louis Ironson), and Garret Storms (Prior Walter).
Following this main stage event will be two plays at the intimate Bryant Hall venue next door to the main building.
The Absolute Brightness of Leonard Pelkey by James Lecesne
The Absolute Brightness of Leonard Pelkey is a rewarding, affirmational tale about the difference one young boy makes in the lives of a small New Jersey town. Chuck DeSantis is a brash New Jersey detective eager for a case that gets him out from behind his desk. On one extraordinary day, he finds it: the disappearance of teenager Leonard Pelkey. Digging deeper and deeper into Leonard's life, Chuck follows clues that lead him to unexpected places and show him how one boy's bravery can light the way toward truth. Solo actor Terry Martin portrays about a dozen roles; male and female, old and young. Merely by spinning around or placing his masculine frame in just the right way or having his arms and fingers just so, with a high-pitched soprano voice, he becomes more than the ballsy, rather impatient Jersey detective. The Absolute Brightness of Leonard Pelkey is an affecting and entertaining testament to the beauty of a world in which difference is celebrated rather than denigrated.
Straight by Drew Fornarola and Scott Elmegreen
Straight is a provocative new play that deals with fidelity, sexuality and identity in "post- equality" America. Funny, sad, sexy and surprising, Straight follows Ben, a 26-year-old investment banker in Boston who struggles to understand what he wants, and what he thinks he should want. Ben feels comfortable in his long-term relationship with Emily - or so it seems. Enter Chris, a college student who's also coming to terms with his sexuality. What begins as a one-night stand evolves into something more - a significant and sincere connection between two men trying to figure out who they are and who they want to be. Straight takes a hard look at the moral complex of a generation that prides itself on the pretense of acceptance.
Tickets for Angels in America Part Two: Perestroika are $30-50. The production runs September 28 through October 7. General Admission tickets for The Absolute Brightness of Leonard Pelkey and Straight are $20. Performances take place October 12-21. All performances take place on the Kalita Humphreys Theater complex, 3636 Turtle Creek Blvd (@ Blackburn), Dallas, TX 75219. Tickets can be purchased online at www.uptownplayers.org or by phone at 214-219-2718.