Photos: Main Street Theater Presents BREAKFAST AT EIGHT
Main Street Theater begins its first ever New/Now Series with the world premiere of Breakfast at Eight by Houston playwright Thomas Hagemann. With a preview on October 21, Breakfast... opens October 22 and runs through October 31 at Main Street Theater - Rice Village, 2540 Times Blvd. Performances are on Thursdays at 7:30pm, Fridays and Saturdays at 8pm, and Sundays at 3pm. Tickets range from $24 - $35 (preview is $10), depending on date and section, and are on sale in person at the Main Street Theater Box Office, 2540 Times Blvd., via phone at 713.524.6706, or online at MainStreetTheater.com.
About Breakfast at Eight
For many years, John and Abby have taken for granted the indestructibility of their marriage, yet after a long night of reckoning, they must choose whether to move forward with each other or alone. From the dark of night literally into the light of the morning, Breakfast at Eight is a very honest, compassionate look at the fragility of even the strongest bonds.
About Playwright Thomas Hagemann
In his day job, Thomas Hagemann is a partner with Gardere Wynne Sewell LLP in Houston. He is a trial lawyer whose practice focuses on white-collar criminal matters, and he has repeatedly been recognized by a variety of publications as one of the best lawyers in this area, both in Texas and nationally. He graduated in 1978 from Rice University, magna cum laude and Phi Beta Kappa, and obtained his law degree from Yale. Mr. Hagemann was a federal prosecutor in Los Angeles from 1985-91. There, he was nominated for the John Marshall Award - the Attorney General's highest award for trial lawyers - for his trial work in United States v. Amers, et al., the largest police corruption case in the history of Los Angeles. From 1989 to 1991, Mr. Hagemann was also an Adjunct Professor at the University of Southern California Law School, where he lectured in Evidence.
Following his service as a federal prosecutor, Mr. Hagemann was one of fifteen young American professionals selected to be a Robert Bosch Fellow in Germany from 1991 to 1992. He spent the year focusing on German and European environmental issues - working first at the federal Environmental Ministry in Bonn and then for the state administration in Leipzig in former East Germany.
More...
Main Street Theater -Breakfast at Eight Page 2
When he returned to the United States in 1992, Mr. Hagemann worked at the Clinton-Gore campaign's national headquarters in Little Rock, Arkansas, where he was primarily responsible for environmental research, as well as involved in preparation for the presidential debates. He returned to private practice in Houston in 1992.
By night and at other odd times, Mr. Hagemann is a lover of theater and performance. He has been an amateur actor since sixth grade when he starred in Herbie Gets a Haircut, although more widely known roles include Antonio in The Tempest, the Inspector in Statements after an Arrest, Demetrius in A Midsummer Night's Dream, and Nick in Who's Afraid of Virginia Woolf? While in Los Angeles, he also wrote an as-yet unpublished play about a murder in federal prison entitled Nothing to Lose. Last, but by no means least, his wife and muse is a professional actress, Ms. Christianne Mays, when she is not busy performing the role of mother of two teenagers. Tom is currently working on the completion of two other plays, 1946 and The End, which, together with Breakfast at Eight, will form a trilogy.
Discussion Series
Main Street is pleased to continue its Post-Show Discussion Series. Following the performance on Sunday, October 24, playwright Thomas Hagemann, director Andrew Ruthven, and the cast will engage in a talkback with the audience. There is no extra charge to attend.
About the Production
Andrew Ruthven returns to MST to direct Breakfast at Eight after directing last season's A Number. The cast includes Justin Doran (Arcadia, Driftwood) and Shannon Emerick (Arcadia) as husband and wife John and Abby with Justin O'Brien as Tom and Caleigh Doran as Anna.
The design team includes Liz Freese (set design), Tiffani Fuller (costume design), Daniel Polk (lighting design), David Wald (sound design), and Pamela Miltenberger (properties design). Julie Paré is the production stage manager.
Parent Play Date
Saturday, October 30, for an additional fee, parents may take their 6 - 11 year olds to MST - Chelsea Market while they attend that evening's performance of Breakfast at Eight. Call 713-524-6706 for more information.
Photo by www.RicOrnelProductions.com


Shannon Emerick, Caleigh Doran and Justin Doran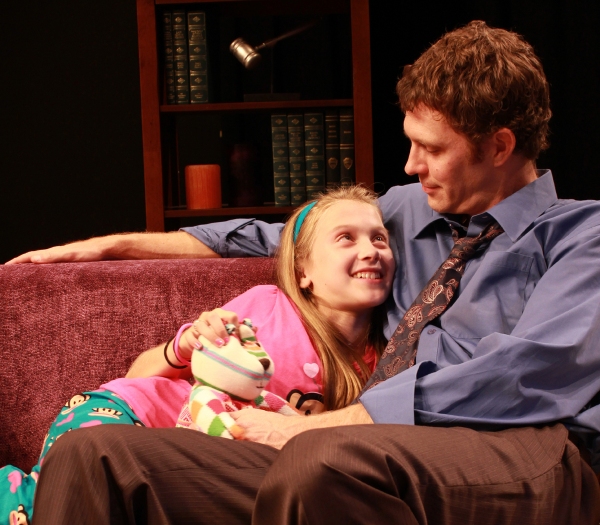 Caleigh Doran and Justin Doran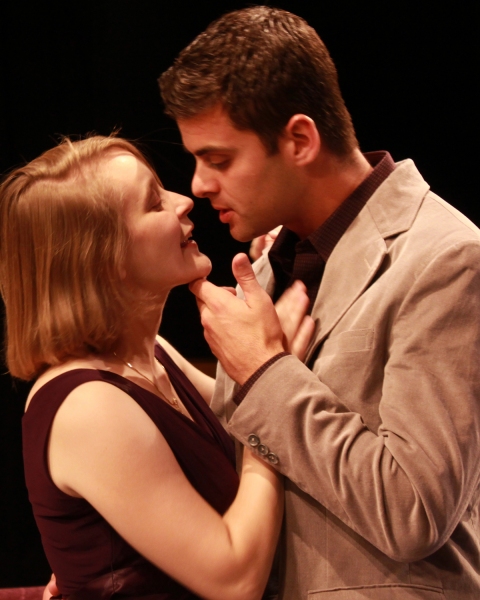 Shannon Emerick and Justin O'Brien