Rex Smith, Alison Arngrim, Paul Kreppel and More Head to Sharon Playhouse for Summer Season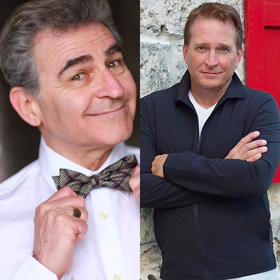 Sharon Playhousein Sharon, CT under the new management team of Artistic Director Alan M-L Wager and Managing Director Robert Levinstein, announced today the complete casting and creative teams for its 2018 mainstage summer season.
Harkening back to the well-respected tradition for its 59thyear of producing live entertainment, casts in each show will include a mix of talent from Broadway and television, from New York to Los Angeles, as well as locals from the Litchfield/Dutchess county region. As Artistic Director Wager says, "There is a wealth of talented performers in this community that have gone untapped in the past few years and we are very excited to get them back on stage at the Playhouse."
The 2018 Summer Season is as follows:
ANYTHING GOES!
(June 15-July1)
Leading the cast will be Tony Award winner Paul Kreppel (Jay Johnson: The Two and Only!) as Moonface Martin and Broadway veteran Amanda Lea LaVergne (Annie) as Reno Sweeney.
They will be joined by Edward Miskie as Lord Evelyn Oakley, Caleb Albert as Billy Crocker, Amara Haaksman as Hope Harcourt, Seana Nichol as Erma, Emily Soell as Evangeline Harcourt, Bill Morris as Elisha Whitney, David Fanning as the Captain, Colin-Tyler Gallaher as the Purser, Vincent Law as John, Daniel Roberts as Luke, and Michael Britt as Reverend Dobson with ensemble members Delaney Bailey, Quinten Patrick Busey, Jenna Chin, Laurie Ellington, Gabrielle Gutierrez, Nick Gurinsky, Katie Hardin, Taylor Joseph, Michelle Lemon, Barbara Zucker-Pinchoff, and Richard Westfahl.
The creative team is Alan M-L Wager (Director), Justin Boccitto(Choreography), Ben Kiley (Music Direction),Keith Schneider (Costume Design), Jamie Roderick (Lighting Design), Jeremy Oleksa (Sound Design), and Paula Schaffer (Wig Design). David VanderVliet is Stage Manager and Anne Barkin is Assistant Stage Manager.
ALL SHOOK UP!(Youth Production)
(July 13-22)
The cast will feature Nick Lamberti as Chad, Kelly Follette as Natalie, Isabel Penn as Sylvia, Victoria D'Orazio as Miss Sandra, Cara Leahy as Lorraine, Angel Hernandez as Dennis, Vann Strasen as Dean, Alex Besio as Jim, Haley Napier as Matilda, Nick Scott as Earl. The ensemble will be comprised of Chris Allen, Julia Baroody, Isabella Bazata, Claire Burton, Sarah Cattelan, Laurent Demaio, Ariella Hyman-Fessler, Ryan Flynn, Kiley Foxhall, Riley Francisco, David Frego, Griffin Harney, Alexa Lamberti, McGeachy Rachel, Matt Montan, Heather Murphy, Madelynn Peterson, Lizzy Quimby, Dan Warman, Jonathan Wieber, Avery Nurzia, Cynthia Rivera and Jessica Tocci.
The creative team is: Sarah Combs (Director), Grace Mihalchik (Choreography),Jacob Carll (Music Direction), David Baxter (Costume Design), Tom Swetz (Set Design) and Jeremy Oleksa (Sound Design).
BAREFOOT IN THE PARK
(July 27-August 12)
Headlining the cast is Broadway/Pop Sensation Rex Smith (The Pirates of Penzance, The Scarlet Pimpernel) as Victor Velasco, Broadway veteran Susan Cella (Me and My Girl, Evita) as Mrs. Banks, Rebecca Tucker as Corie, Craig Belwood as Paul, John Champion as the Telephone Man.
The creative team is Clayton Phillips (Director), Randall Parsons (Set Design), Kurt Alger (Costume and Wig Design), Jamie Roderick (Lighting Design), and Jeremy Oleksa (Sound Design). Ann Barkin is Stage Manager.
(August 17-September 2)
The final show of the summer season will star Alison Arngrim, 'Nellie Oleson'on "Little House On The Prairie" as Louise and Broadway's Carter Calvert (Ain't Nothin' But The Blues) as Patsy Cline.
The creative team is: Alan M-L Wager (Director,) Eric Thomas Johnson (Music Direction), Jamie Roderick (Lighting Design), Jeremy Oleska (Sound Design) andByron Batista (Ms. Arngrim's Costume and Wig Design)
The Playhouse is also bringing its full Children's Theatre program back to the Sharon Playhouse mainstage with two different sessions, under the direction of Paul Brewster (formerly of Roundabout Theatre in New York City): 101 Dalmatian's, Kids (July 21 & 22). Based on the classic animated film, it's a fur-raising adventure featuring Cruella De Vil, Disney's most outrageous villain, and 101 of the most adorable heroes to set their paws onstage, and Willy Wonka, Jr. (August 4 & 5). The delicious adventures experienced by Charlie Bucket on his visit to Willy Wonka's mysterious chocolate factory light up the stage in this captivating adaptation of Roald Dahl's fantastical tale.
In addition to the four main stage productions and Children's Theatre offerings, plans are under way to bring special events, concerts, cabarets and staged readings to the BokGallery, the other performance space at the Playhouse, truly making it a year-round theater for the Litchfield County community and surrounding Connecticut, Massachusetts and New York communities.
Nestled in the beautiful foothills of the Berkshires, the iconic Sharon Playhouse is a critically acclaimed non-profit professional theatre that brings the best plays and musicals to the Northwest Corridor every summer. The Sharon Playhouse has become a cultural institution providing exciting summer entertainment and training opportunities for novice and professional actors.
For tickets and more information visit www.SharonPlayhouse.org
Sharon Playhouse is a not-for-profit summer theatre that uses a unique blend of professional designers, directors, musicians, Equity actors, non-Equity actors, and dedicated community performers and volunteers.