Photo Flash: Great Lakes Theater's FOREVER PLAID is Off to a Harmonious Start
Great Lakes Theater (GLT), Cleveland's Classic Company, concludes its 2017-18 season with the pitch-perfect jukebox musical smash, Forever Plaid. The production will be performed in the company's intimate home at the Hanna Theatre, Playhouse Square, May 5-21, 2017. Victoria Bussert directs. (Forever Plaid was written and originally directed and choreographed by Stuart Ross. James Raitt provided musical continuity supervision and arrangements. The original production was produced by Gene Wolsk.)
Generous production support for Forever Plaid was provided by the First Energy Foundation and the Kulas Foundation. The production is part of the Kulas Musical Theater Series at Great Lakes Theater. GLT is also supported in part by the residents of Cuyahoga County through a public grant from Cuyahoga Arts & Culture. Season support is provided by The Cleveland Foundation and the Ohio
Arts Council
. Media sponsors for GLT's 55th season are The FORM Group, Ideastream (WCLV, WCPN, WVIZ) and WKSU 89.7 FM. Forever Plaid features four comic crooners and fifties favorites. On one stormy night in the 1960s, four eager singers known as The Plaids met their untimely ends in a cherry red, 1954 Mercury on the way to their first big gig. In May, the quartet gets one last chance to return from the afterlife to do the show they never got to perform - on the stage of the Hanna Theatre. The Plaids deliver with playful patter and angelic voices in a show that will have audiences rolling in the aisles when they're not humming along to the great nostalgic pop hits of the 1950s. Great Lakes Theater's acclaimed home at the Hanna Theatre features a visionary "Great Room" inspired design that integrates the artist and audience experience into a single unified environment. Hanna patrons select from a variety of seating opportunities including traditional theater seats, club chairs, lounge/bar seats, banquette couches and private box seating. Arranged in an intimate 550-seat thrust configuration where the audience surrounds the stage, no seat is further than 12 rows from the performance.
Great Lakes Theater offers patrons a robust series of Experience Enhancement Programming that is organized by day of week. The series highlights the Hanna's unique amenities and affords access to artists.
-----"Director's Night" offers audiences the opportunity to take part in a lively pre-show discussion with GLT's Producing Artistic Director, Charles Fee before the Friday preview performance. (Offered: May 5)
-----"Salon Thursdays" feature an engaging pre-show discussion/presentation beginning one hour before curtain with a Great Lakes Theater artist. (Offered: May 11, 18) -----"Happy Hour Fridays" afford audience members the opportunity to gather, socialize and enjoy appetizers or beverages for sale in the Hanna's bar and lounge beginning ninety minutes before the performance. (Offered: May 5, 12 19) -----"Playnotes Pre-Show Discussions" inform patrons with illuminating introductions to the content and history of each play in GLT's season presented by a guest scholar before Saturday matinee performances. (Offered: May 13, 20) -----"Nightcap Night Saturdays" are designed to encourage audience members to stay after the evening performance and mingle with the GLT artistic company in the Hanna's lounge. The Hanna's bar is open ninety minutes after Nightcap Night Saturday performances." (Offered: May 13, 20) -----"Ice Cream Social Sundays" offer patrons the opportunity to enjoy a London theatre tradition brought state-side. Audience members are invited to purchase a cool, personal ice cream treat before the show or at intermission. Ice cream will be offered at every performance in Deathtrap's run, but on "Ice Cream Social Sundays," the treat is half price. (Offered: May 7, 14, 21) Great Lakes Theater will continue to afford patrons extraordinary access to its artists and production process at every Hanna Theatre performance. The Hanna always opens its doors ninety minutes before each performance allowing patrons to observe the complete pre-show preparation process of GLT's actors and technical staff. Elements traditionally hidden from audiences such as stage combat rehearsals, dance calls, prop/scenic pre-sets, technical cue rehearsals and actor warm-ups will be conducted in full view of patrons, offering GLT audiences an unprecedented glimpse into the theatrical process. Great Lakes Theater will also renew its New Deal pricing initiative - designed to increase accessibility for audiences. As part of the program, adult tickets begin at $15 and student tickets for any seat at any performance are $13 - making GLT one of the most affordable entertainment options in the region. The Opening Night (also Press Night) performance of is scheduled for Saturday, May 6. A preview performance is scheduled for the preceding Friday night evening (May 5th). Curtain times for all evening performances will remain at 7:30 p.m., with a 1:30 p.m. curtain time for Saturday matinees and a 3:00 p.m. curtain time for Sunday matinees. Special weekday matinees are scheduled for Wednesday, May 10th and 17th at 1:30 p.m. A sign-interpreted and audio-described performance is scheduled for Sunday, May 21st at 3:00 p.m.. Single performance tickets range in price from $15-$80 (Student tickets are $13) and are available by calling (216) 241-6000, by ordering online or by visiting
The Playhouse
Square Ticket Office. Groups of ten or more receive discounts of up to 25% by calling (216) 453-4457. Great Lakes Theater, the first resident company of Playhouse Square, has brought the pleasure, power and relevance of classic theater to the widest possible audience since 1962. On its main stage and through its extensive education programming, Great Lakes Theater positively impacts the lives of over 100,000 adults and students annually. Forever Plaid is presented through special arrangement with
Music Theatre International
(MTI). All authorized performance materials are also supplied by MTI, New York, NY. (Tel: 212-541-4684. Fax: 212-397-4684.
www.MTIShows.com
)
Photo Credit: Roger Mastroianni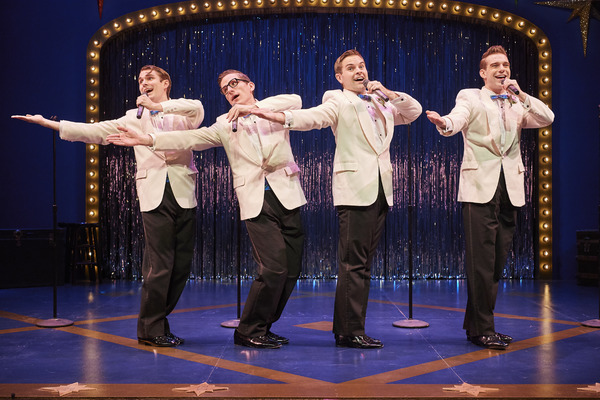 Mickey Patrick Ryan,
James Penca
,
Andrew Kotzen
, and
Mack Shirilla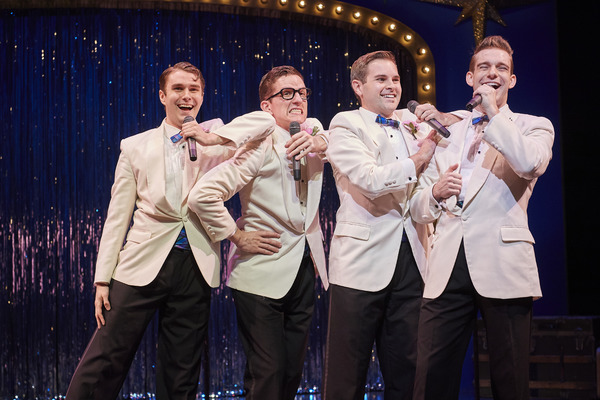 Mickey Patrick Ryan,
James Penca
,
Andrew Kotzen
, and
Mack Shirilla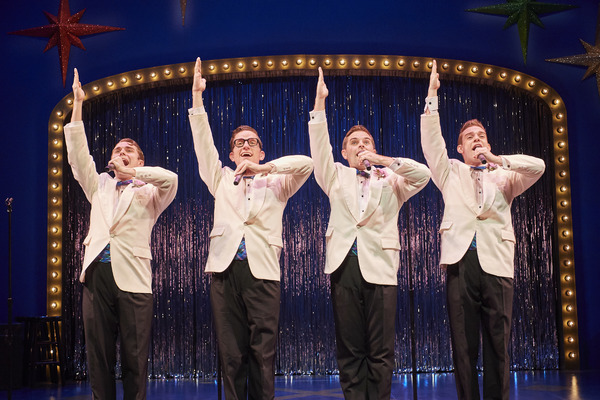 Mickey Patrick Ryan,
James Penca
,
Andrew Kotzen
, and
Mack Shirilla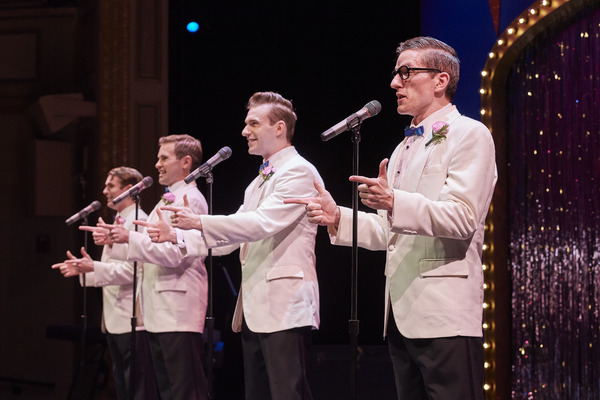 Mickey Patrick Ryan,
James Penca
,
Andrew Kotzen
, and
Mack Shirilla
Mickey Patrick Ryan,
Andrew Kotzen
,
Mack Shirilla
and
James Penca
Mack Shirilla
,
James Penca
, Mickey Patrick Ryan and
Andrew Kotzen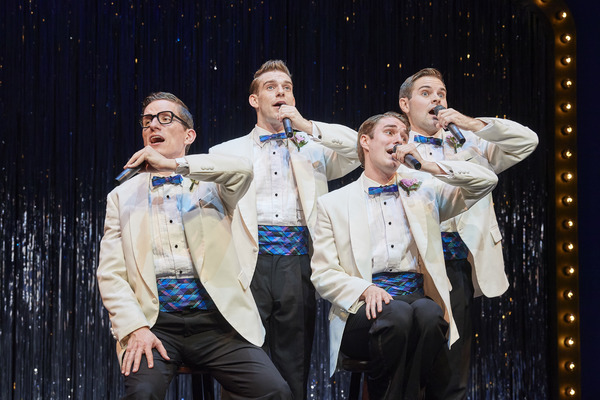 James Penca
,
Mack Shirilla
, Mickey Patrick Ryan and
Andrew Kotzen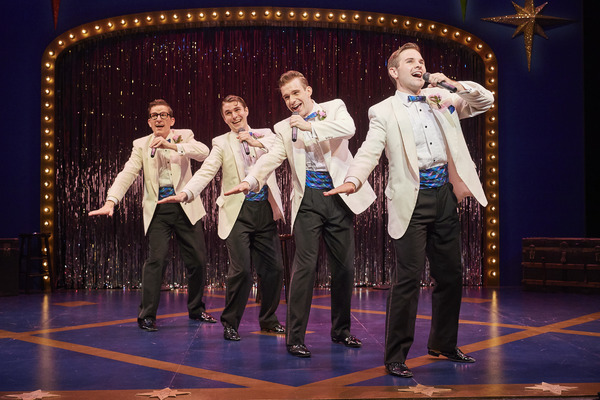 James Penca
, Mickey Patrick Ryan,
Mack Shirilla
, and
Andrew Kotzen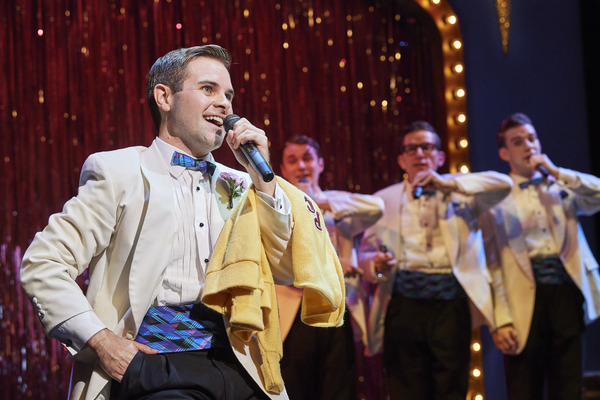 Andrew Kotzen
, Mickey Patrick Ryan,
James Penca
and
Mack Shirilla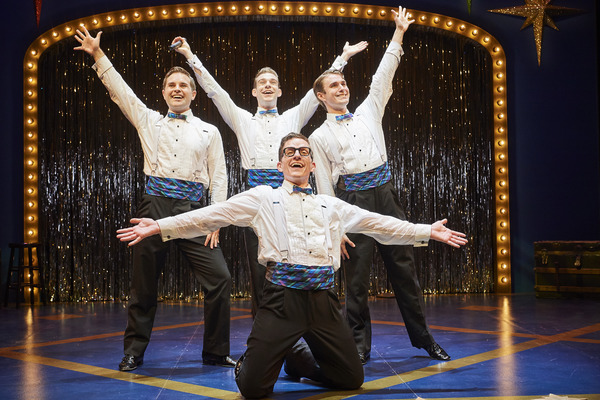 Andrew Kotzen
,
Mack Shirilla
, Mickey Patrick Ryan and, below,
James Penca
James Penca
,
Mack Shirilla
,
Andrew Kotzen
and Mickey Patrick Ryan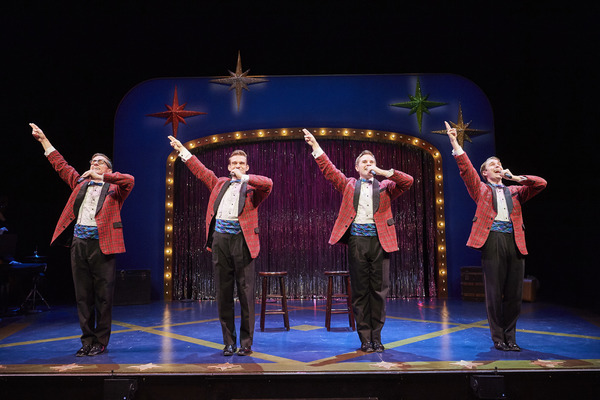 James Penca
,
Mack Shirilla
,
Andrew Kotzen
and Mickey Patrick Ryan