The Second City Mourns the Loss of Comedic Legend Shelley Berman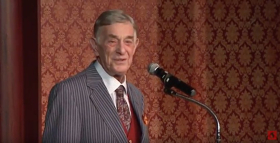 The Second City mourns the loss of comedic legend Shelley Berman at the age of 92 at his home in Bell Canyon, CA.
Born in Chicago, Shelley studied at the Goodman Theatre prior to joining the Compass Players, the improvisational company that eventually morphed into The Second City.
Although he had many noted roles as an actor, Shelley Berman's legacy will always be that of one of America's first cutting edge comics. He was the first stand up comic to perform at Carnegie Hall and he earned a Grammy Award and 3 Gold Records for his immensely popular comedy albums.
In a statement released today, The Recording Academy's President/CEO Neil Portnow said: "Shelley Berman helped lead a movement that re-defined stand-up comedy in the late '50s and into the '60s. Not only an accomplished comedian, actor, and author, Shelley was among the new breed of comedians who made a significant impact through recordings. His album Inside Shelley Berman earned him a GRAMMY® Award in 1959 for Best Comedy Performance-Spoken Word. Shelley will be deeply missed, but the influence he exerted on our creative community will remain forever. Our thoughts are with his family and friends during this difficult time."
Berman performed on Broadway in The Odd Couple, Fiddler on the Roof, and I'm Not Rappaport. He had many roles in film and television including his multi-year run as Larry David's father on Curb Your Enthusiasm, for which he received an Emmy Nomination.
The Second City offers their condolences to Shelley's wife of 70 years, Sarah, and their daughter Rachel.
Watch Shelley Berman's performance from The Second City 50th Anniversary below!
---
Beginning as a small cabaret theater on Chicago's north side in 1959, The Second City has grown to become a comedy empire, building a robust $55 million business based on its core improvisational methodologies. Resident theaters in Chicago and Toronto create topical sketch comedy revues that satirize politics, culture and news of the day. Additionally, Second City performs thousands of shows each year in regional theaters, colleges and performing arts centers. Beyond its stages, The Second City created the foremost school of improvisation-based arts in the world with training facilities in Chicago, Toronto and Los Angeles that currently enrolls more than 11,000 students annually. The Second City also has a business division that works with hundreds of Fortune 500 companies in the areas of training, marketing, entertainment and brand services, and The Second City's forays into television and new media continues to produce new content and programming, including the classic, Emmy Award-winning comedy series SCTV.
More Hot Stories For You