Steppenwolf Announces Cast For Young Adults Upcoming Show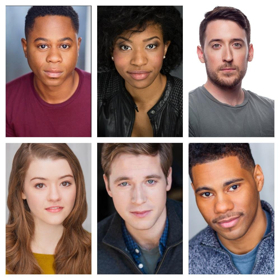 Steppenwolf for Young Adults (SYA) announced full casting for its upcoming production of We Are Proud to Present a Presentation About the Herero of Namibia, Formerly Known as South West Africa, From the German Sudwestafrika, Between the Years 1884-1915 by Jackie Sibblies Drury, co-directed by Hallie Gordon and Gabrielle Randle. It's the second of SYA's 2018-19 two-play season which asks, "When You Feel Lost, How Do You Find Your Way?" The cast features Will Alan (Actor 3/Another White Man), Taylor Blim (Actor 5/Sarah), Jeffrey Owen Freelon Jr. (Actor 2/Black Man), Michael Holding (Actor 1/White Man), Daniel Kyri (Actor 3/Another Black Man) and Jennifer Latimore (Actor 6/Black Woman).
When a group of actors gathers together to give a presentation about a long-forgotten-or possibly never remembered-genocide, they realize that summaries based on history books aren't nearly enough to capture the complexity of human extermination-or human interaction. We Are Proud to Present a Presentation... tells the story of what happens when, in an effort to dig deeper, the nobly intentioned ensemble crashes into their own simmering fears and unconscious prejudices, coming face to face with the potential for brutality in all of us.
Public performances for We are Proud to Present a Presentation... will take place March 2 (3 & 7:30pm); March 9 (3 & 7:30pm); March 16 (3pm & 7:30pm) in the Upstairs Theatre. Performances during the week reserved for school groups only; more than 15,000 Chicago Public School students will see the production. Single tickets to public performances ($15-20) go on sale Friday, October 19 at 11am; Member pre-sale begins Tuesday, October 16 at 11am.
Hallie Gordon (Co-Director) is an Artistic Producer at Steppenwolf and the Artistic Director for Steppenwolf for Young Adults, where she has directed many productions for the program including Monster by Walter Dean Myers; George Orwell's 1984 and Animal Farm; The Book Thief; To Kill a Mockingbird; and the world premiere of Toni Morrison's The Bluest Eye at Steppenwolf and Off-Broadway. She directed Steppenwolf's 2017 production of Hir. She is an ensemble member for Rivendell Theatre where she directed the critically acclaimed Dry land and Eat Your Heart Out.
Gabrielle Randle (Co-Director) is a performance scholar, director, and dramaturg based in Chicago. She has a BA in Drama from Stanford University and an MA in Performance as Public Practice from The University of Texas at Austin. She has worked as a dramaturg, producer, and director across the United States including Off-Broadway and internationally on three continents. In Chicago she has worked with Sideshow Theatre Company (Associate Artist), Chicago Dramatists, Victory Gardens Theater, Wirtz Center for the Performing Arts, and Court Theatre. She is a third year PhD student at Northwestern in The Interdisciplinary PhD in Theatre and Drama.
Will Allan (Actor 3) returns to Steppenwolf where he has performed in SYA productions of A Separate Peace and Animal Farm - as well as mainstage productions of Good People, The March, and The Flick. Other Chicago credits include: Ah, Wilderness!, The Seagull, and Dartmoor Prison (Goodman Theatre); The History Boys (TimeLine Theatre); The Whale (Victory Gardens Theater); The Goat Or, Who Is Sylvia? (Remy Bumppo); Circumference of a Squirrel (Greenhouse Theater Solo Celebration); and more. Regionally, he has worked with Milwaukee Rep, Indiana Rep, Cardinal Stage, and The Human Race Theatre Company. TV credits include Chicago Justice and the current season of Chicago Fire. He is a graduate of North Central College in Naperville, Illinois and is a Company Member with TimeLine Theatre Company.
Taylor Blim (Actor 5) was recently seen at Steppenwolf in The Crucible and Mary Page Marlowe. Chicago credits include: The Wolves (The Goodman Theatre); Love's Labor's Lost (Chicago Shakespeare Theatre); Sucker Punch (Victory Gardens Theatre); Welcome to Jesus (The American Theatre Company); Grizzly Mama (Rivendell Theatre Ensemble); A Christmas Carol (Drury Lane); Assassins: The Musical, Gruesome Playground Injuries, Anna Bella Eema, and Twelve Angry Men (The Theatre School at DePaul University). TV/ Film credits include: Hala, Chicago Med (NBC), Forever, The Disposal, The Year That Changed Us.
Jeffery Owen Freelon Jr. first made an appearance at Steppenwolf as part of the LookOut Series in The New Colony's Byhalia Mississippi. Owen also understudied the role of Kitch in Antoinette Nandi's Passover. Other Chicago credits include Loy Webb's The Light (The New Colony), Wonder In My Soul (Victory Gardens), and The American Revolution (Theater Unspeakable) He is proudly represented by Paonessa Talent Agency.
Michael Holding (Actor 1) Chicago credits include: Koalas (16th Street Theatre), Henry in Henry VIII and The Rivals (Lakeside Shakespeare Theatre), Truth and Reconciliation (Sideshow Theatre Company), Posh (Steep Theatre, Jeff Award Winner Best Ensemble), Really Really (Interrobang Theatre), Shining City (Irish Theatre of Chicago), The Diviners (Organic Theater Company), and The Madness of Edgar Allen Poe (First Folio). Regional: 4000 Miles (Theatresquared). Film/TV: Chicago Med(NBC), Southside (Comedy Central), and the indie film Finn and the Sea of Noise. He is represented by Stewart Talent.
Daniel Kyri returns to Steppenwolf for Young Adults where he was last seen in Monster. Other Chicago credits include: Hamlet (The Gift Theatre); the world premiere of Charles Smith's Objects in the Mirror (Goodman Theatre); Tug of War pt. I & II (Chicago Shakespeare Theater); and Moby Dick (Lookingglass Theatre). TV credits: Chicago Med, the T, and Chicago Fire. Film credits: Perfect Day, Unexpected, Henry Gamble's Birthday Party and the upcoming Killing Eleanor.
Jennifer Latimore is making her Steppenwolf debut. Chicago credits include Twelfth Night, MLK: The Fight For Civil Rights, The Importance of Being Earnest (Writers Theatre); Macbeth, Love's Labor's Lost (Chicago Shakespeare Theater); Harvey (Court Theatre) and Miss Bennet: Christmas at Pemberley (Northlight Theatre). Regional credits include Smart People, A Christmas Carol (Milwaukee Repertory Theater); The African Company Presents Richard III, An Ideal Husband, and Arcadia (American Players Theatre). TV Credits: The Chi, Empire, Chicago PD and FOX's upcoming Proven Innocent. Film Credits: An Acceptable Loss.
We Are Proud to Present a Presentation... production team includes Arnel Sancianco (Scenic Design); Izumi Inaba (Costume Design); Heather Sparling (Lighting Design); Cooper Forsman (Sound Design); Michelle Medvin (Stage Manager); and JC Clementz (Casting Director).
Tour to Community Centers
SYA will be touring this production of We Are Proud to Present a Presentation... for a week to community centers in partnership with our City Connections partners. Tour locations and dates TBA soon.