Review: Make a Date for a Captivating THE GENTLEMAN CALLER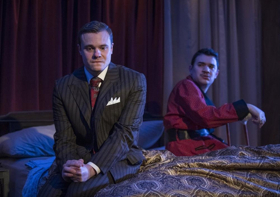 Phillip Dawkins' A GENTLEMAN CALLER may very well be the best work produced in Chicago this season. It's a beautifully-worded, heartfelt and spell-binding look at the brief and unlikely relationship between two of America's greatest playwrights, Tennessee Williams and William Inge in the time before either man achieved success.
Commissioned by Raven Theatre, it is the first premiere in the history of the company and the work will soon be seen in an off-Broadway production as well. Raven is uniquely situated to produce this work, though. Over their 35 seasons, they have produced eleven productions of Williams' work and two of Inge's. The intimate familiarity with the work of both playwrights permeates through Dawkins' scrip and in the play's direction by Cody Estle.
Equal parts memory play and origins story, Tennessee Williams (Rudy Galvan) acts as narrator. The bulk of the the action is divided between Inge's garden apartment in St. Louis and Williams' hotel suite in Chicago.
In the tradition of a memory play, playwright Philip Dawkins has taken some dramatic liberties with various elements (particularly the timing of when Inge first met Williams and when Inge wrote "Farther Off From Heaven"), but these edits are not unlike the tweaks Williams would do when he crafted his own semi-autobiographical work.
At the start of the play, Williams and Inge are confirmed bachelors, forced to live their true lives ensconced between the four walls of hotel suites and garden level apartments with floor to ceiling drapes closed tightly to shut out both prying eyes and all natural light. If Williams didn't keep mentioning nightingales, you'd probably still get the reference to his 1938 work set in prison, "Not About Nightingales." One man's haven is another one's prison cell.
Curtis Edward Jackson's Inge is prim, proper and uptight. He is frightened, repulsed and ashamed of his own desires. Working as a theater critic at the time of the play, he invites Williams over to his apartment under the guise of an interview. Nervous and unsure of both himself and his talent, he is no match for Williams.
Galvan's Tennessee Williams is a charming drunk who wields malicious one-liners and his overt sexuality almost like battle armor. Williams is so desperate for Inge to write a profile of him on the eve of "The Glass Menagerie" premiering in Chicago (the play would go on to be his first success), that he is willing to "seize the opportunity" and trade a sexual favor for a favorable profile in his hometown newspaper.
Dawkins takes an almost scholarly approach to the two playwrights, writing each character as if they were straight out of one of their own plays (given the semi-autobiographical nature of many of their plays, this makes sense). Rubin Flood, the traveling salesman from Inge's play "Farther Off from Heaven" (later reworked and retitled "The Dark at the Top of the Stairs") seems based in part on Inge's own father. Hal Carter, the drifter center to "Picnic" is the personification of Inge's ideal partner; broad-shouldered, good looking and somewhat unobtainable. Inge's second-act monologue about one particularly horrific childhood memory seems ripped right from Inge's own plays. Jackson's delivery of it is as much raw as it is utterly heart-breaking.
Williams hobbles around on a crutch for the second act (Chicago icy sidewalks, alcohol or a bit of both he explains) that is reminiscent of Brick from "Cat on a Hot Tin Roof." Of course, Williams also shared that character's alcoholism, but the play seems to make a point that -at least behind closed doors, Williams was a bit more in touch with his sexuality than Brick.
Williams has some of the best lines "One should never work with children, animals or Bette Davis (who is both)" and "I hate to see a grown man drink alone. It's so sad, so familiar" are two of my favorites. Galvan's performance isn't just all witty banter, though. His reaction of shock, fear and surprise in a scene in which Inge casually mentions that he saw more of Williams in the character of Laura rather than Tom (as most critics, scholars and audience members usually point out) is particularly interesting. It is as if Williams is realizing that he has let Inge get too close and he seems to be scanning his memories for the exact moment when he let his guard down.
Dawkins' play succeeds in clarifying the circular extent in which their lives influenced their art and how the success (and failure) of that art subsequently impacted each man. If there is one aspect that leaves you wanting, it is that the play only hints at future jealousy and a possible falling out. You are left with the inference that the passion for theater, booze and men that brought them together was no match for the success that each man would achieve. The happiness, love and acceptance each man craved would continue to personally elude both of them. Each suffered for their art; the American stage is better off for it.
The world premiere of THE GENTLEMAN CALLER runs through May 27 at the Raven Theatre, 6157 N. Clark. Tickets, $46. Call 773.338-2177 or www.raventheatre.com.