Photo Flash: A First Look at THE WOLVES at Goodman Theatre
Game on! The Chicago premiere of Sarah DeLappe's The Wolves, a "smart, hilarious, delightful meditation on society, sex and soccer" (The Village Voice), directed by Vanessa Stalling, launches Goodman Theatre's 2018 Owen Theatre season. A 2017 Pulitzer Prize finalist, The Wolves follows a suburban girls soccer team as they navigate life's big questions and wage their own tiny battles-with all the "bark and bite" (Vulture.com) of a pack of adolescent warriors. Hailed as "one of the year's best plays" (The New York Times), The Wolves is DeLappe's break-out play that recently concluded an off-Broadway run at Lincoln Center Theater.
Stalling directs the Chicago premiere with an all-Chicago company including team members Angela Alise as #00, goalie; Isa Arciniegas as #25, captain; Taylor Blim as #2, defense; Natalie Joyce as #7, striker; Cydney Moody as #8, defense; Erin O'Shea as #46, bench; Sarah Price as #11, midfield; Aurora Real de Asua as #14, mid-field; Mary Tilden as #13, mid-field; and rounding out the cast is Meighan Gerachis as the Soccer Mom. Working with soccer skill building coach Katie Berkopec, each actor learned a series of real soccer drills and incorporated synchronized warm-ups-including squats, jumping jacks, quads, hamstrings, butterfly and more-in preparation for their role.
The creative team features designers who will transform the Goodman's 350 seat-flexible Owen Theatre into an indoor soccer field complete with AstroTurf, plexiglas, fans and fluorescents-including Collette Pollard (Sets), Noël Huntzinger (Costumes), Keith Parham (Lights) and Mikhail Fiksel (Sound). Nikki Blue is the Production Stage Manager.
__________________________________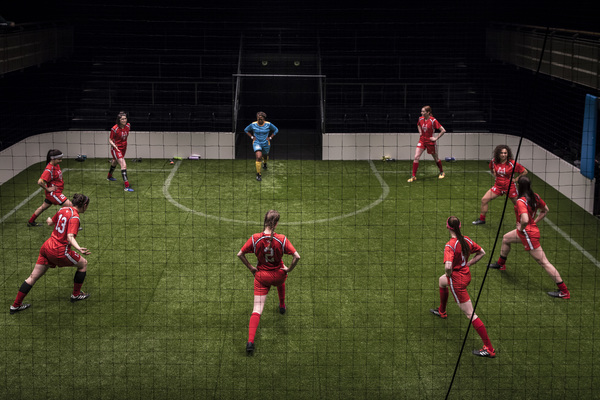 The cast of The Wolves by Sarah DeLappe, directed by Vanessa Stalling at Goodman Theatre (February 9â€"March 11, 2018). GoodmanTheatre.org/TheWolves

Sarah Price (#11), Isa Arciniegas (#25), Natalie Joyce (#7) and Angela Alise (#00) in The Wolves by Sarah DeLappe, directed by Vanessa Stalling at Goodman Theatre (February 9â€"March 11, 2018). GoodmanTheatre.org/TheWolves

Taylor Blim (#2), Mary Tilden (#13), Isa Arciniegas (#25), Sarah Price (#11) and Angela Alise (#00) in The Wolves by Sarah DeLappe, directed by Vanessa Stalling at Goodman Theatre (February 9â€"March 11, 2018). GoodmanTheatre.org/TheWolves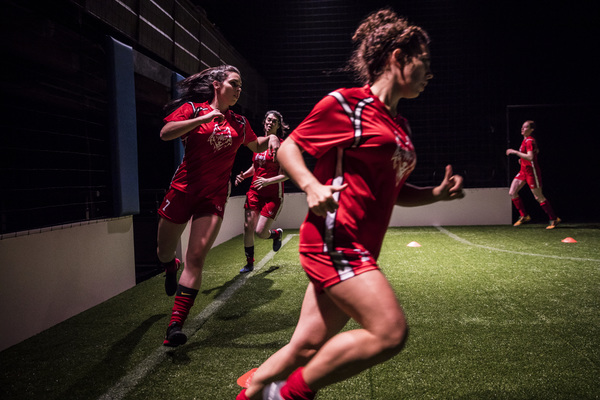 Aurora Real de Asua (#14) , Natalie Joyce (#7), Sarah Price (#11) and Erin O'Shea (#46) The Wolves by Sarah DeLappe, directed by Vanessa Stalling at Goodman Theatre (February 9â€"March 11, 2018). GoodmanTheatre.org/TheWolves

Isa Arciniegas (#25) in The Wolves by Sarah DeLappe, directed by Vanessa Stalling at Goodman Theatre (February 9â€"March 11, 2018). GoodmanTheatre.org/TheWolves

Taylor Blim (#2), Natalie Joyce (#7) and Mary Tilden (#13) in The Wolves by Sarah DeLappe, directed by Vanessa Stalling at Goodman Theatre (February 9â€"March 11, 2018). GoodmanTheatre.org/TheWolves

Erin O'Shea (#46) in The Wolves by Sarah DeLappe, directed by Vanessa Stalling at Goodman Theatre (February 9â€"March 11, 2018). GoodmanTheatre.org/TheWolves

The cast of The Wolves by Sarah DeLappe, directed by Vanessa Stalling at Goodman Theatre (February 9â€"March 11, 2018). GoodmanTheatre.org/TheWolves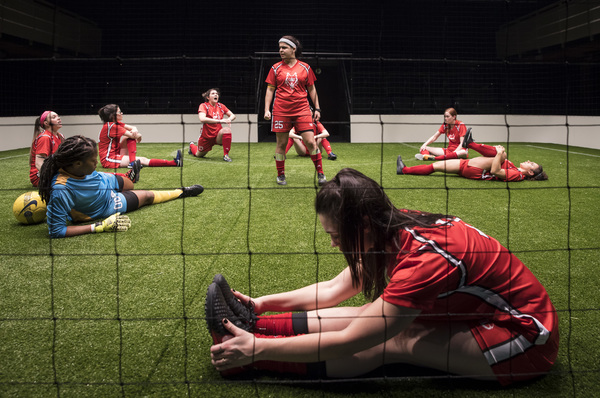 The cast of The Wolves by Sarah DeLappe, directed by Vanessa Stalling at Goodman Theatre (February 9â€"March 11, 2018). GoodmanTheatre.org/TheWolves

Cydney Moody (#8), Sarah Price (#11), Natalie Joyce (#7), Mary Tilden (#13), Isa Arciniegas (#25) and Taylor Blim (#2) in The Wolves by Sarah DeLappe, directed by Vanessa Stalling at Goodman Theatre (February 9â€"March 11, 2018). GoodmanTheatre.org/TheWolves

Angela Alise (#00) in The Wolves by Sarah DeLappe, directed by Vanessa Stalling at Goodman Theatre (February 9â€"March 11, 2018). GoodmanTheatre.org/TheWolves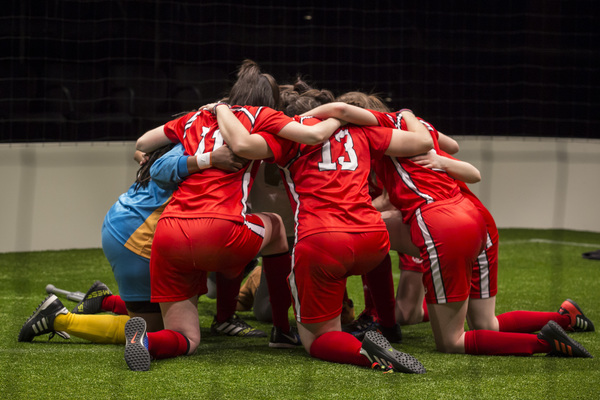 The cast of The Wolves by Sarah DeLappe, directed by Vanessa Stalling at Goodman Theatre (February 9â€"March 11, 2018). GoodmanTheatre.org/TheWolves