Irish Theatre Of Chicago Announces Special Fundraiser Remount Performances Of Owen McCafferty's MOJO MICKYBO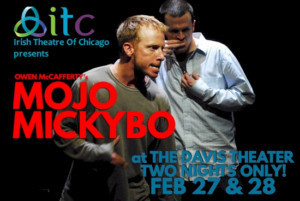 Irish Theatre of Chicago (ITC), Chicago's only professional theater company dedicated to presenting works that reflect the culture and history of Ireland, is pleased to bring the remount of its critically acclaimed 2009 production of Owen McCafferty's one act MOJO MICKYBO to The Davis Theatre (4614 N Lincoln Ave, Chicago, IL 60625) February 27 & 28, 2019 (tickets available at www.irishtheatre.org) for a limited-run fundraiser event. The Davis Theatre performances will include a complimentary popcorn and a pint for each ticket holder.
Set in 1970's Belfast, Ireland, and written by leading Irish playwright Owen McCafferty, MOJO MICKYBO follows the whirlwind escapades of mischievous nine year-old best friends Mojo and Mickybo, who happen to be from opposite sides of the rising Catholic/Protestant divide known as "The Troubles." Oblivious to the violence brewing around them, Mojo and Mickybo spend their days playing together, tormenting the neighborhood adults, and re-enacting scenes from their favorite film, BUTCH CASSIDY AND THE SUNDANCE KID, until the politics of the adult world intrudes on their idyllic friendship.
This remount of Irish Theatre Of Chicago's physical, often comic, and deeply affecting hit 2009 production reunites original director Jeff Christian with original cast members Robert Kauzlaric (Mojo) and Dan Waller (Mickybo) reprising their roles as the young friends, in addition to playing a dozen additional characters including harried shopkeepers, neighborhood bullies, and their own worried parents.
While skillfully evoking rich details of urban Irish life in the 1970's, MOJO MICKBO also invites the audience to revisit the universal joys of childhood, when every day was a new adventure and imagination could take you anywhere.
"MOJO MICKYBO has never been more relevant to an American audience than it is today," states director Christian. "As a nation we are currently completely divided, with neighbor pitted against neighbor, and a lot of hatred being expressed through the divisive labels we're putting on each other. Mojo and Mickybo don't worry about labels, or whose family is Catholic or Protestant. Together they inhabit a wonderful world of brotherhood that they've built for themselves in their imaginations. It's a place I think we'd all live in if we could."
ITC Interim Artistic Director JR Sullivan adds, "In addition to the compelling story at its core, MOJO MICKYBO is also a stirring evening of theater at its actor-driven best. This is a mesmerizing journey that shifts from past to present, from childhood to adulthood, careening into chaos - a creation of that so-called adult world."
The production team for MOJO MICKYBO includes Mikhail Fiksel (original music and sound design), Miles Polaski and Robert Hornbostel (sound design), Elise Kauzlaric (dialect design), Mike Durst (lighting design), and Jen Bukovsky (production stage manager).
ABOUT THE TEAM
Owen McCafferty (Playwright) is a native of Belfast, Northern Ireland, whose work includes SCENES FROM THE BIG PICTURE (winner John Whiting Award, Meyer Whitworth Award, and the Evening Standard Charles Wintour Award for New Playwriting), QUIETLY (nominated for Best New Play, Irish Times Theatre Awards), CLOSING TIME, DEATH OF A COMEDIAN, TITANIC, SHOOT THE COW, DAYS OF WINE AND ROSES, UNFAITHFUL, COLD COMFORT, THE CHAIRS, FIRE BELOW, and NO PLACE LIKE HOME. His first feature film, NORMAL PEOPLE is currently shooting starring Liam Neeson and Lesley Manville.
Jeff Christian (Director) teaches directing in Columbia College's Department of Cinema Art + Science, and was the 2014 recipient of The Excellence In Teaching Award. He is an ensemble member of Irish Theatre Of Chicago, where his directing work includes the original prroduction of MOJO MICKYBO as well as SHINING CITY, OUR FATHER, and A WHISTLE IN THE DARK. He has has appeared onstage for ITC in both productions of THE WEIR, as well as THE MY WAY RESIDENTIAL, LAY ME DOWN SOFTLY, THE SHADOW OF A GUNMAN, OUR FATHER, SCENES FROM THE BIG PICTURE, WAR, and David Cromer's production of JOURNEY'S END. Other area directing work includes The Journeymen's multiple Jeff Award-winning ANGELS IN AMERICA, as well as productions for The Artistic Home, New American Theater, Lakeside Shakespeare; Roosevelt University, WildClaw Theatre; and James Krag's one man show, ACCORDING TO MARK. He has been seen onstage at Writers' Theatre, Chicago Shakespeare, The Women's Project of New York, The Tennessee Williams Festival, Syracuse Stage, Indiana Rep., Chicago Dramatists, Milwaukee Rep, Madison Rep, The Artistic Home, Lakeside Shakespeare, Artists' Ensemble, Illinois Theatre Center and New American Theatre. Jeff's film and television credits include BATMAN BEGINS, SHAMELESS, CHICAGO PD, WITCHES' NIGHT, THE EXPRESS, THE POKER HOUSE, HAPPY HOUR, HELIX, PICKMAN'S MUSE, CYRUS, and GOOD PEOPLE.
Robert Kauzlaric (Mojo) ??directed Irish Theatre Of Chicago's world premiere of THE WHITE ROAD (Jeff Nomination: Best Production), and has appeared onstage with ITC in A WHISTLE IN THE DARK, WAR, OUR FATHER, MOJO MICKYBO, and IN A LITTLE WORLD OF OUR OWN. Regional acting credits include Michigan Shakespeare Festival, Illinois Shakespeare Festival, Lakeside Shakespeare, Goodman Theatre, Lifeline Theatre, Strawdog Theatre, The Hypocrites, City Lit, Circle Theatre, Greasy Joan & Co., and New American Theater. As a playwright Robert has written more than a dozen theatrical adaptations which have been performed across the U.S. and in Europe including THE ISLAND OF DR. MOREAU (winner of five Non-Equity Jeff Awards), NORTHANGER ABBEY (with George Howe, Non-Equity Jeff Award: New Work, Musical), NEVERWHERE (Non-Equity Jeff Award: New Adaptation), and THE TRUE STORY OF THE 3 LITTLE PIGS! (with Paul Gilvary and William Rush, "One of the best children's shows of the year" - New York Times). Directing credits include CYMBELINE for Strawdog Theatre (Non-Equity Jeff Nomination: Director-Play); and TARTUFFE (Wilde Award: Best Comedy), LOVE'S LABOUR'S LOST (Wilde Award: Best of the Bard), CYMBELINE (Wilde Award: Best of the Bard), AS YOU LIKE IT (Wilde Award: Best of the Bard), and THE TEMPEST for the Michigan Shakespeare Festival
Dan Waller (Mickybo) has appeared onstage with Irish Theatre Of Chicago in THE WEIR, SPINNING (Jeff Nomination: Best Actor), THE SEAFARER (Jeff Award: Best Ensemble) MOJO MICKYBO, OUR FATHER, A WHISTLE IN THE DARK, LAY ME DOWN SOFTLY (Best Supporting Actor: Sheridan Road Magazine), and the David Cromer - helmed JOURNEY'S END. In addition to frequent work at Steppenwolf Theatre, the Goodman, and Court Theatre in Chicago, his local credits include THE CIDER HOUSE RULES at Famous Door (Jeff Award: Best Ensemble); PITMEN PAINTERS at Timeline (Jeff Nomination: Best Supporting Actor/Chicago Tribune's Top 10 Performances Of The Year), and TO THE GREEN FIELDS BEYOND at Writer's Theatre Of Glencoe (Jeff Nomination: Best Ensemble). Regional work includes Actors Theatre of Louisville, Cardinal Stage, Walkabout/Lookingglass, Mary-Arrchie, Lakeside Shakespeare, Lifeline, and Blindfaith Theatre. Dan's film credits include TRANSFORMERS 3, REPETITION, WITLESS PROTECTION, OLYMPIA, CANAL STREET, PRECIOUS METTLE, AT ANY PRICE, OF BOYS AND MEN, DEVIL'S DOMINOES, and BAREFOOT TO JERUSALEM, and his TV credits include CHICAGO MED, CHICAGO PD, CRISIS, CHICAGO CODE, SHAMELESS, EMPIRE, OUR LITTLE SCIENCE STORY, LEVERAGE, and THE BEAST.
More Hot Stories For You