Gina Yashere to Present THE WOMAN KING OF COMEDY Tour
The international stand-up and co-creator of the hit series Bob Hearts Abishola hits the road in a multi-city tour.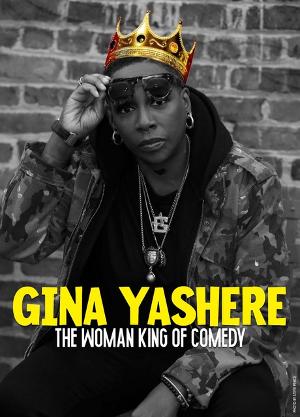 Gina Yashere the British-Nigerian comedian, author and stand-up will get back on the road with her fierce and funny comedic style in a multi-city solo tour, The Woman King of Comedy.
The triple threat entertainer, who recently hosted the NAACP Image Awards Luncheon, was tapped by Chuck Lorre to co-create, produce, and act in the CBS' comedy series Bob Hearts Abishola. In addition to acting and writing on the series she helped create, she is now showrunning the hit CBS comedy which was recently renewed for its fifth season. Her signature distinctive physical humor (as read in her memoir Cack-Handed and seen in her two Netflix specials Skinny B*tch and Laughing to America) sheds light on the "plight" of being a Brit in America: constantly educating Americans on the mere existence of Black British people, the absurdity of the American healthcare system, and overt American racism vs. passive UK racism audiences are sure to get what they expect with her funny, unapologetic humor.
WHEN AND WHERE:
June 24, 2023, at Bell House, Brooklyn
https://cloud.broadwayworld.com/rec/ticketclick.cfm?fromlink=2227083®id=23&articlelink=https%3A%2F%2Fwww.eventbrite.com%2Fe%2Fgina-yashere-the-woman-king-of-comedy-tickets-524952335567?utm_source=BWW2022&utm_medium=referral&utm_campaign=article&utm_content=bottombuybutton1
July 8, 2023, at Thalia Hall, Chicago
https://www.ticketweb.com/event/gina-yashere-the-woman-king-thalia-hall-tickets/12879825
July 22, 2023, Majestic Theatre, Detroit
https://www.ticketweb.com/event/gina-yashere-the-woman-king-majestic-theatre-tickets/12883555
August 5, 2023, at Alberta Rose Theatre, Portland
https://www.etix.com/ticket/p/7995246/gina-yasherethe-woman-king-of-comedy-portland-alberta-rose-theatre
Gina Yashere is an internationally acclaimed comedian and author who broke onto the American comedy scene as one of 10 finalists on NBC's LAST COMIC STANDING in 2007 and went on to be named one of The Hollywood Reporter's 'Top 10 Rising Talents.' She currently co-stars in Chuck Lorre's CBS comedy series BOB HEARTS ABISHOLA with Billy Gardell and is also a co-creator, showrunner, and producer on the show. Her memoir CACK-HANDED was released to critical acclaim. Yashere's latest standup specials include SKINNY B*TCH and LAUGHING TO AMERICA, both on Netflix. She can also be seen in season 2 of Netflix's half-hour comedy series THE STANDUPS. Her third special, TICKING BOXES, was available on NBC's Seeso.
Yashere has appeared on Comedy Central's THE DAILY SHOW WITH Trevor Noah as the British Correspondent, NBC's THE TONIGHT SHOW WITH Jay Leno in a regular sketch comedy series in which she gave fake psychic readings on the street, and DEF COMEDY JAM as the first and only British comic to perform on the show. Her other TV credits include HBO's CRASHING, BBC's LIVE AT THE APOLLO, TruTV's COMEDY KNOCKOUT, Comedy Central's @MIDNIGHT, ITV's MARRIED SINGLE OTHER, THE Lenny Henry SHOW, and the animated series BROMWELL HIGH.
Gina has performed several times at the prestigious Just for Laughs Comedy Festival in Montreal and Toronto. In addition to performing for audiences in Europe, the United States, and Australia, Yashere is a highly sought-after comedian in Asia, selling out shows in Singapore, Cambodia, Vietnam, Malaysia, and Hong Kong. Born and raised in London to Nigerian parents, Yashere currently resides in Los Angeles. Follow her on Instagram and Twitter @ginayashere and on Facebook @ginaisfunny.